20+ DELICIOUS HUNGARIAN FOODS WORTH TRAVELLING TO HUNGARY FOR
So much so that, as a child, it was never all that difficult to get me to eat. The bigger problem for my parents was getting me to stop eating. Not much has changed some twenty years later and, coupled with my love for travel, it should come as no surprise that my favourite way to experience a new culture is through its food.
After several visits to Budapest, Hungarian cuisine has managed to creep its way up my list of favourite foods. But I wouldn't have been able to name a single Hungarian dish a few years ago. It wasn't until I met Wes that I was introduced to his dad's homemade cabbage rolls and fresh cucumber salads. The cravings for those delicious baked cabbage rolls were real as I sat down to write this post so you might want to grab a snack before diving in.
Real, local dishes can be hard to come by when you're travelling to a new country, especially once you introduce a language barrier. It's intimidating to order something you can barely pronounce and even more so when you don't know what the heck it is. If you're still of the mindset that Hungarian food is limited to bland, soviet-style dishes, I'd say you can't knock it till you try it.
While I'm no Hungarian food expert, I have had the chance to eat my fair share of it during our many travels throughout the country. We've put together this list to highlight all of the Hungarian foods we've come to know and love. The ones we make sure we order each time we get the chance to visit Hungary. We included the most popular starters, mains and desserts you're likely to find on the menu and hope this post inspires you to try some authentic Hungarian foods during your upcoming travels. Original post.
HUNGARIAN FOODS: SOUPS & STARTERS
GOULASH || GULYÁS
You've likely heard of goulash before and this dish is one you'll have no trouble finding at a Hungarian restaurant. It is most commonly prepared with chunks of slow-cooked beef, spices, carrots and potatoes. The goulash we've tasted in Hungary has more of a soup-like consistency (broth with flavourful beef and veggies) versus a thick stew. In Hungarian, gulyás also translates to herdsmen and this dish dates way back to Medieval times when Hungarian herdsmen would make their goulash in large cauldrons using every part of the cow.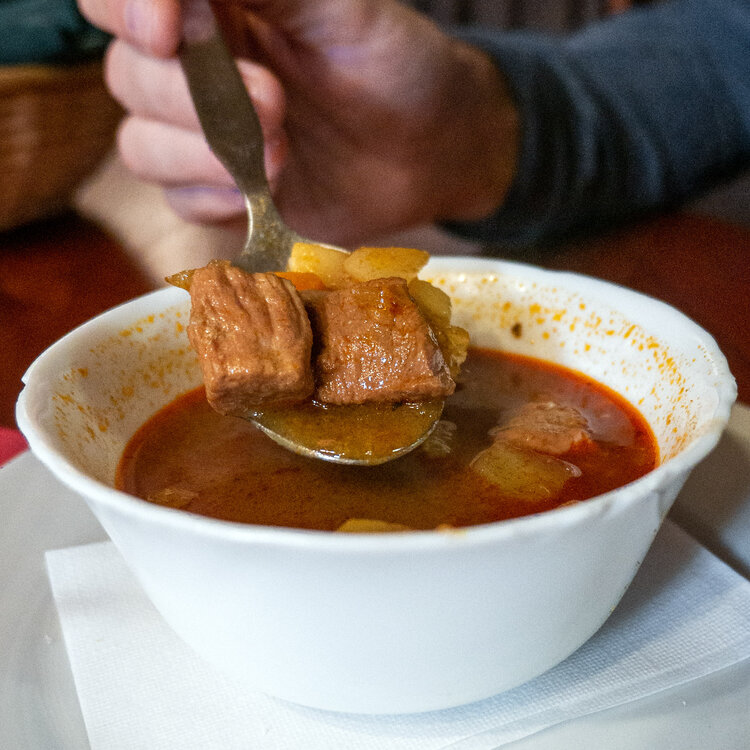 CUCUMBER SALAD || UBORKASALÁTA
A common way to start or compliment a main Hungarian dish is with a side of cucumber salad. Thin slices of cucumber are marinated in white vinegar, served with fresh dill and sometimes topped with a dollop of sour cream. Pickled veggies are popular in Hungarian cuisine as it's customary to preserve the vegetables while they're in season so they can be enjoyed all year long. Other salads that will help digest those hearty, Hungarian foods include cabbage, carrots and beets. Some menus offer small side salads for as little as $1 so it's an easy option to incorporate at least some greens into the carb-heavy, Hungarian diet.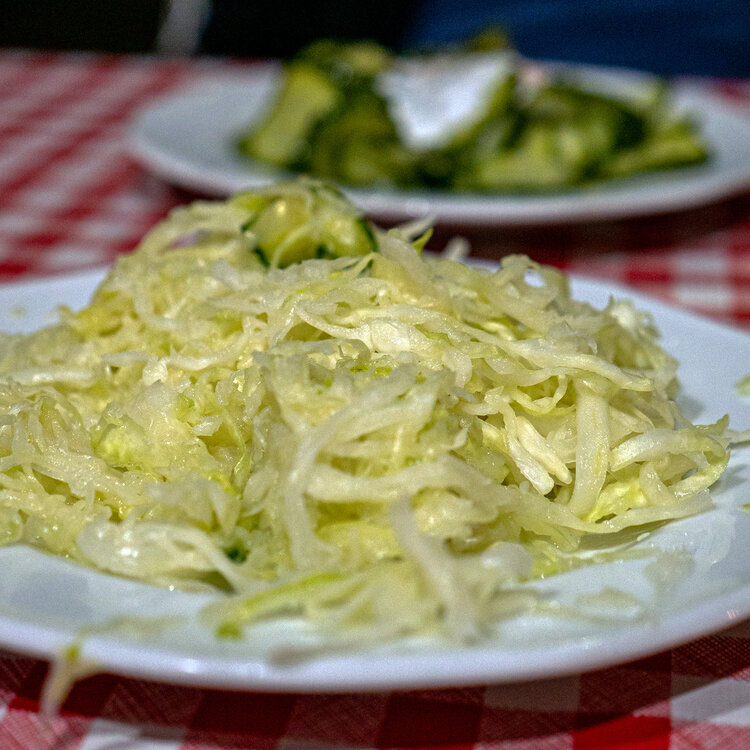 FRIED CHEESE || RÁNTOTT SAJT
This is certainly not the healthiest option on our list but rántott sajt is something I order at least once when in Hungary. Because it's not that often you can get away with eating fried cheese as part of a nation's local cuisine. Squares (or triangles) of cheese are breaded and deep-fried until crispy, served warm and gooey with tartar or mayo for dipping. Many restaurants use a semi-hard cow's milk cheese like trappist (etyekl trappista) which is popular in Hungary. If you love fried cheese as much as I do, this can be enjoyed as a main dish as well and is typically served with fries, rice or a side salad.
SOUR CHERRY SOUP || MEGGYLEVES
Meggyleves is a chilled soup made with tart cherries, sour cream, sugar and sometimes spices like clove and cinnamon. It is slightly sweet and popular with children, particularly in the summer when it's regularly prepared in Hungarian households. This is one soup we've had a hard time finding in Hungary, most likely because we often visit in the fall/winter months and this refreshing option is more readily available during the summer when cherries are in season. If you can't find it in restaurants either and are really keen to get a taste of this pink soup, you may find packets of meggyleves powder in local supermarkets (though I wouldn't expect it to taste as good as the real deal!).
FISHERMAN'S SOUP || HALÁSZLÉ
Thick slices of fresh water fish (often carp) simmer for hours in fish stock made from scratch. This hearty soup features generous amounts of paprika which gives it a bright red colour. There are different variations of fisherman's soup throughout the country and it's a common starter dish at most Hungarian Christmas dinners. Halászlé is definitely one of the spicier Hungarian dishes so be sure to double check with your server before ordering this at a restaurant.
HUNGARIAN FOODS: MAIN DISHES
CABBAGE ROLLS || TÖLTÖTT KÁPOSZTA
I've developed a bit of a soft spot for cabbage rolls over the years, particularly because this was my introduction to Hungarian food. These savoury rolls are not specific to Hungary and you'll likely find them throughout Central and Eastern Europe. Cabbage leaves are stuffed with a delicious mix of fillings like rice, minced meat, paprika and sauerkraut. They are either baked, steamed or boiled in a flavourful tomato sauce. This is a real staple when it comes to Hungarian comfort foods.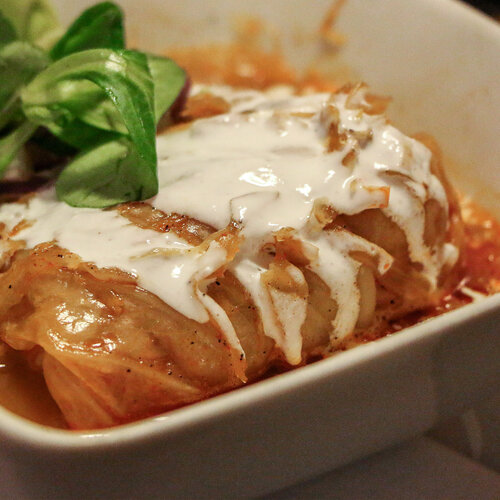 EGG NOODLE DUMPLINGS || NOKEDLI
These egg noodles are very similar to German spätzle and are a popular accompaniment for other Hungarian dishes like paprika chicken and pörkölt. I love the unique, uneven shape of each noodle which is a result of how they're made: the pasta mixture (usually flour, eggs, salt and water) is passed through a grater-like device that separates the dough and shapes the noodles as they drop into boiling water.
COTTAGE CHEESE NOODLES || TÚRÓS CSUSZA
If you like cheesy pastas, this local favourite needs to make its way to the very top of your Hungarian food bucket list. Túrós csusza is a dish of homemade egg noodles that are smothered with Hungarian túró cheese, topped with crispy bits of bacon and that mandatory dollop of sour cream (tejföl). A simple but hearty meal and one you'll probably find yourself eating more than once in Hungary.
SAVOURY STUFFED CREPES || HORTOBÁGYI PALASCINTA
I've had crepes and pancakes throughout Europe but none are as savoury and flavourful as the Hortobágyi palacsinta. The usual filling of these pancakes consists of a minced meat (veal or beef) that has been prepared like a stew with tomatoes, onions and the obligatory paprika. Each pancake is stuffed, rolled or folded and then baked. Served coated in a delicious sauce and topped with sour cream. They actually look almost like large enchiladas, one of the many Mexican foods we recommend trying. Even if crepes or pancakes aren't usually your thing, this dish just might convert you!
PAPRIKA CHICKEN || PAPRIKÁS CSIRKE
This is another classic and, like many Hungarian foods on our list, heavily features the beloved paprika. Bone-in chicken or pieces of chicken breast are cooked in a flavourful sauce and can vary in spiciness depending on the recipe. The main difference between this and other traditional stew-like dishes (like pörkölt) is that the paprika sauce is often creamier and a tiny bit sweeter. Usually served with a side of nokedli, rice or potatoes.
MEAT STEW || PÖRKÖLT
Pörkölt is a popular Hungarian beef stew made with bite-sized chunks of boneless beef or pork that have been slowly simmering for hours in a sauce with onions and paprika. If you're used to a thick, stew-like goulash (which tends to have more of a soup-like consistency in Hungary) then you could opt for pörkölt instead. This beef stew is one of Wes' favourite Hungarian foods and also tends to be served with either nokedli, rice or potatoes.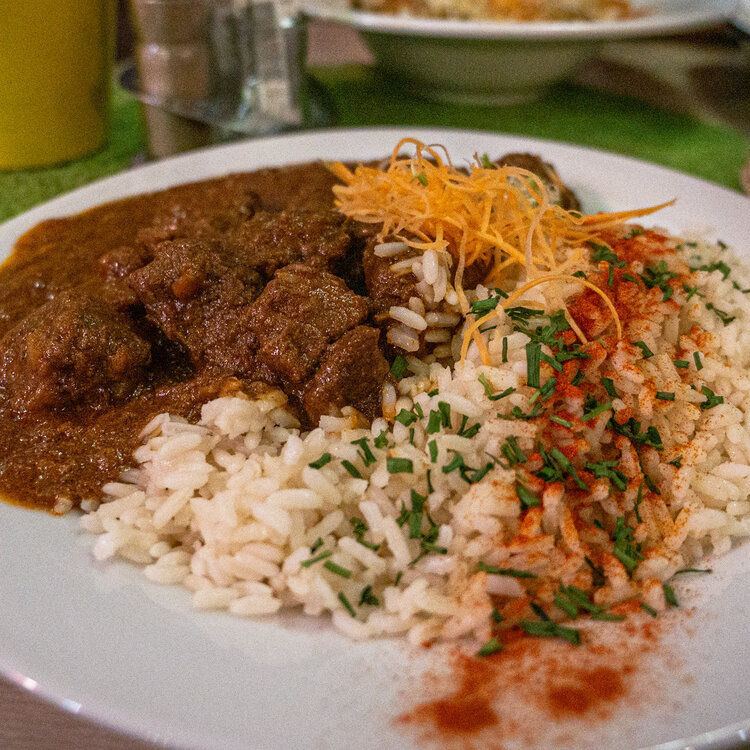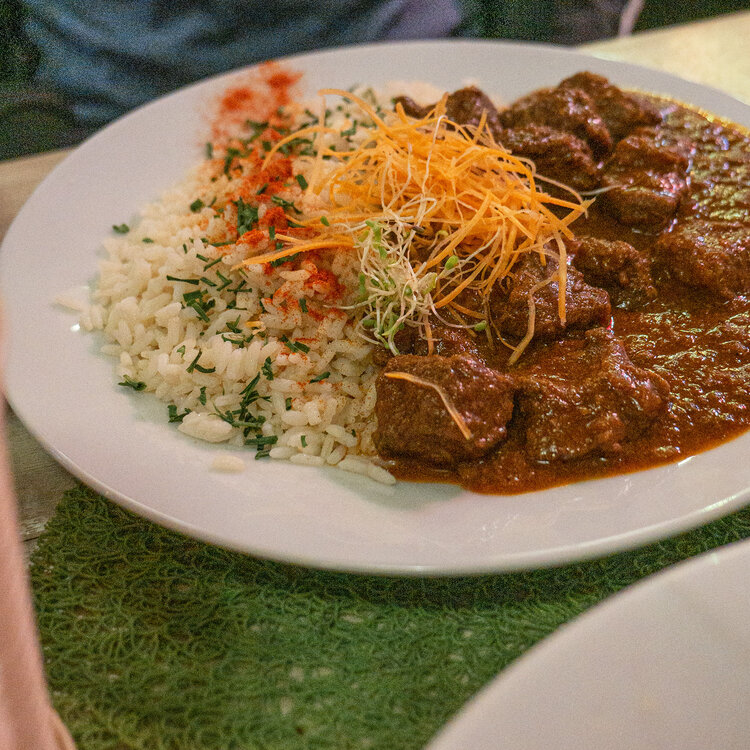 NOODLES WITH CABBAGE || KÁPOSZTÁS TÉSZTA
It might not sound (or look) likely anything special but don't underestimate the buttery flavours of this cabbage pasta. The translation is straightforward: káposzta means cabbage and tészta means pasta. In this dish, large, square egg noodles are sauteed with sweet, caramelized cabbage. This is one of the simpler examples of Hungarian foods on our list with more mild flavours to suit those who prefer the sweetness of cabbage over the spicy paprika that is so heavily featured in other local dishes.
SCHNITZEL || RÁNTOTT HÚS
The schnitzel may have originated in Germany but it's a dish you'll see a lot on menus in Hungary as well. Chicken breast is pounded flat, then breaded and fried until crispy and delicious. We've seen variations of this classic chicken cutlet in Budapest that were coated with sesame seeds, mushroom gravy, or prepared as chicken cordon bleu. Rántott hús is a popular item on fixed price lunch menus, served alongside fries, rice or salad.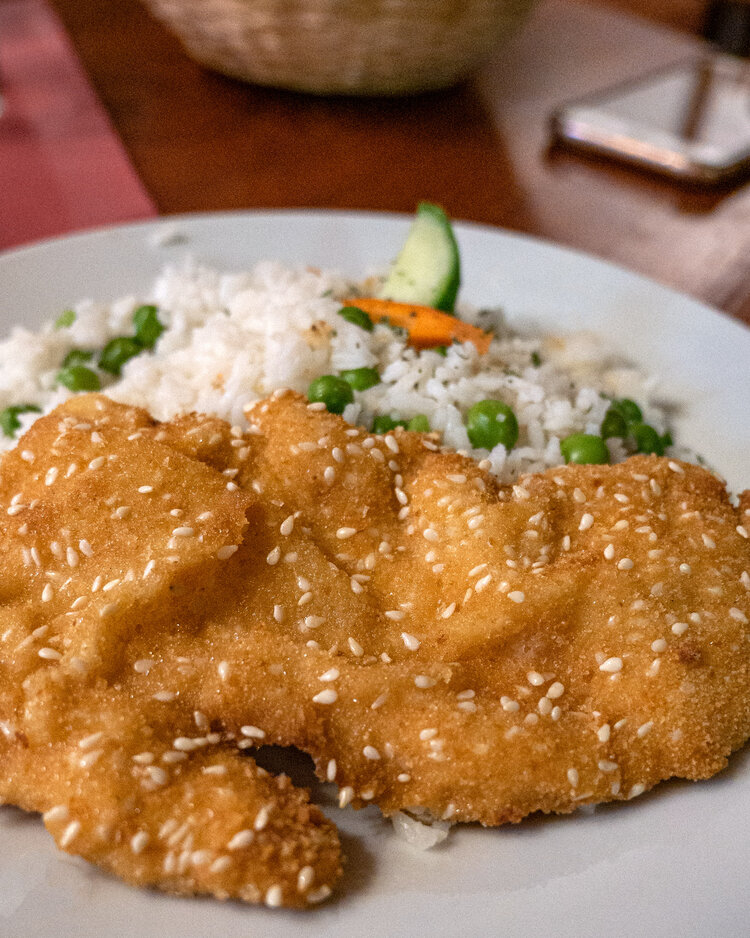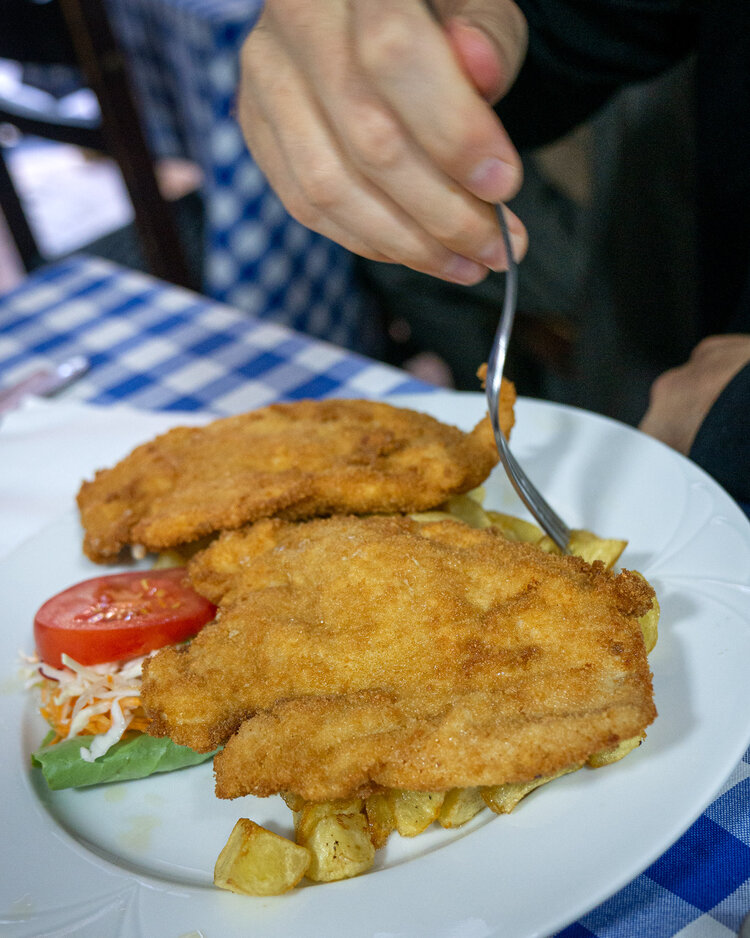 HUNGARIAN FOODS: SWEETS & DESSERTS
CHESTNUT PURÉE || GESZTENYEPÜRÉ
Despite its strange look and unusual name, I found myself enjoying this Hungarian dessert more than expected. Chestnuts are pureed to a cookie dough consistency and then run through a potato ricer to make little noodles before being topped with a mountain of whipped cream. The bold, chestnut flavour is sweetened with hints of rum and vanilla. Gesztenyepüré is bound to bring back feelings of nostalgia for many Hungarians who grew up enjoying this dessert, one that is most popular in the fall when chestnuts are harvested. Like many Hungarian foods, the best gesztenyepüré is the kind made at home but you can also find packaged versions at grocery stores if you're keen on preparing it yourself.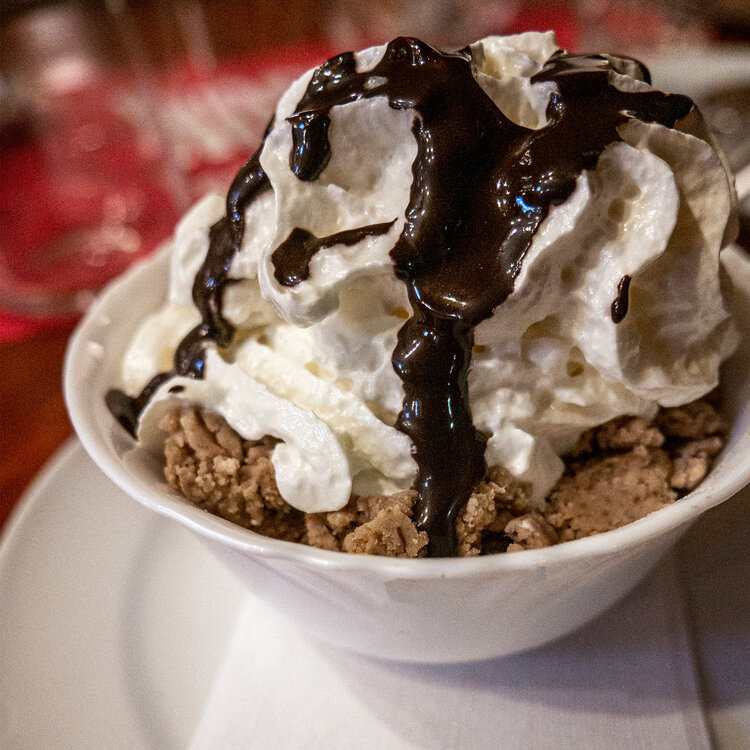 CAKE OF HUNGARY || MAGYARORSZÁG TORTÁJA
A surprising Hungarian food fact I came across on our first visit was the nation's official birthday cake. Since 2007, confectionery masters from all over the country compete in a sweet annual contest to win the heavily sought after "Cake of Hungary" title. The winning cake is announced each August and is then featured at bakeries nation-wide after they sign an agreement stating the cake will be made exactly as stated in the original recipe. This year's (2019) winner is a delicious raspberry cake named boldogasszony csipkéje by Norbert Tóth. Be sure to try a slice during your travels!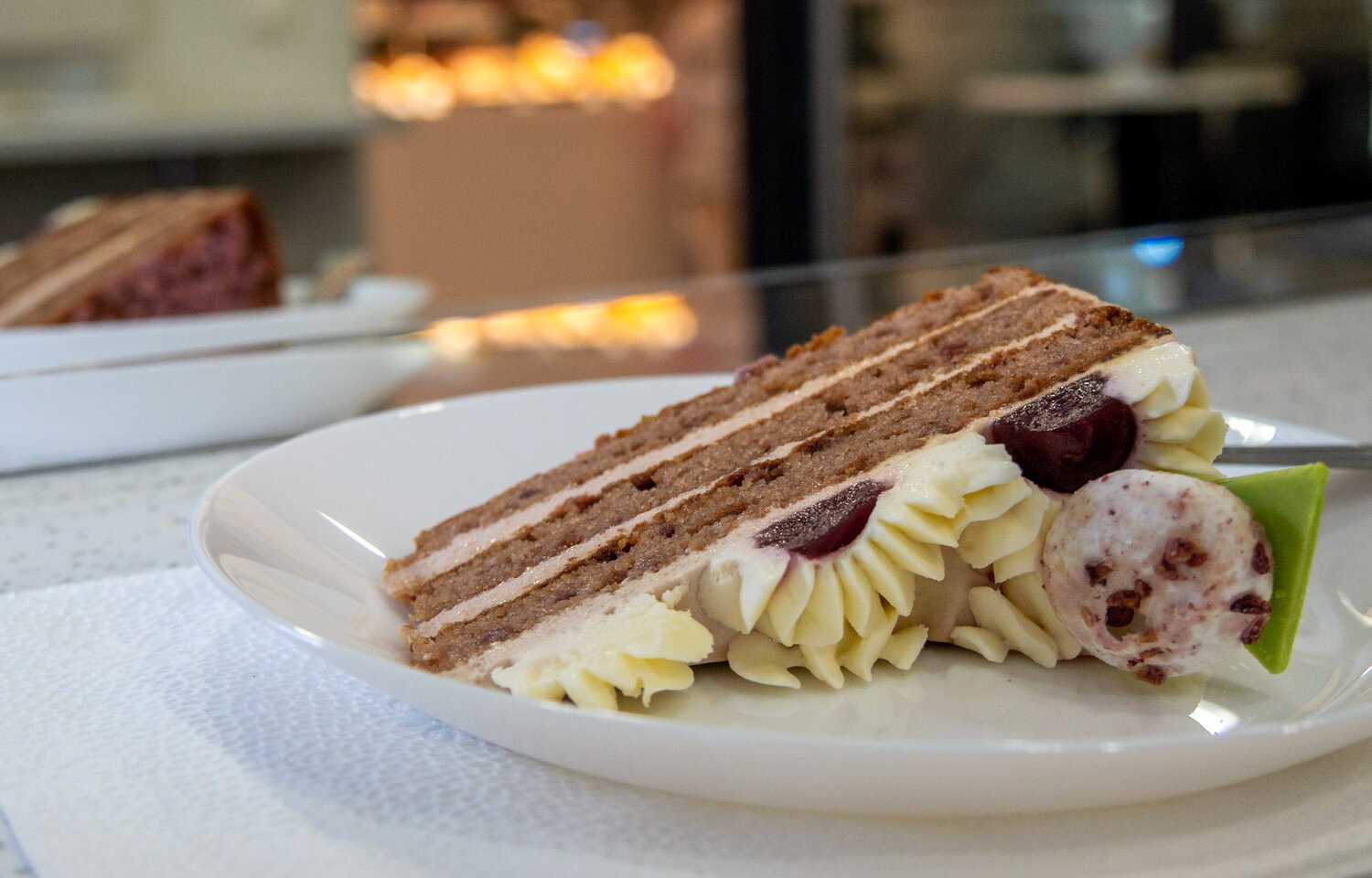 SWEET CREPES || PALACSINTA
These light and thin Hungarian crepes are a sweet variation of the Hortobágy-style pancake we mentioned earlier. Usual filling options for this Hungarian dish include apricot jam, applesauce, hazelnut spread or (my personal favourite) chocolate. Palascinta are served either rolled or folded and topped with icing sugar. They're a popular option on fixed-price menus in Hungary which is a good reason to leave room for dessert.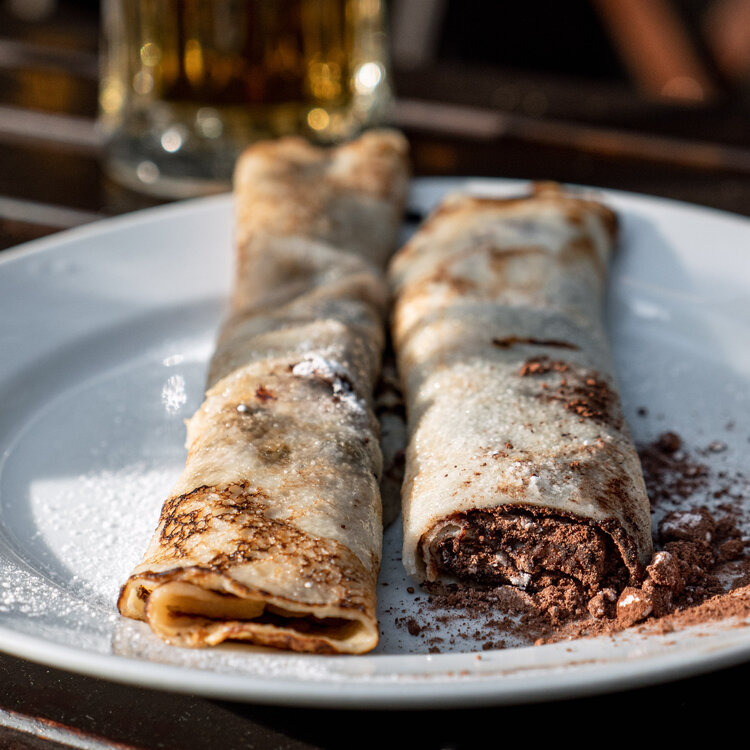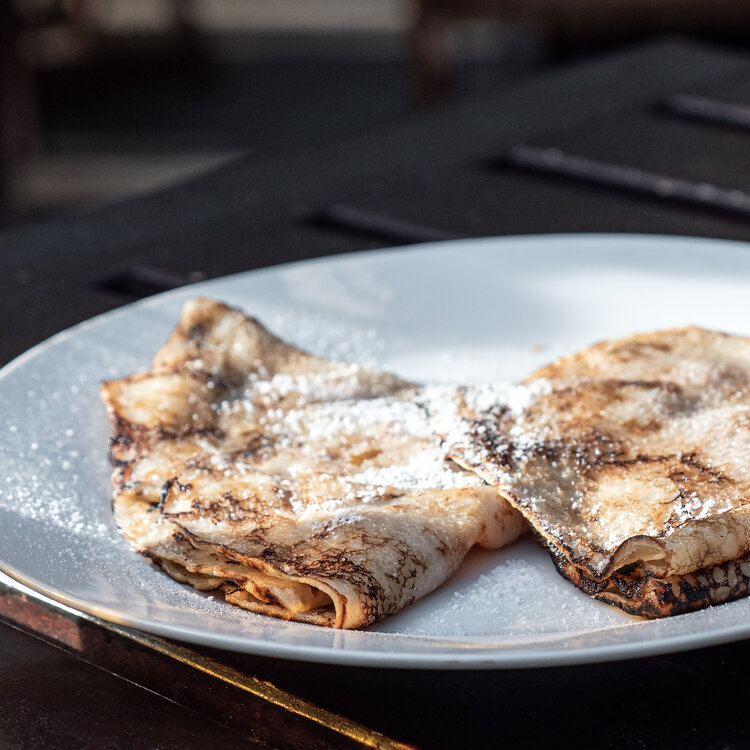 CHOCOLATE SPONGE CAKE || DOBOS TORTA
This famous Hungarian dessert has 5 to 7 layers of moist sponge cake and chocolate buttercream. It's topped with a thin layer of caramel glaze that adds a bit of crunch to every bite. Dobos torta was all the rage in the late 1800's and is still quite popular in Hungary some 130 years later. It's named after the inventor, József Dobos and was considered to be a very innovative dessert at a time when buttercream wasn't widely used.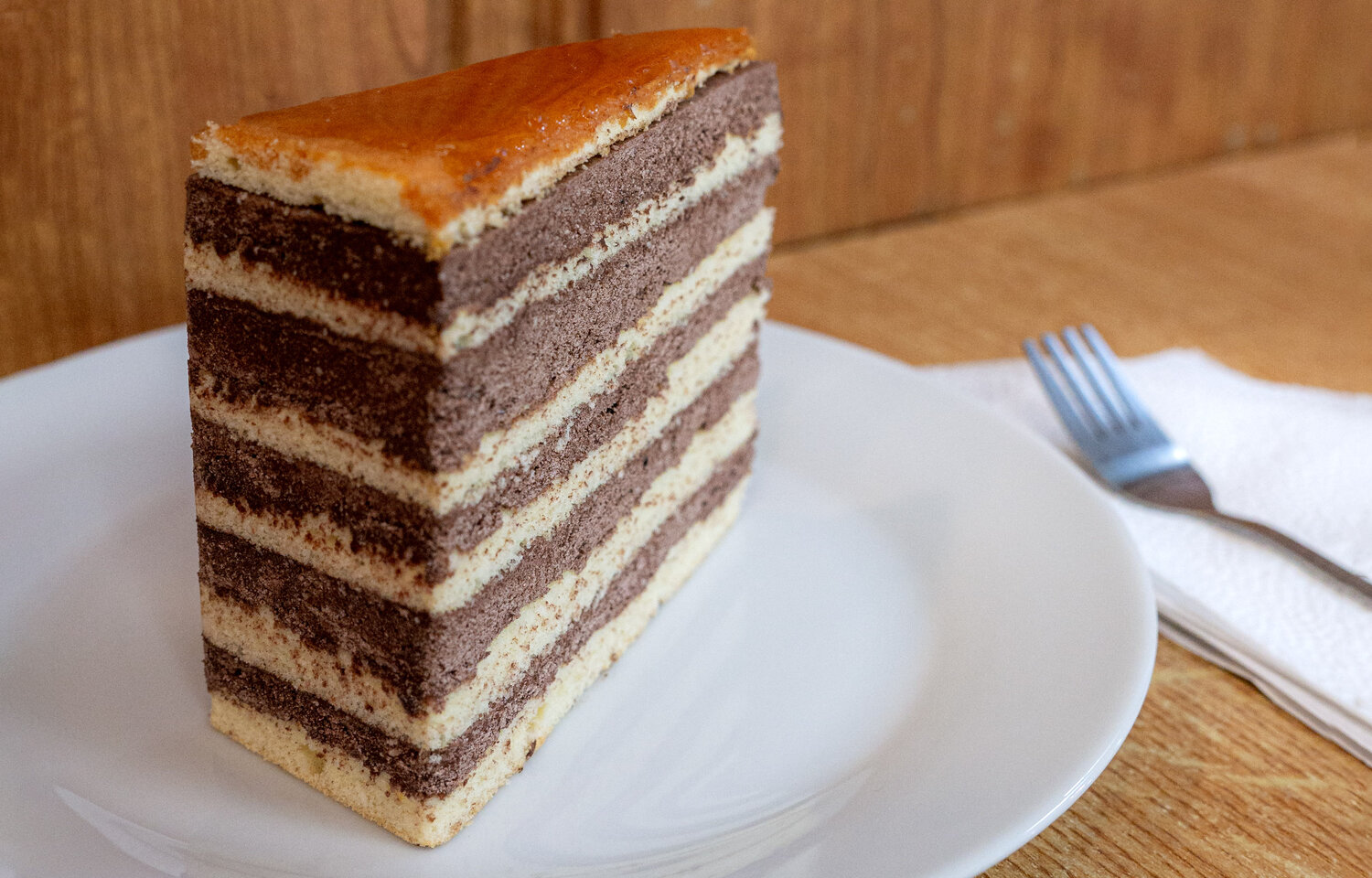 HUNGARIAN FOODS: SNACKS & STREET FOOD
CHEESE BISCUITS || POGÁCSA
Pogácsa are savoury balls of baked goodness topped with cheese and somewhat similar to scones or biscuits. Also popular in Balkan countries, these flakey puffs are a popular choice of appetizer when entertaining guests. There are different varieties of pogácsa including cheese, potato, cottage cheese and pork cracklings. It's a great snack to pick up at a local bakery or kiosk in Hungary and they taste even better when you can get some that have just come out of the oven.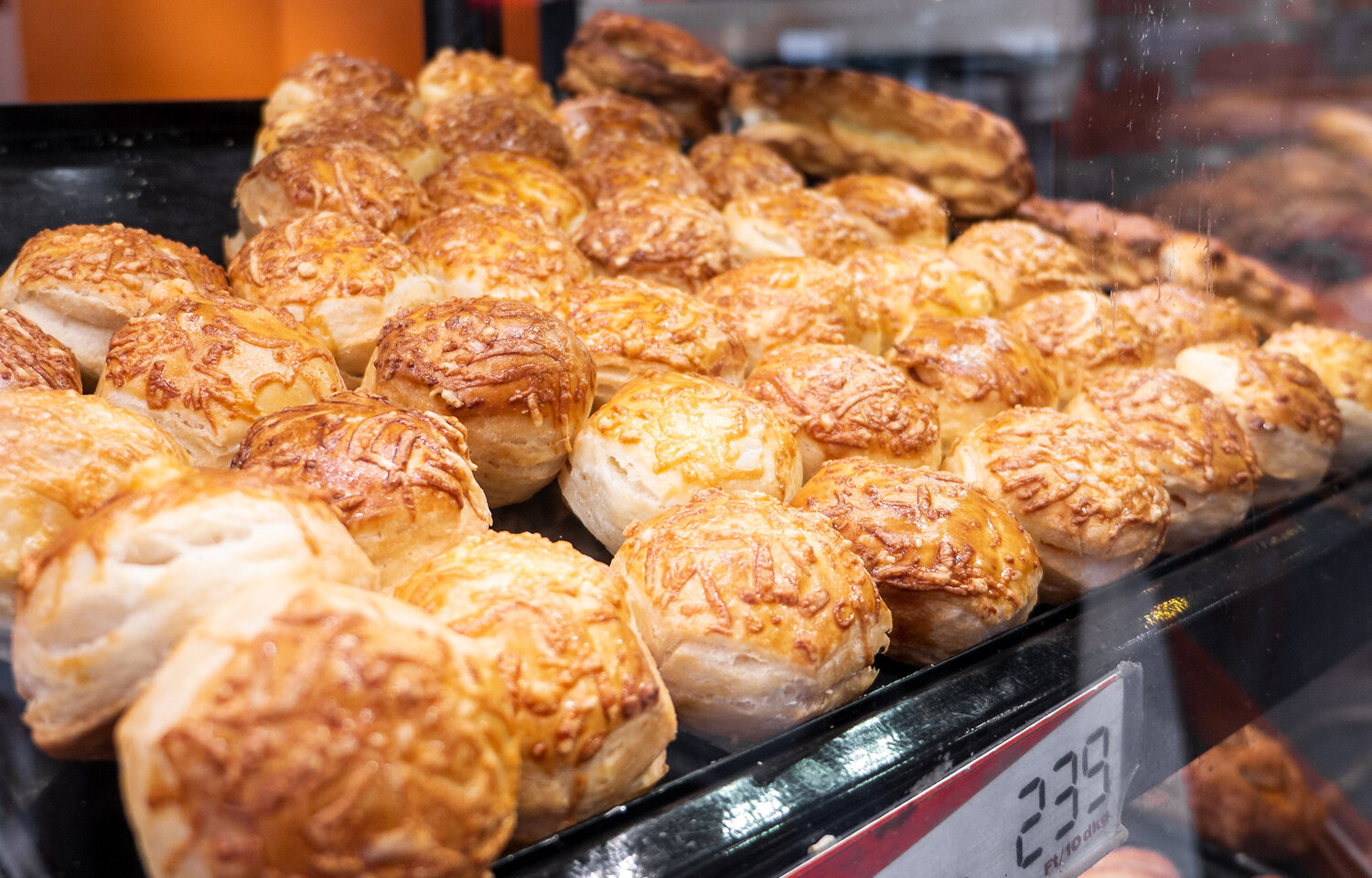 CHIMNEY CAKES || KÜRTÖSKALÁCS
The origins of kürtőskalács is often debated but it's a street food you'll see all over Hungary, especially during the winter months. Strips of sweet dough are wrapped like a ribbon around a wooden spit that rotates over coals or in a special oven. This Hungarian food has practically been a favourite since the middle ages and is often referred to as chimney cake because of its shape. The dough tastes similar to brioche and popular toppings include cinnamon, walnut, vanilla, cocoa powder and coconut. Kürtőskalács are such a hit these days that you can even find some stuffed with ice cream.
FRIED DOUGH || LÁNGOS
No list of delicious Hungarian foods is complete without mentioning lángos. A simple dough mixture (very similar to pizza dough) is quickly deep fried so the outside is crispy and the inside is soft. This popular snack is widely available at food stands, festivals and kiosks in Hungary. Today, most shops have an endless list of options when it comes to toppings but we recommend ordering as the locals do with garlic butter, sour cream and grated cheese. You know it's good street food when it's served on a sheet of greasy paper.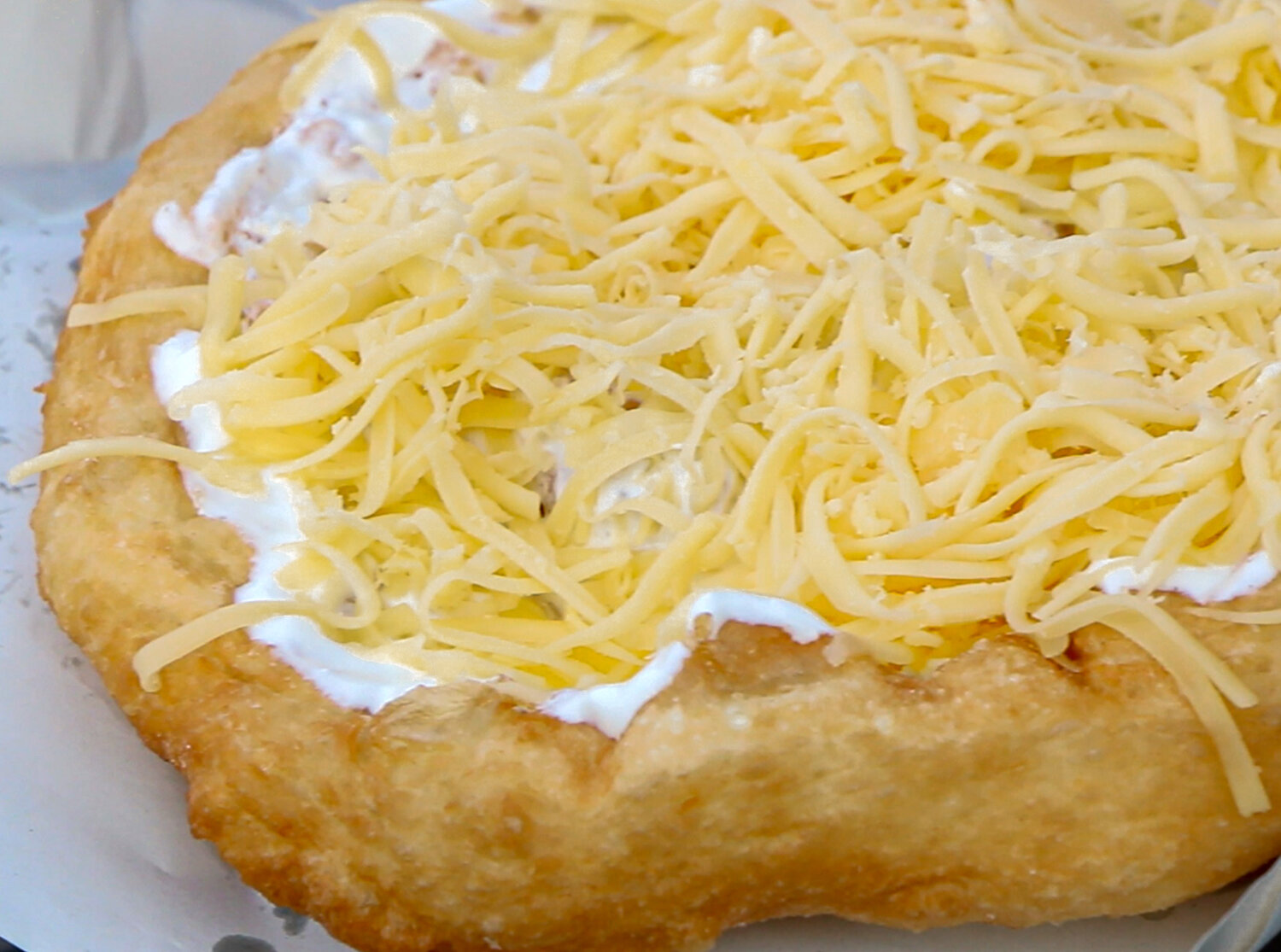 TRADITIONAL HUNGARIAN BEVERAGES
PALINKA || You'd be hard-pressed to find a bar in Hungary that doesn't serve palinka. The national liquor of Hungary is a fruit brandy usually made from fermented apricot, plum, cherry or pear. For someone like me who shies away from hard liquor (give me an IPA or glass of merlot anyday), palinka doesn't go down smoothly. Like, not at all. Served in a shot glass and worth a try at one of the many ruin pubs in Budapest.
UNICUM || Another national beverage of Hungary but this one is dark, thick and quite bitter. The herbal liquor was created by Dr. Zwack some 200 years ago using more than 40 herbs and spices in a formula that still remains secret today. Usually enjoyed before a meal to stimulate the appetite or after a meal to help with digestion. It's bitter taste also makes it pretty versatile for cocktails. Coming down with a cold? Nothing a shot of Unicum can't cure.
TOKAJI ASZÚ || Wine lovers, rejoice! You'll find plenty of notable wines in Hungary but none is as exclusive as the Tokaji aszú. Tokaji is Hungary's most famous wine region and the sweet aszu wine is the region's star. This wine is made from grapes that have acquired noble rot and are painstakingly harvested by hand (which helps explain the price tag).
HUNGARIAN BEER || When in Hungary, opt for a Hungarian beer like Dreher, Soproni, Borsodi or Arany Ászok. Generally speaking, the country is known for producing light lagers but even the craft beer scene is emerging throughout Hungary. There's a growing interest in microbreweries facilitated by craft beer festivals in Budapest and ruin bars dedicated to craft beers.