Balaton for Explorers
If you only have a single day in the Lake Balaton region, discover the sights of Tihany and visit Balatonfüred, the 'capital' of the north shore.
Church and Museum of the Benedictine Abbey of Tihany
THE ABBEY, founded almost 1,000 years ago, is the world-famous symbol of the Tihany Peninsula. There are invaluable works of art made by famous artists in the church of the monastery founded by (Saint) Andrew I of Hungary, including wall paintings by Lajos Deák-Ébner, Károly Lotz and Bertalan Székely; the beautiful wooden statues and the wooden altars were made by Sebestyén Stulhoff. The founding king was buried in the undercroft, making this the only Hungarian royal burial place from the era of the Árpád Dynasty that is still intact.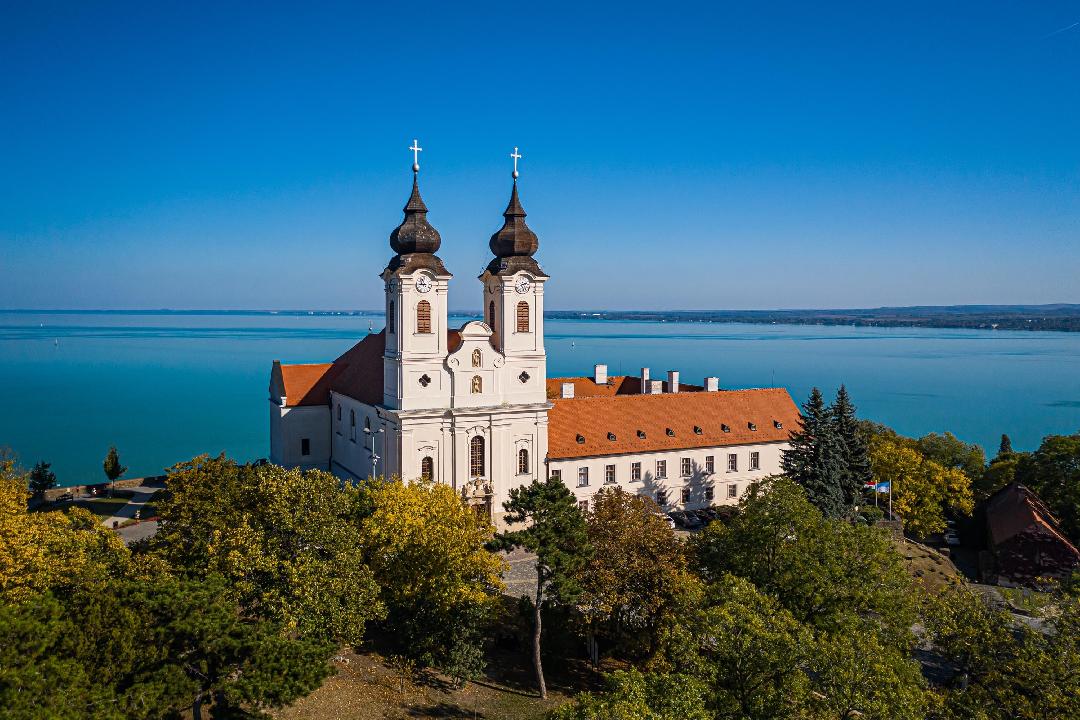 Walk around Tihany
If you stand at the lookout point next to the abbey, you have a beautiful view of the Belső-tó and the south shore. From here, take a few minutes' walk to visit the Potter's House and the Open-air Ethnographic Museum, which showcase typical folk architectural elements and tools and equipment used by traditional craftsmen. It only takes 15 minutes to reach Belső-tó and THE LAVENDER HOUSE Visitor Centre, where you will find an interactive exhibition of how the Tihany Peninsula was formed and learn about lavender growing.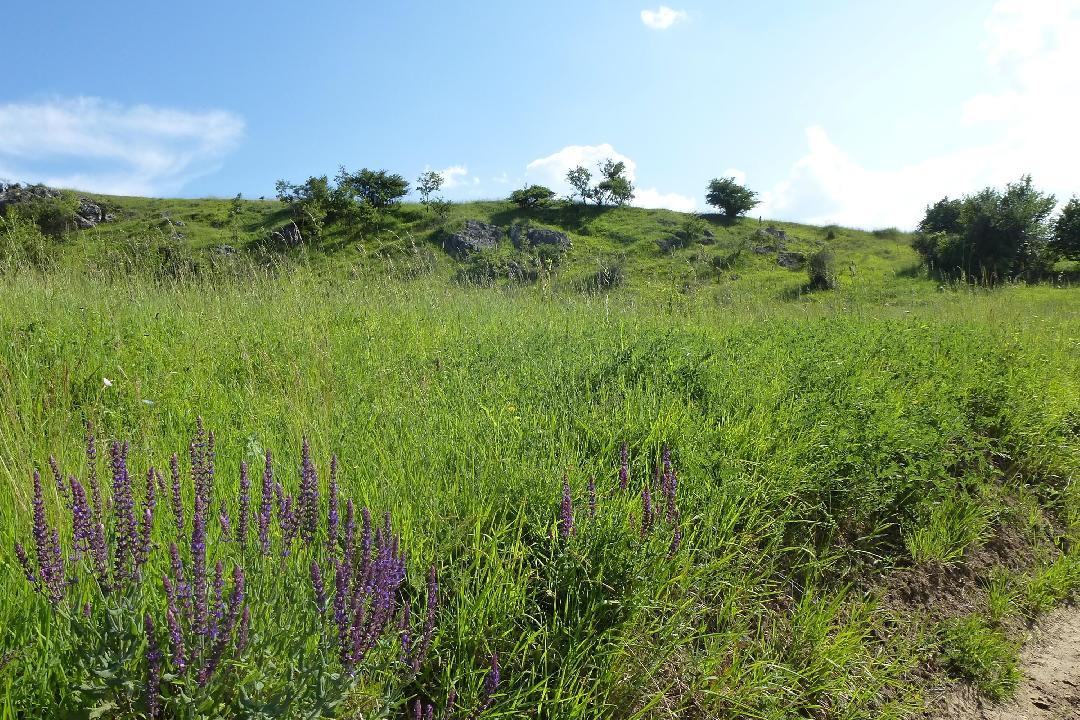 A walk in Balatonfüred
Your visit to the centre of the town will take you back in time, with its Classicist buildings from the Reform Era, beautiful parks and cobblestoned streets. Almost every building here has a story tell: actress Lujza Blaha and writer Mór Jókai, for example, both bought villas in Balatonfüred. After you have visited the Vaszary Villa, the Jókai Mór Memorial House and the Round Church, why not take a stroll on the Tagore Promenade and allow the many statues and plaques to tell you the history of the town? LAKE BALATON'S BEST-KNOWN PROMENADE is named after the famed Indian poet and Nobel laureate, Rabindranath Tagore. Many celebrities have followed the example of planting trees here set by the great artist. The latest sights added to the promenade are the Bodorka Visitor Centre and the beautifully renovated Vitorlás tér, with its statue of actor István Bujtor.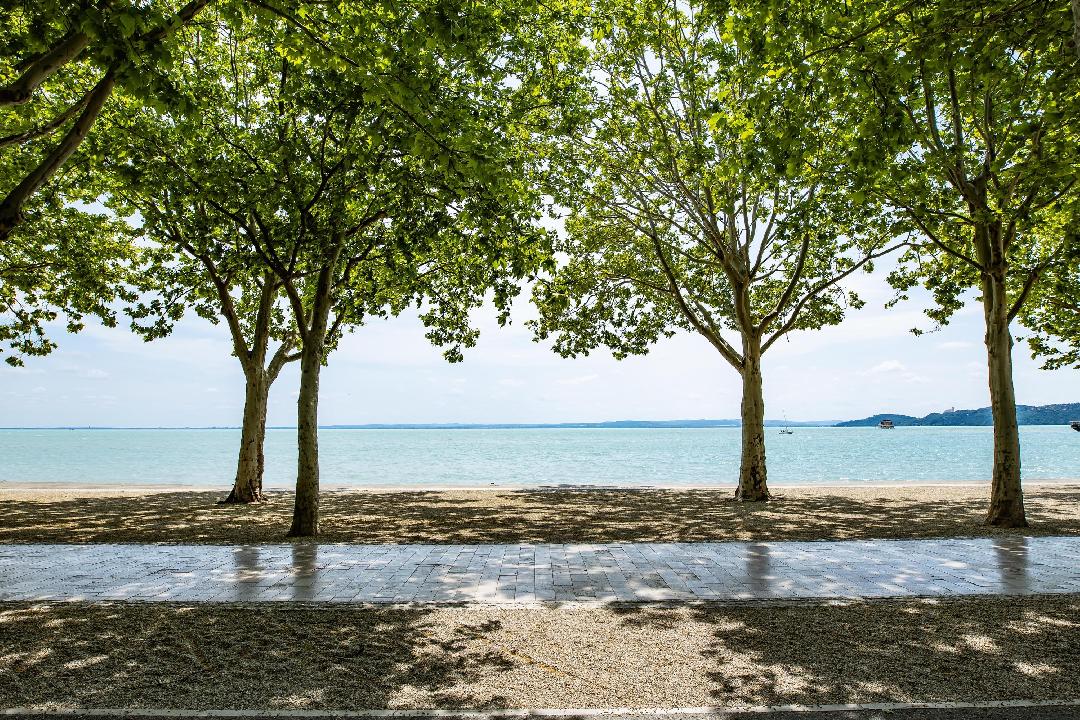 Balaton Hungarian WINES
The Somló Juhfark (literally 'Sheep's Tail') is one of the oldest Hungarian grape varieties. A 'fiery' wine with a strong acidic bite, it got its name from the volcanic hill called Somló, which is located 50 km from Lake Balaton, as well as the distinctive shape of its grape clusters. It takes about three to four years for the wine to peak and for its acids to lose their roughness. It is also called the 'wine of wedding nights': it is said that drinking it increases the chance of conceiving a boy.
GASTRONOMY
Catfish paprikash, which is traditionally made from wels catfish, is listed on the menus of restaurants around Lake Balaton as a specialty. It is a dish you really must taste while you are at the lake. The boneless fish is traditionally served with noodles with sheep's cottage cheese, sour cream and bacon (cottage cheese noodles) and fried, diced bacon, accompanied by full-bodied white wines.
Buy from local producers
There are plenty of farmers' markets to be found around Lake Balaton. The biggest of these are the ones at Fonyód on the south shore and at Káptalantóti and Tihany on the north. These markets have the best artisanal products, from cheeses, homemade sausages, home-grown vegetables to various specialty items such as pumpkin seeds spread, grape seed oil or wild-boar pâté, all available straight from the person who made it.
Sample HegyBor wines
BalatonBor wines are all part of a unified Balaton brand that represents a reliable quality. HegyBor wines, part of the same family, are top-quality with terroir characteristics, all made from Olaszriesling grapes. You can taste these special items at cellars and estates, and at certain restaurants and wine shops this summer.
Find a special spot for a convivial picnic
Sitting down with friends for a glass of wine and a natter is one of the best things about summer. The perfect location for these kinds of gatherings is somewhere with a nice view, and Balaton has plenty of them, from the pier at Balatonfenyves to the lovely picnic spots around the Balaton Uplands or the Human Comedy Group of Statues in Káli-medence.
Find the best ice cream on the beach
Discover a new place
New restaurants open when the season starts, and it's always exciting to discover a beach buffet, confectionery or wine terrace that wasn't there before. For example, there's a bistro in Aszófő with fish as the focus, while Szent György-hegy is that little bit richer thanks to a new wine bar. Meanwhile, the iconic building of Hableány in Badacsony will soon open its gates, too.
Eat fine zander
Balaton is blessed with a treasure that could become hugely popular: zander. These are among the pricier items at fish grills (about 4,000 forints a kilo), but there's a reason for that: it has white meat, few bones and little fat. With a fishing ban in effect, these beauties come from farms near the lake, but the quality keeps getting better and better.
Visit previous winners of the Beach Food of the Year Award
Beach Food of the Year rewards beach buffets that make quick and quality dishes using locally sourced ingredients. There are more and more applicants every year, signalling the end of oily fried fish and not-so-stellar hamburgers. Kalóz in Balatonfövenyes, Paletta in Balatonboglár and A Konyhám in Balatonfenyves all won the award in previous years. The latter produced the so-called gofcsi – a cross between a waffle and a latkes potato pancake, topped with multiple kinds of cheese, dried tomatoes, a dollop of sour-cream mousse, sprinkled with sausage crumbs and duck crackling.
Watch sunrise from a hilltop
Balaton mornings can be magical, so it's definitely worth waking up a little earlier one morning and climbing one of the region's many hills to watch the sunrise. Tóti-hegy is especially recommended, as it's relatively easy to climb and has a stellar view. Make sure to take a headlamp and some food with you. Visiting on Sunday would also mean that you can check out the Káptalantóti market before the crowds arrive.
Paddle a kayak or canoe around the reeds
Although SUP boards are becoming more fashionable and windsurfing still rules on Lake Balaton, classic activities are always a good idea. Try renting a kayak or canoe and row along the shoreline. Getting into the reeds is a special experience as there you can watch nature close up. Be careful, as the reeds are very important habitats so don't disturb or damage them, and be sure to follow only the wide water paths.
Try out the renovated section of the Balaton Bike Ring
The renovation of the Balaton Bike Ring started in 2019 and it will probably continue until 2021, but you can already see the results. Parts of the Balatonlelle-Balatonalmádi section already have new asphalt, fresh paint and new signs. The routes were also changed at certain parts.
Try a special water sport
It's a joy to relax on the beach or go paddle boating, but there are other possibilities to explore on Lake Balaton's north and south shores. More and more spots have SUP boards for rent, but you can also learn to surf or try wakeboarding or water-skiing.
Drive around Balaton's most scenic routes
Sometimes driving is the quickest and most practical way of getting around – in which case, why not choose the most beautiful route available? Balaton has plenty of panoramic roads that are worth a detour.
Party on the ferry to Tihany
Balaton has more and more festivals and unique concerts every year, but the MOL Nagyon Balaton ferry concerts are still some of the most special. Two ships leave Szántód and Tihany at the same time, and they are linked when they meet in the middle, with a stage being set up on one of them. Places are limited, so it's hard to get tickets. The 2019 line-up includes such well-known Hungarian acts as Magdi Rúzsa and Majka.
Listen to world-famous musicians by the lake
Balaton's biggest festivals bring world-famous musicians to its shores. Just to mention a few names appearing this year: Caro Emerald, Katie Melua (VeszprémFest), Rick Astley, The Jacksons (Paloznak Jazz Picnic), Bastille, John Newman (Strand Festival), DJ Snake, Future, Sean Paul, Rudimental (Balaton Sound), Amelie Lens, Sven Väth (B.my.Lake) – and that's just a taste of what Balaton has in store this summer.
Discover Balaton's smaller festivals
Besides Balaton Sound, Strand and the Valley of Arts, Balaton also hosts smaller festivals too, quieter and more intimate. DJ in the Vineyard by the Homola Winery, Bohém Légyott by the Gilvesy Winery and Salföldi Dalföld, an ethno-jazz gathering held from July 5 to 7, are all worth investigating.
Enjoy an intimate concert
Some of Balaton's cosiest concerts aren't advertised – it's best to keep an eye on Blaja Lujza utca in Balatonfüred, as the spots there (Kredenc, Kedves, Morzsa) often host random live music. Members of Punnany Massif regularly visit Káli-Kapocs for a low-key performance. Another exciting place is the Hullám Hostel in Révfülöp, with various ethno-folk musicians stopping by to play in summer.
Meditate by ancient ruins
Balaton is the perfect place to meditate in complete tranquillity. On the north shore, the Árpád-era church ruins are the best spot for this kind of exercise, especially the ruins of Taliándörögd. Szamárkő, a sacred destination in Zamárdi on the south shore, is another great option.
Explore Keszthely by horse-drawn carriage
This summer you can take an authentic horse-drawn carriage to explore Keszthely and its surroundings. Four routes have been set up, including shorter ones within the city and longer ones that will take passengers to Kis-Balaton or the Zalaszántó Stupa Buddhist temple.
Take in culture on Lake Balaton's shore
The peaceful environment of Lake Balaton has always been attractive to artists. This is illustrated by the many temporary and permanent exhibitions: you can learn more about the lives of writer Mór Jókai in Balatonfüred, composer Imre Kálmán in Siófok, poet Sándor Kisfaludy in Sümeg or actor Zoltán Latinovits in Balatonszemes. You can also see photographs of authors enjoying their summer holiday at Lake Balaton during the 1950s, '60s and '70s at Vaszary Gallery until July 14.