Every minute spent with the love of your life feels like you are in seventh heaven. Naturally, you want to give her the best and most romantic journey possible. I'll tell you a secret: Budapest is the number one choice for a romantic journey.
Want to know why? I can list at least 20 romantic things to do for memorable moments. And I am going to share them with you now!
Table of Contents
1-8. Romantic things to do for the lovers of nature and the city
9-15. Romantic things to do in Budapest for adventure seekers
16-20. Romantic things to do for the lovers of classical dating programs
Romantic things to do for the lovers of nature and the city
1. A romantic picnic and bubble blowing at Margaret Island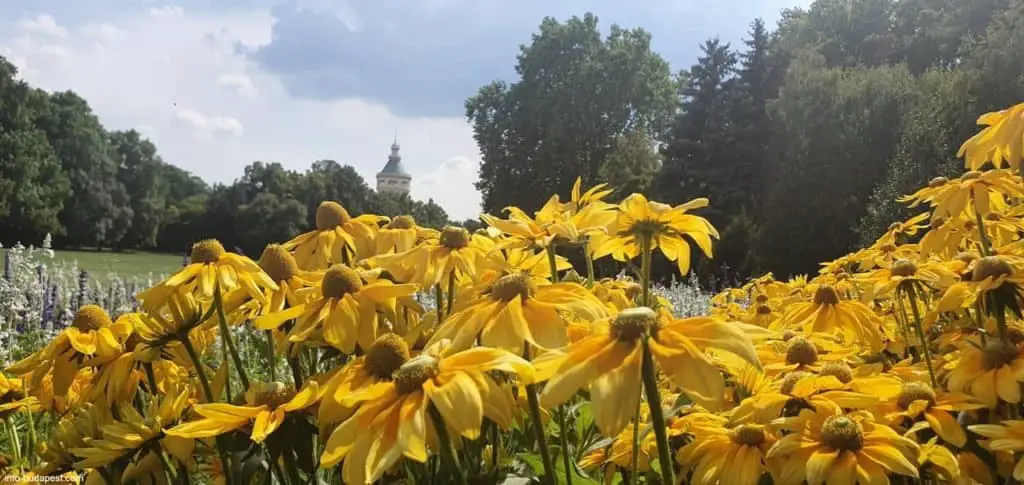 Margaret Island-Water tower
Don't forget to get the following items before heading off to a most romantic day in Budapest:
a bottle of rosé wine from a famous Hungarian winery (e.g. Vylyan, Bodri, Sauska, Dúzsi Tamás)
sliced sausage (Békéscsaba or Gyula) or Black Forest ham
All these items can be bought at the Great Market Hall – the place where you can easily lose yourself among the stalls offering the wonders of Hungarian gastronomy. Pack them in your bag, hop on tram 4-6 or walk to Margaret Bridge and let the romance begin.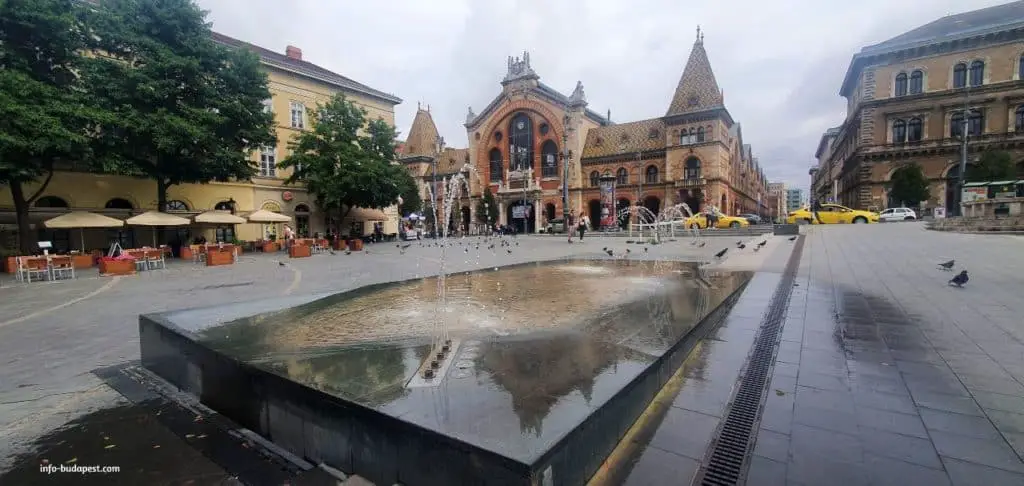 Sunshine, hot summer breeze, gently rustling giant trees – Margaret Island is the oasis of peace and quietness in the heart of Budapest. Stretching out in the protective embrace of the Danube, it is a true paradise where souls hungry for peace meet. Last but not least, it is the most romantic place in all of Budapest.
Would you like to know where to find the most romantic places in Budapest? If your answer is yes, read my article on this topic.
You can already feel the idyll of the island while walking along Margaret Bridge. Turning toward the entrance of the island, leaving behind the rumbling sound of tram 4-6 and the sound of the rushing traffic, you start hearing kids' laughter, dogs barking and people talking.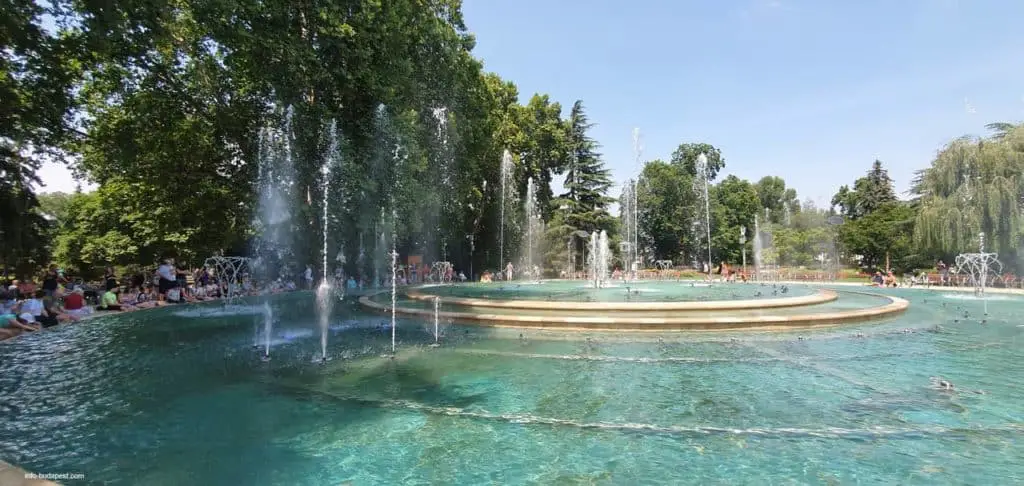 The playful and rumbling sound of the Musical Fountain – that "gives concerts" in the evening – invites you in. Cyclists and runners pass you by only to disappear in the density of the ancient trees, just like you and your partner. A few more steps and you will be embraced by the silence, nature, and the idyll of this amazing place.
Margaret Island belongs to everyone. No matter where you lay out your blankets, you can surrender yourselves to tranquility under the cooling shade of the ancient sycamore and oak trees stretching into the sky.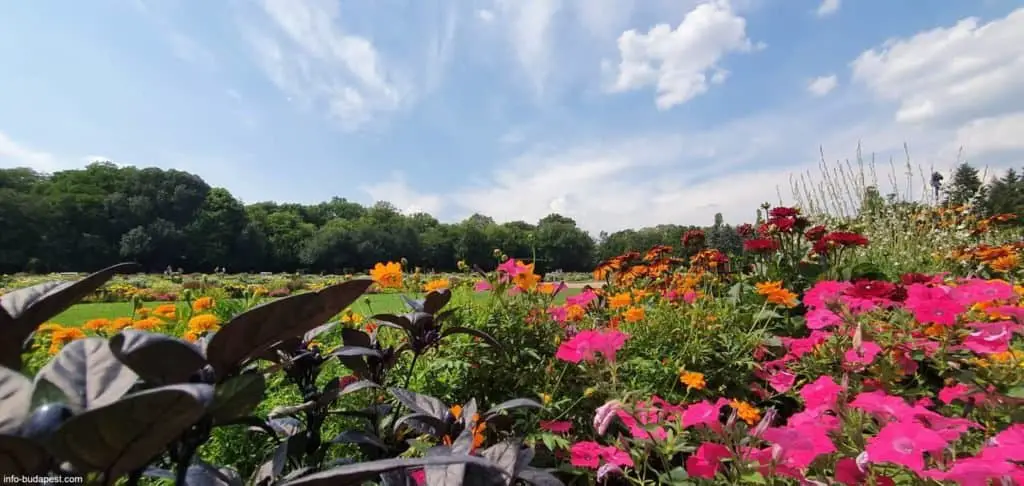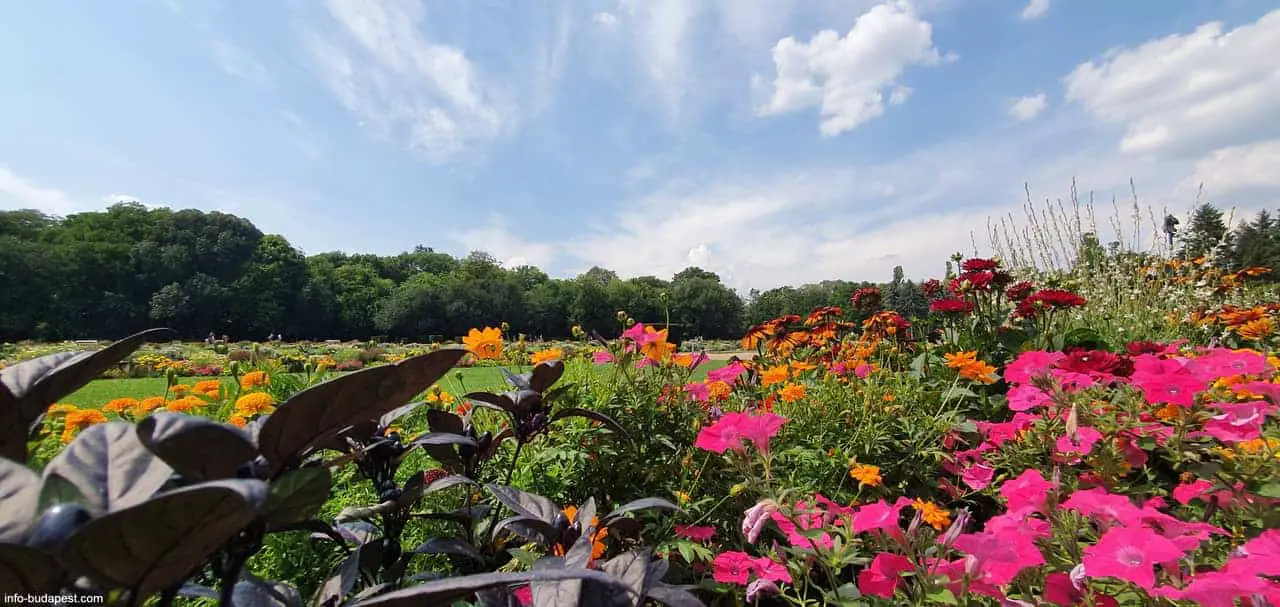 Take out the great Hungarian rosé, sausages, cheese, and the apples and enjoy the parade of flavors! Talk; tell each other untold stories you had no time for in the rush of everyday life. Whisper sweet nothings to each other or give yourselves a kiss or two; no one will bother on Margaret Island.
And once there is no more wine, delicacies, or stories left, it is time for a truly memorable program. There is a day at the end of August when everything is about colorful bubbles on Margaret Island.
Hundreds of people gather on the Lower Great Meadow next to the statue of Imre Madách to blow colorful bubbles toward the sky for hours. The spectacle of the sunlight on the tiny or giant bubbles is just amazing! Join in with the hundreds of Hungarians blowing bubbles and enjoy the small pleasures of life!
2. Hiking to Elizabeth Lookout Tower, lifted over the city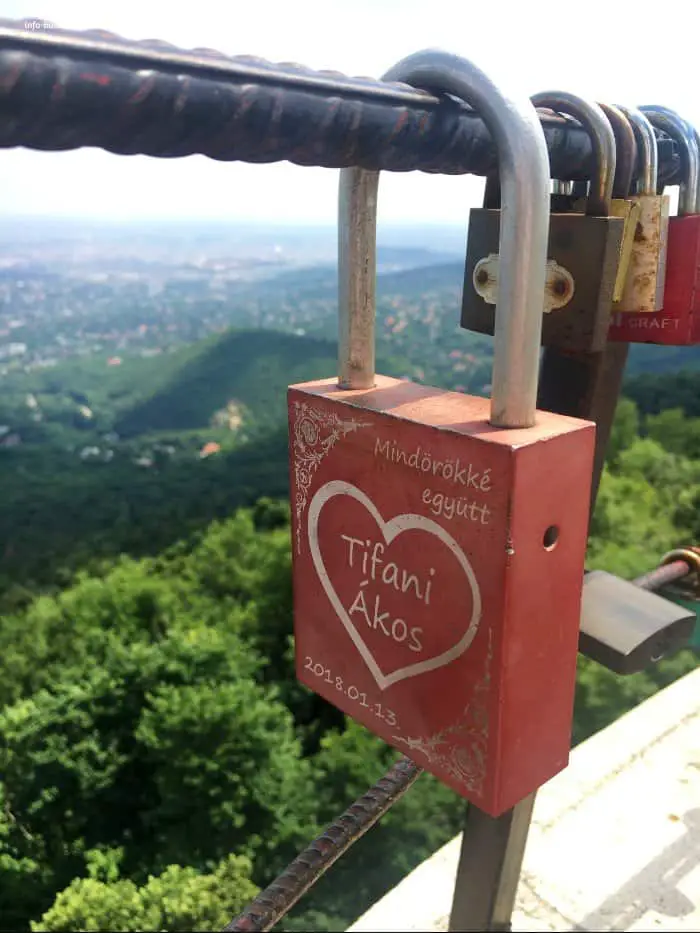 If you are tired of the buzzing city and would like to enjoy the vicinity of nature, then you will be fascinated by the chairlift on János Hill and the Elizabeth Lookout Tower. Pack a bottle of water, some fruit and sandwiches, and head for one of the most beautiful lookout towers in Budapest.
You can either hike up the 528 meter-high János Hill – the highest mountain in Budapest – or get on the Zugliget Chairlift instead. I would leave the chairlift to the end if I were you.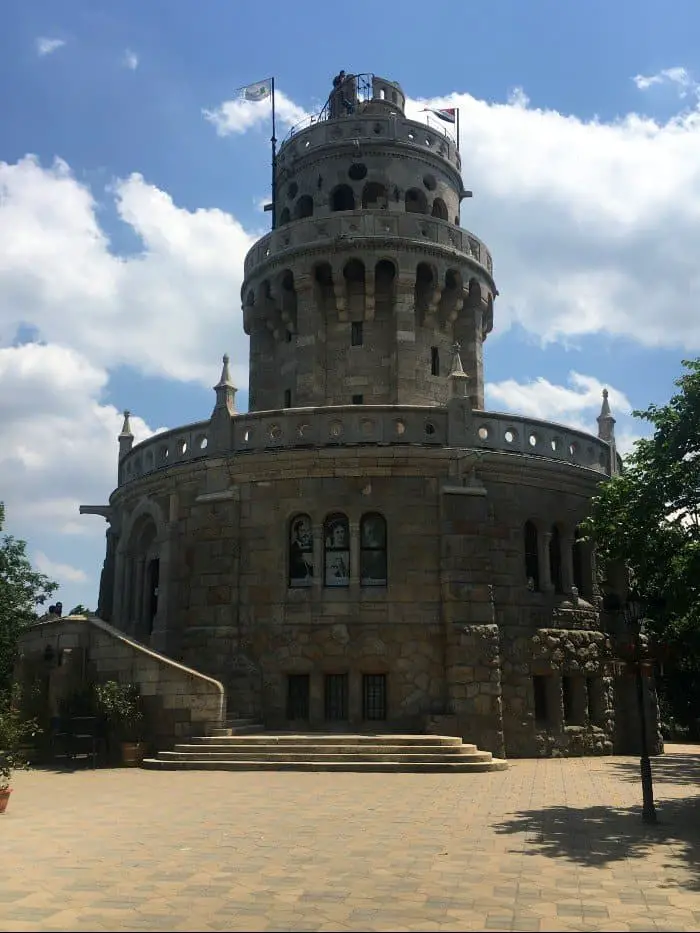 The hike of roughly one and a half hours up the hill is an extraordinary experience in itself. But, honestly, a bit of physical preparation might be useful as there are steep climbs, switchbacks, and stairways most of the way. You can have a rest halfway up the hill at Tündér-szikla (Fairy Rock) and enjoy the magnificent view of the area. The second part of the hike is a bit challenging, but nothing is impossible if you are supported by friends.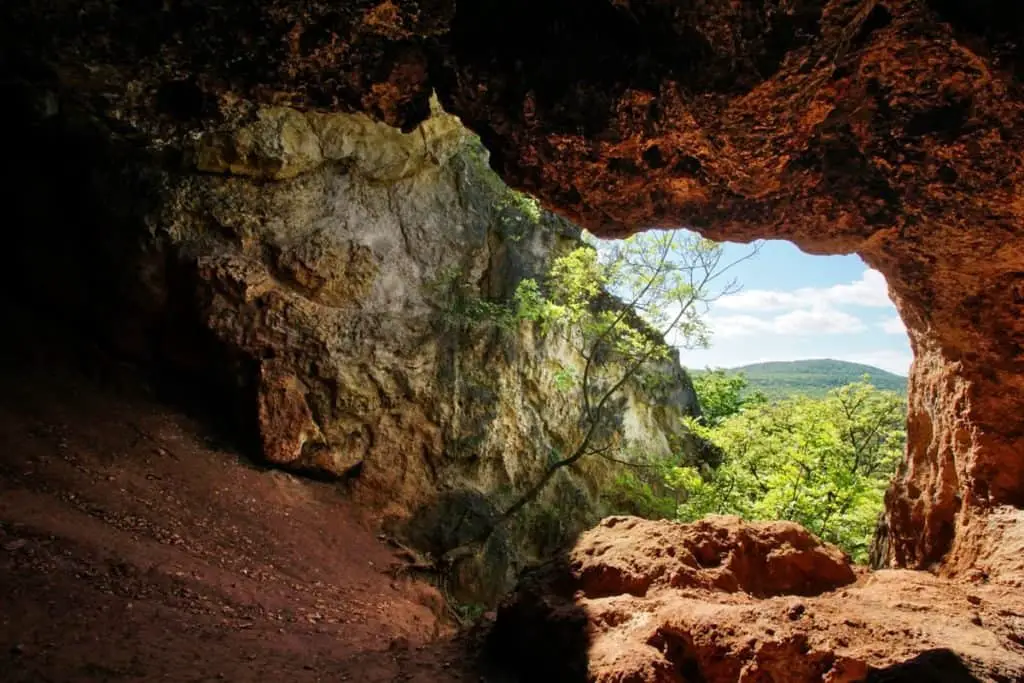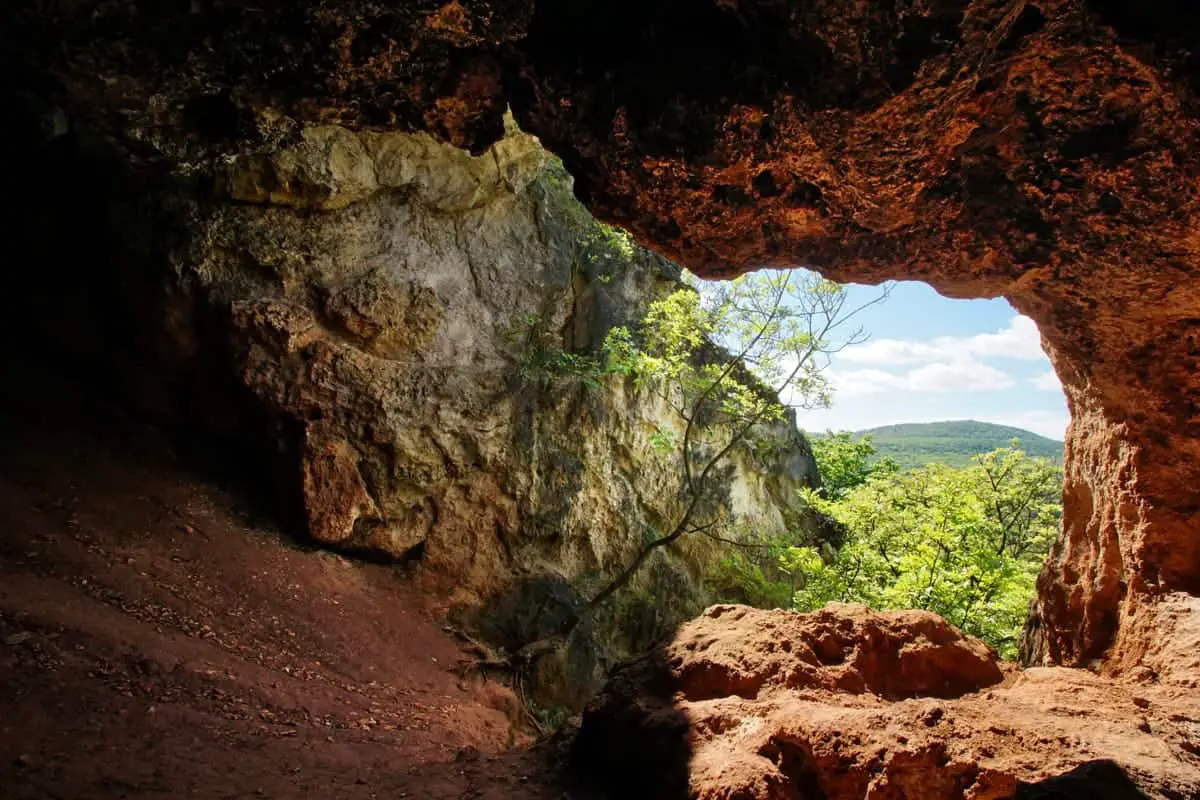 In the end, all the hard work will be rewarded with a picnic at the foot of the fabulous Elizabeth Lookout Tower – the highest point of Budapest. The Neo-Romanesque building – erected in 1910 – was named after the revered Hungarian Queen who had visited János Hill several times before the tower was built.
The lookout tower – that also operated as a meteorological station for a long time – was the first location in Budapest to become illuminated at night. As a result, the city government was soon encouraged to illuminate the Parliament and the Fisherman's Bastion as well.
Once you've gained back your strength, it is worth climbing the ancient spiral staircase leading up to the terraces of the 23-meter-high tower where you can enjoy the most beautiful panorama of the Buda Hills. To my fellow men, the best time for a visit is right before sunset when the stunning sight may provide the perfect setting for a proposal. 🙂
After the lookout tower and a cup of coffee, it is time for a well-deserved chairlift ride where you can admire the view of the surrounding nature and the whole capital spreading below. In clear weather, you will see not only the peaks of the Pilis Hills, the Buda and Pest side, and the fields surrounding the capital, but also the green forests of the Gödöllő Hills.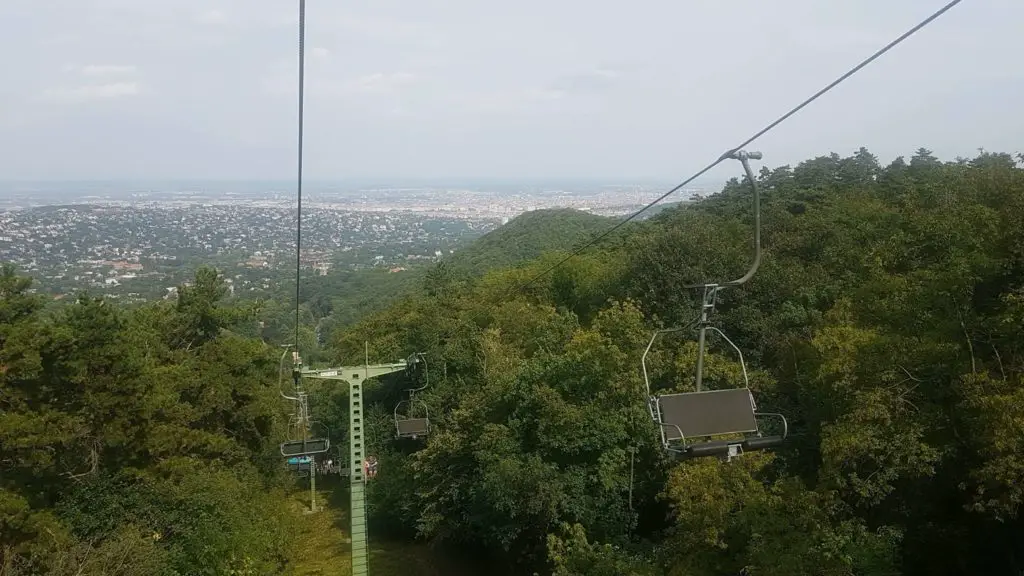 And there are many things happening right under your feet as well: hikers walking up the hills, cars passing by on the road and you can also peek into some private gardens on your way down. What is more, if you happen to be there in spring, you might even see the race called "Előzd meg a libegőt!" (Run faster than the chairlift) where runners try to arrive at the top station of the lift as quickly as possible. Cheer for them!
3. Romantic train ride as if we were children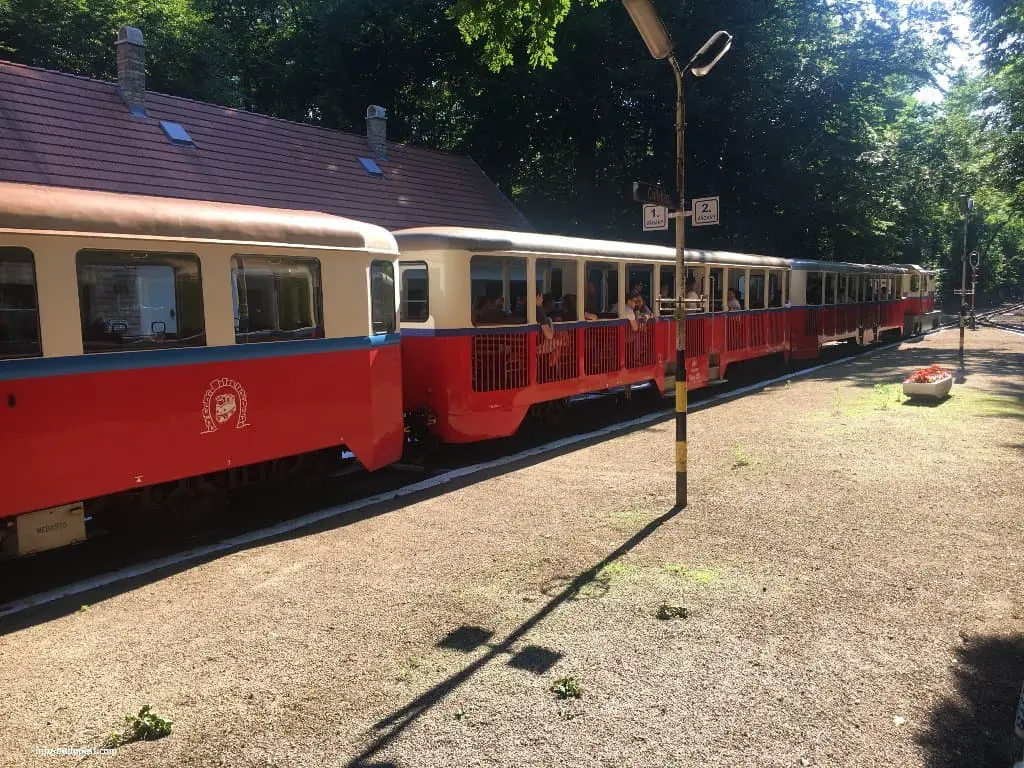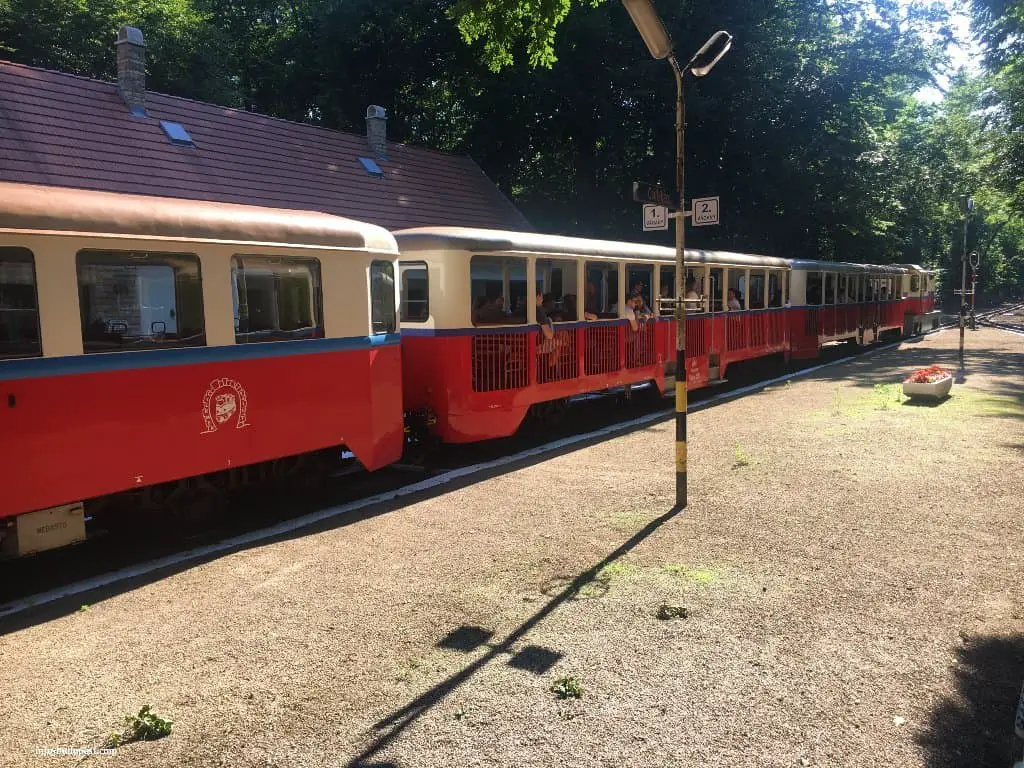 There is a railway in the heart of the Buda Hills that is managed by children. It is like we have stepped into the realms of Lilliput – whistles blown by smiling children at boarding and they are the ones checking the tickets on the carriages, too. The Children's Railway travels through lush green forests, into a secret world that is far from the constant noise of the city and where the air is as clear as a mountain stream.
The Children's Railway – with its 11-kilometer-line – was included in the Guinness Book of Records in 2015 as the longest railway line where traffic and commercial services are all provided by children.
The train chugging at the speed of 20 km/h gets from Széchényi Hill to Hűvösvölgy in about 45 minutes. The Children's Railway – built in the late 1940s – became the center of the Pioneer Movement of the socialist system.
According to the ideology of the time, the railway used to be one of the means of socialist education, the arena preparing children for creative and productive work. Only excellent students could perform service at the "Pioneer Railway", problematic ones were not allowed to take part in the work. A mark 3 (grade C) from any subject was an excluding factor.
There were multiple oversubscriptions (up to a tenfold in the 1970s) during its existence. Getting into the Pioneer Railroad equaled the glory of a successful university acceptance for the children of the party clerks. The Children's Railway Museum located in the Hűvösvölgy station building presents the history of the narrow-gauge railway.
If you combine the train ride with a visit to the Elizabeth Lookout Tower and the chairlift, you will have a whole-day unique excursion.
4. Roman holiday at the bank of the Danube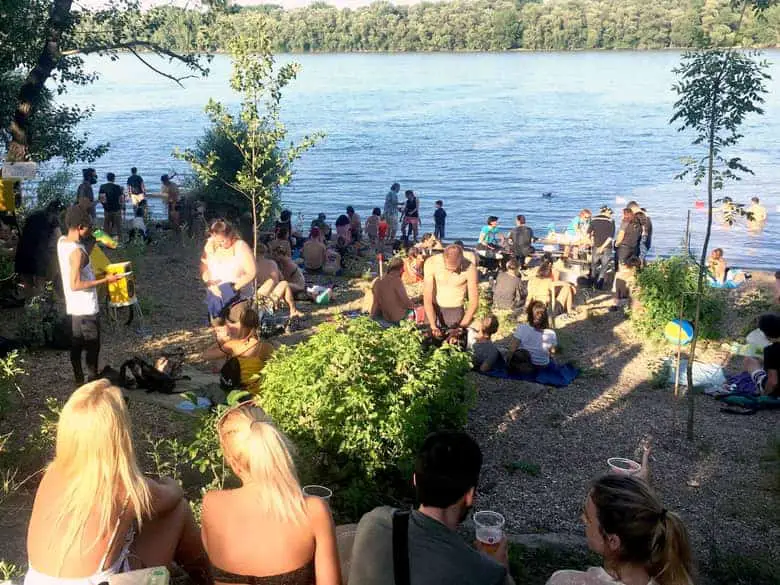 Not Italian, still Roman. What is it? It is the Roman Beach in Óbuda lending a little Mediterranean atmosphere to Budapest. Just walk past Margaret and Hajógyári Island and under Újpest Railway Bridge until you reach the part of the city called Rómaifürdő.
But why are there so many Italian names in the Hungarian capital? Remember the Roman Empire from History class? Well, Óbuda used to be a Roman military camp and civil settlement under the name of Aquincum from 89 BC until the 4th century. You can even see the nearly two-thousand-year-old ruins in the Aquincum Museum and Archaeological Park.
If you are unsure of which museums you should visit, here is a list of the best ones. For further information see this.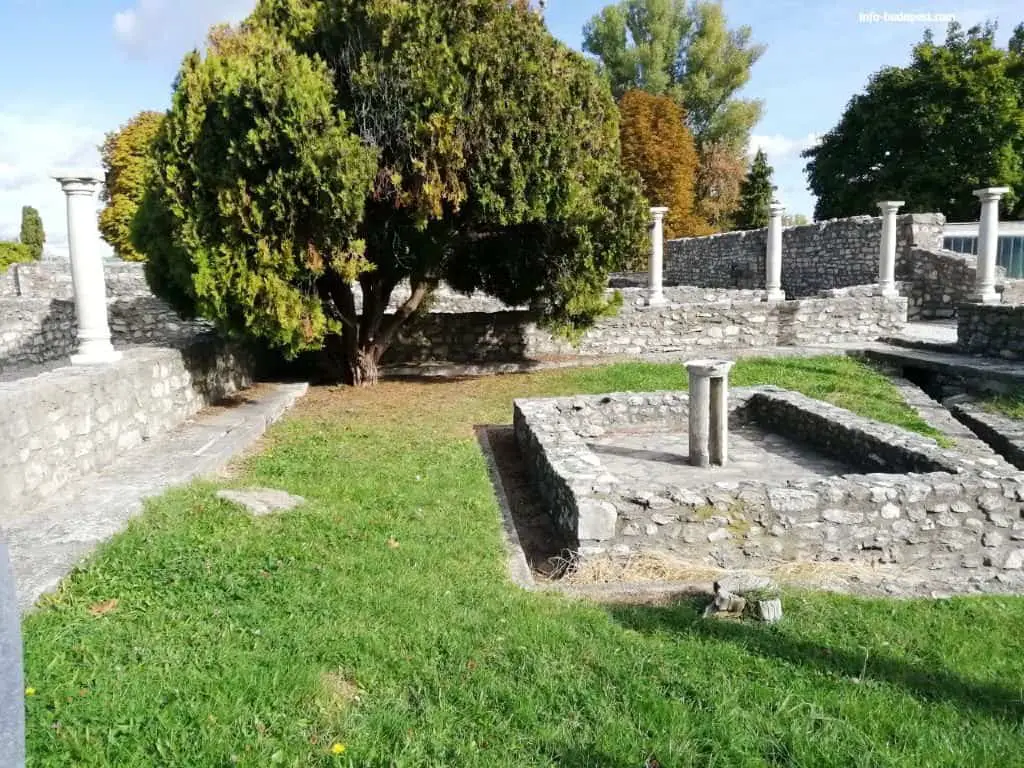 But let's get back to the present now. There is no summer in Budapest without the Roman Beach. It puts the concept of romantic walks into a new perspective. Spice up the bustling seaside promenade atmosphere with a large amount of Budapest retro feeling and authentic Hungarian buffet dishes and there you have it – the Roman Beach.
Try hake and lángos (fried scones), the star dishes of Hungarian summers, in the iconic buffets like Platán and Evezős Sörkert. But if you are looking for something a bit more ruin barish, stop at Kék Rombusz. You can finish the day with a delicious fried scone-pancake dinner in the buses facing each other.
Looking for something more Mediterranean? Head for Fellini! It can easily be spotted as there are lines of striped sunbeds on the pebble beach of the Danube evoking the Italian summer beach atmosphere. Ask for a panini or an Argentinian Balkán Balhé, then drink a Belgian beer or a mint lemonade! Take a seat in one of the striped sunbeds and listen to the softly rustling live music and the roar of wavers washing the pebbles on the beach. Is there a more romantic way to have dinner?
5. Boating in summer, skating in winter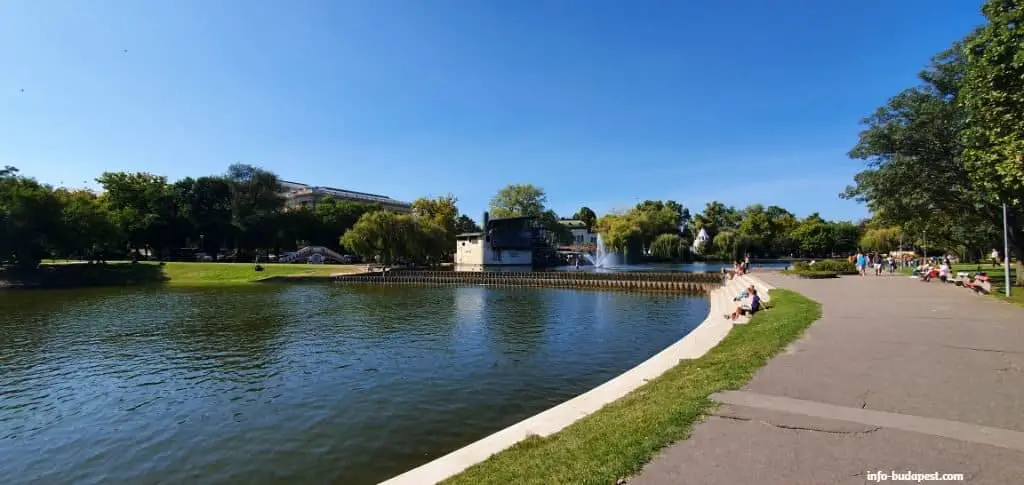 The Városliget Lake in the heart of the downtown right next to Heroes' Square is the perfect choice for a romantic activity all year round.
The playful sunlight lighting up on the lake, strolling under the old oaks, and cedars may already be the opening scene of a romantic novel. Still, it can be further enhanced.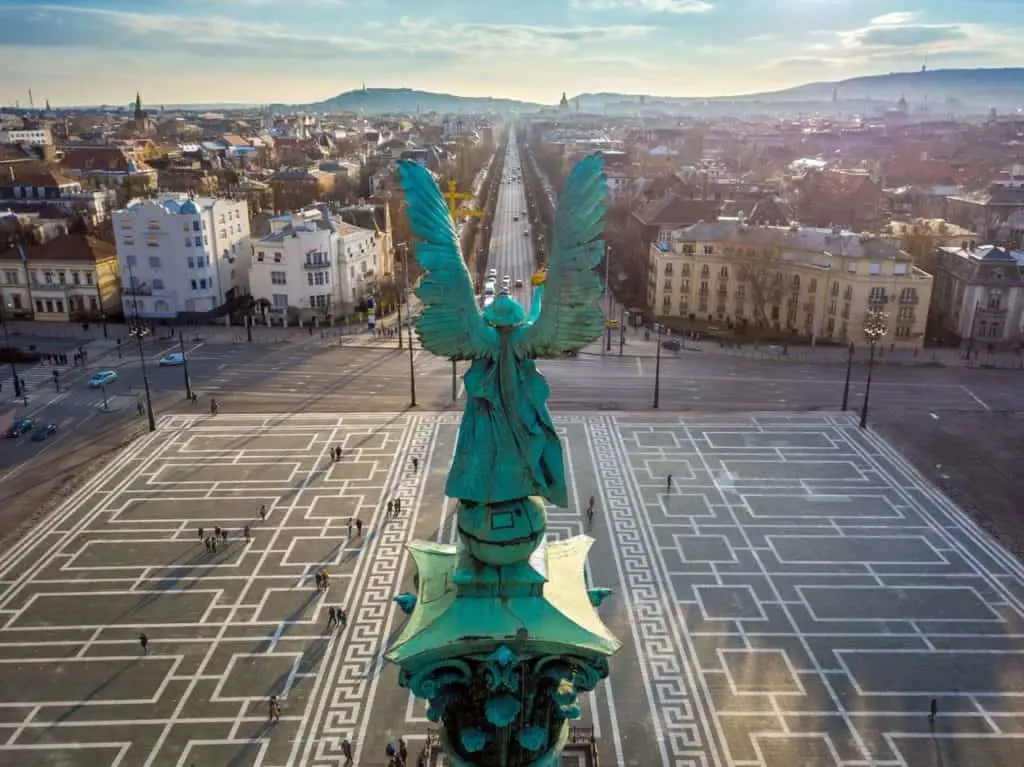 Make it a real Hollywood experience and rent a boat on the Boating Lake and admire the fairytale-like Vajdahunyad Castle, the lazily floating ducks, and the building of the Boating Lake flying you to the historical past while rocking softly on the water. Share earphones and listen to music together and surrender to this amazing idyll.
Don't worry – you don't need to give up on romance in winter either. In the cold months, the Boating Lake is turned into the largest ice surface in Budapest called the Műjégpálya (Ice Skating Rink).
Can you imagine anything more romantic than holding hands and skating together on the beautifully lit ice with the castle and the building of the City Park Skating Rink covered in fog and snow in the background?
Take a break between two rounds and warm yourselves up with mulled wine or hot tea! Dance your own moves at the Ice Disco on Friday and Saturday where music is provided by the best Hungarian DJs! A selfie together is a must!
6. Cruises on the Danube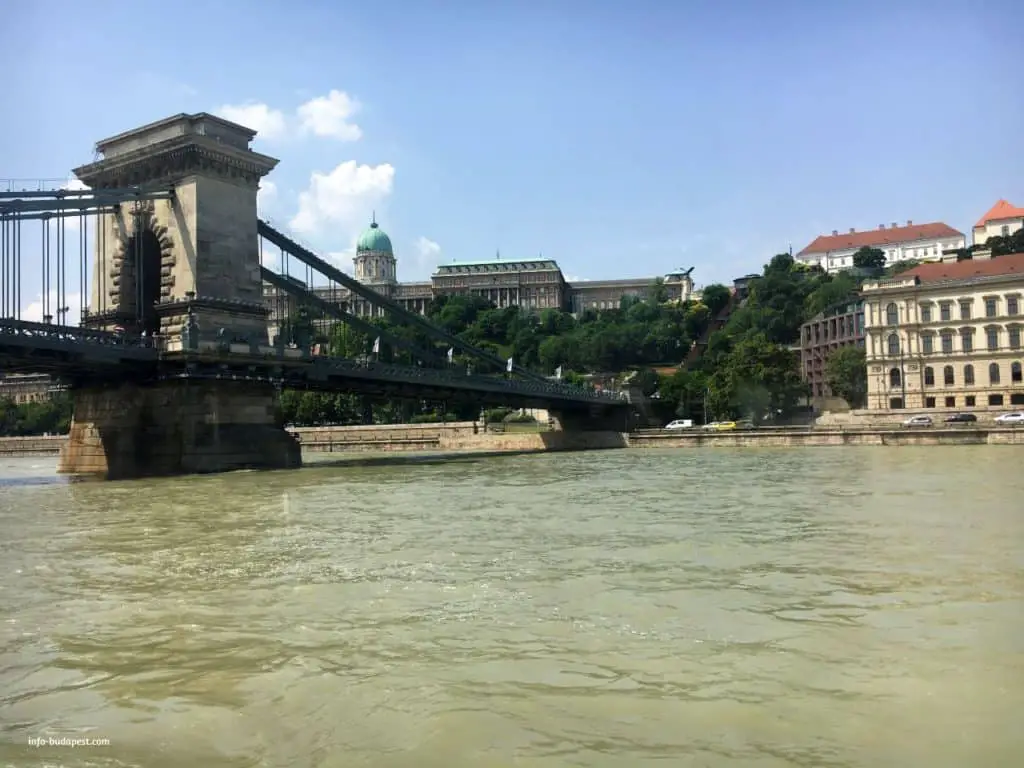 It is a dating program that should not be missed if you are in Budapest. No matter if you go on a boat trip during the day or at night, you will love Budapest in both cases.
During the day, you can choose from a variety of guided cruise programs and admire the Buda Castle, the Fisherman's Bastion, the Parliament, and the most beautiful bridges while floating down slowly on the Danube.
Tour guides will make sure that you find out all the interesting facts about the iconic buildings of Budapest. You can combine the trip with a pleasant lunch, tasting fine wines, enjoying the sunshine and warm breeze on the open docks in summer.
Dinner cruises are the queens of romance. There are countless possibilities and the experience can be enhanced in several stages from simple wine dinners to folklore performances and party ships. Pick a program together!
Would you like to have a candlelit dinner with pleasant piano music or a night of refreshing Hungarian dance? Whichever you choose, don't forget to admire the Budapest night lights while standing by the boat railing with a glass of wine in your hands. It is definitely an irrevocable moment!
7. Kissing on the bridges of the Danube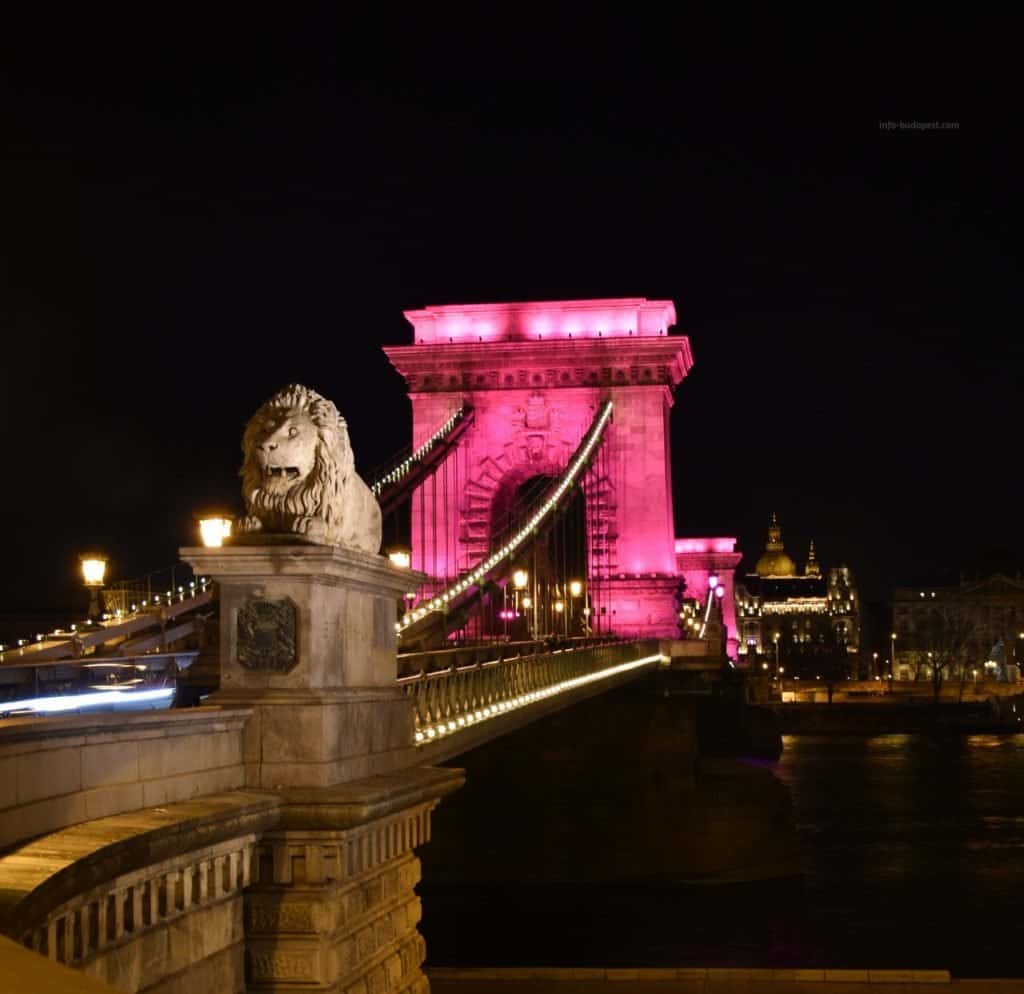 This idea comes from a Russian friend of mine. He and his girlfriend traveled on the metro lines of Moscow and kissed at the most beautiful stops, then took a picture of themselves. I liked the idea so much that I decided to do the photo series in Budapest.
Since the metro stations are not nearly as beautiful as in Moscow, so I found more worthy places for the pictures. This is how the choice fell on the bridges of Budapest.
Looking for a truly unique experience and memory from Budapest? Take the "Kisses on the bridges" photo challenge. Kiss in the middle of every bridge from Rákóczi Bridge to Árpád Bridge and take a photo of yourselves.
During the challenge, you will see the most beautiful sights in Budapest, such as the Parliament and the Várkert Bazár (Castle Garden Bazaar). It is a truly unique experience with truly unique photos and a true sightseeing tour. You will always remember this adventurous day by developing the pictures on the bridges as a montage.
Would you like to know more about the beautiful yet ill-fated bridges of Budapest? You will find all the information you need in my article.
8. A zooper date!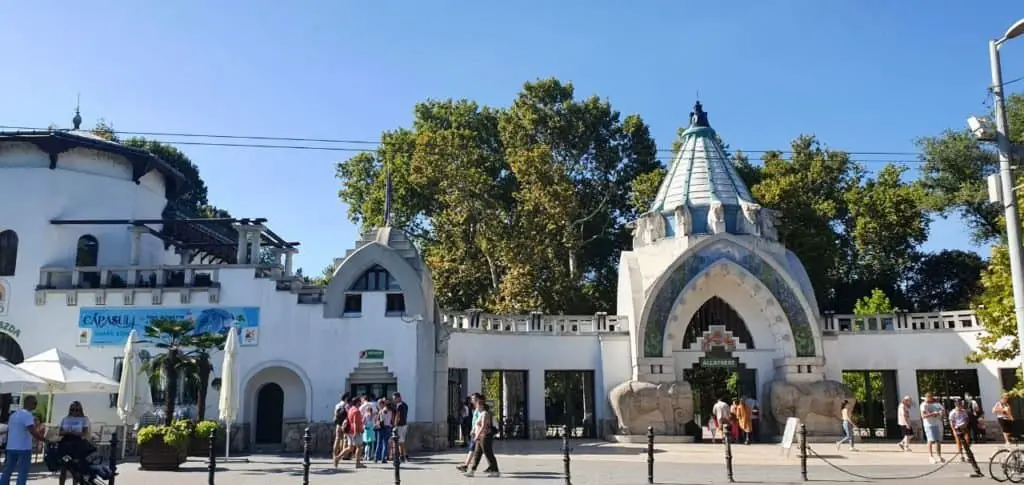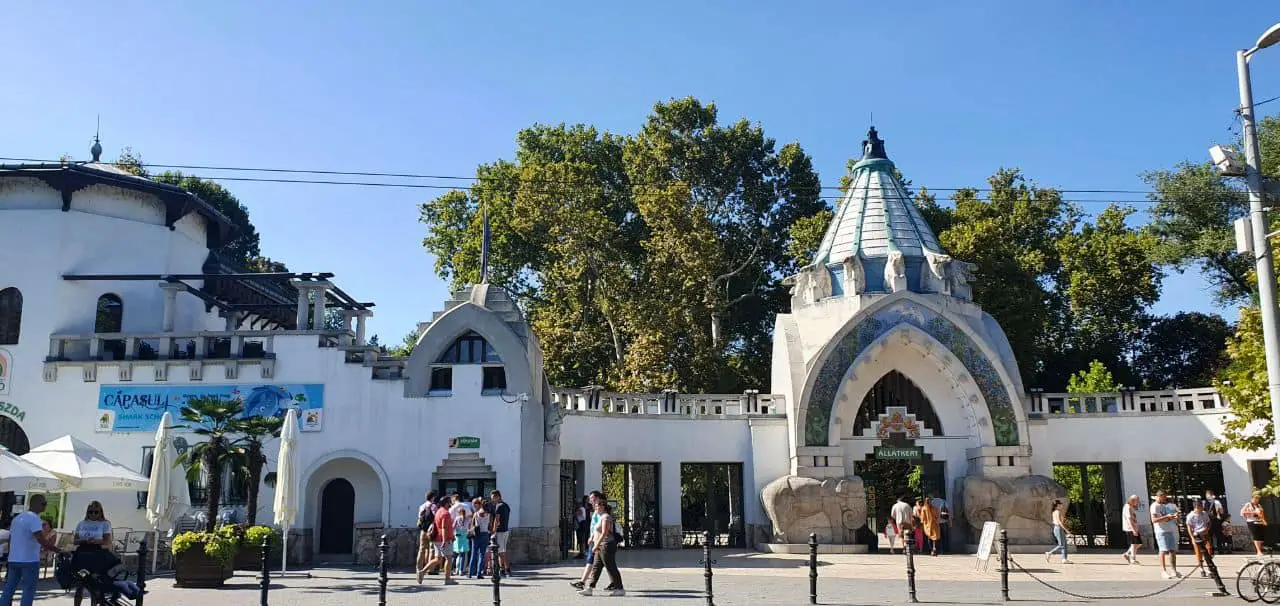 Although families with children would think of the zoo as a possible activity, I encourage you to visit the over 150-year-old Budapest Zoo and Botanical Garden spreading out on 18-hectare land.
It is a whole day program for adults as well. It is like a romantic maze with its winding paths and themed houses. Find your favorite animals and capture the moment with a photograph or linger among the breathtaking plants of the Palm House. But if you love the hustle and bustle of animal feeding and shows, you should go and enjoy them or sit in and watch one of the 3D films in the Magic Mountain.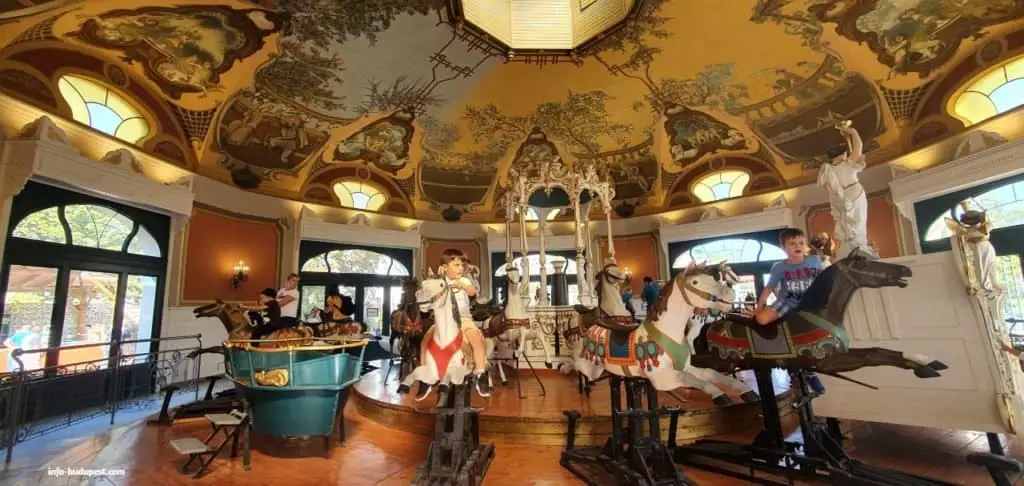 Don't miss the different games and toys – the mementos of the late Budapest Amusement Park – either. The Old Carousel – built back in 1908 – is still operating today as a remaining legend of the 20th-century fun-fairs. Just imagine how romantic it is to get lost in each other's eyes holding hands circling in the carousel.
And if you are already there, get on the old wooden roller coaster because there are only ten such wooden structure roller coasters in the world left.
Screaming and laughing together bring everyone closer. 😉
Romantic things to do in Budapest for adventure seekers
9. Escape together!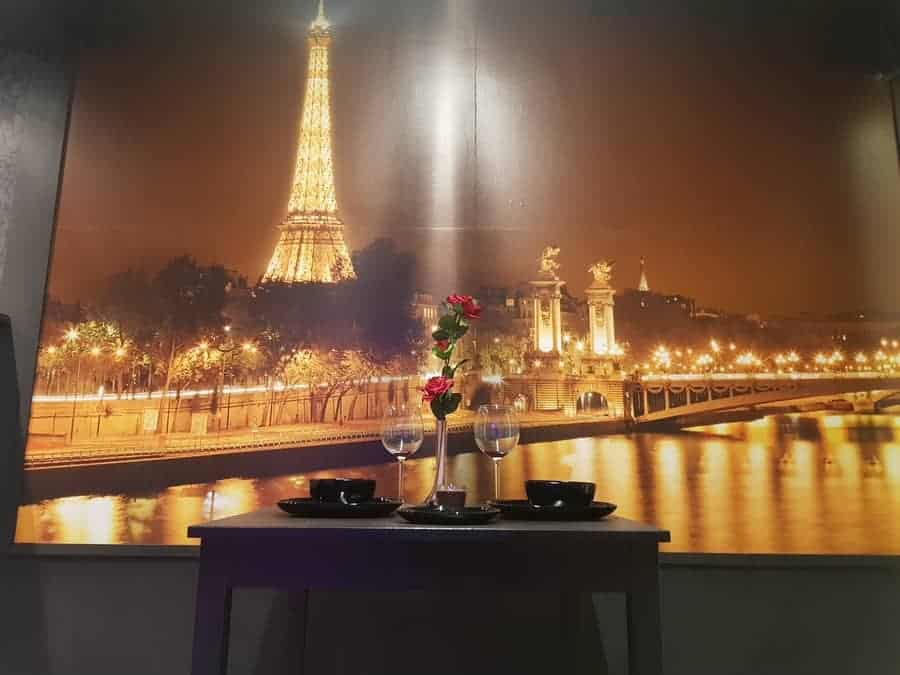 Budapest is the city of riddles and games, and also the paradise of escape rooms. If you think that it is only good fun at bachelorette and bachelor parties, you are sadly mistaken.
There are escape rooms specifically designed for couples where you can unravel the secrets together supporting one another. One of them is the Winning Couples Room of the Szabadulóbirodalom with creative visuals and an exciting storyline.
While solving the tasks, you get closer and get to know another side of each other that you don't necessarily see in everyday life. The thrill of getting out, the limited amount of time, and the tricky tasks all increase adrenaline, providing an exceptional experience.
Don't forget to capture your moment of success when you escape the room.
https://szabadulobirodalom.hu/nyeroparok/
10. Cook together in a restaurant!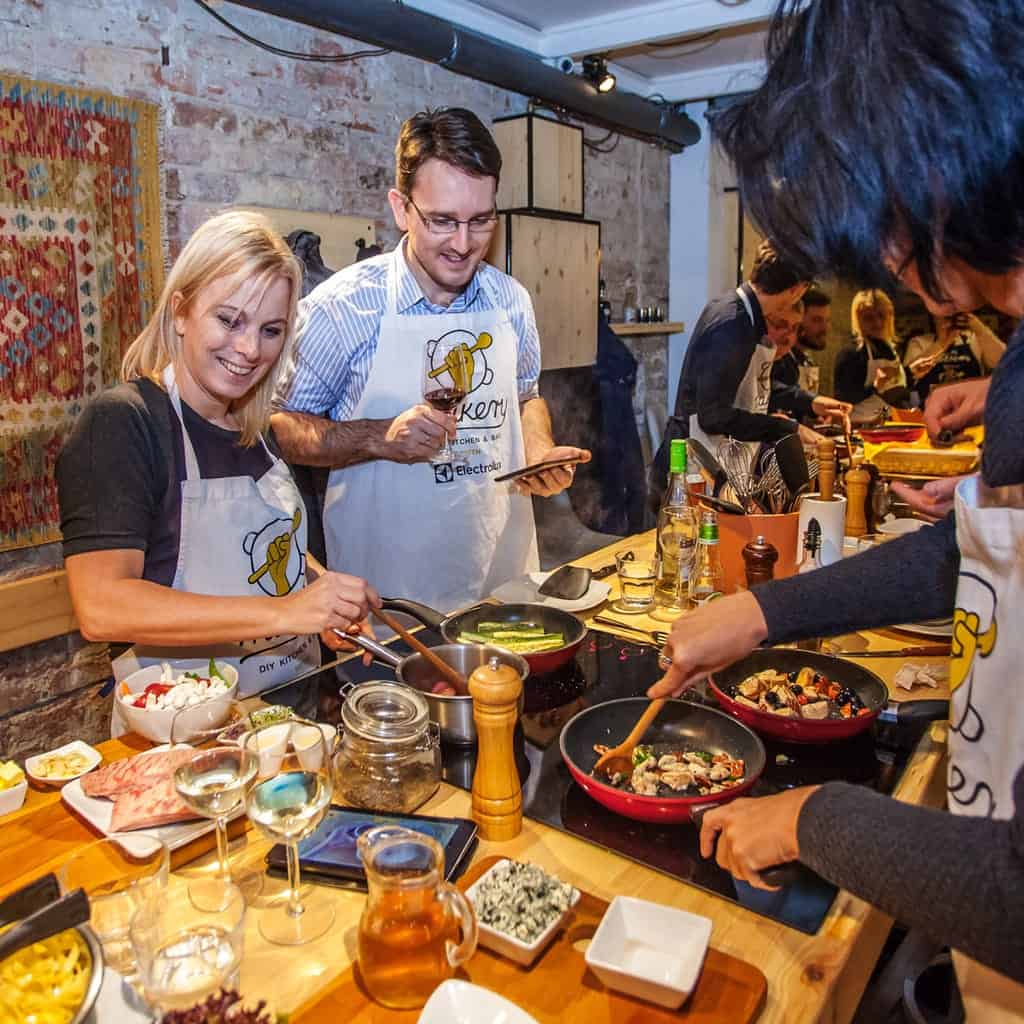 Enjoy cooking together? Or this would be your first time? What if you could cook your own dinner with the help of professional chefs in a restaurant?
Budapest Makery is not a traditional restaurant. You can choose your dinner from the menu, but the trick is that you are going to prepare it! You will receive all the ingredients of the selected dishes, weighed and prepared.
Then it is on you to prepare it using professional tools in a professional restaurant environment. But don't worry; you won't be left on your own. A tablet is provided with a video of all the action and the different cooking processes for you to watch. In case of any questions, the chefs of the restaurant are there to help.
And after all the hard work, a reward is to come: you can enjoy the prepared dishes comfortably with a glass of cool soft drink or delicious wine. Taste each other's creations and compliment generously. 😉
And if you liked the recipe, repeat it at home as well.
http://www.budapestmakery.hu/en/
11. Horse racing and rolling restaurants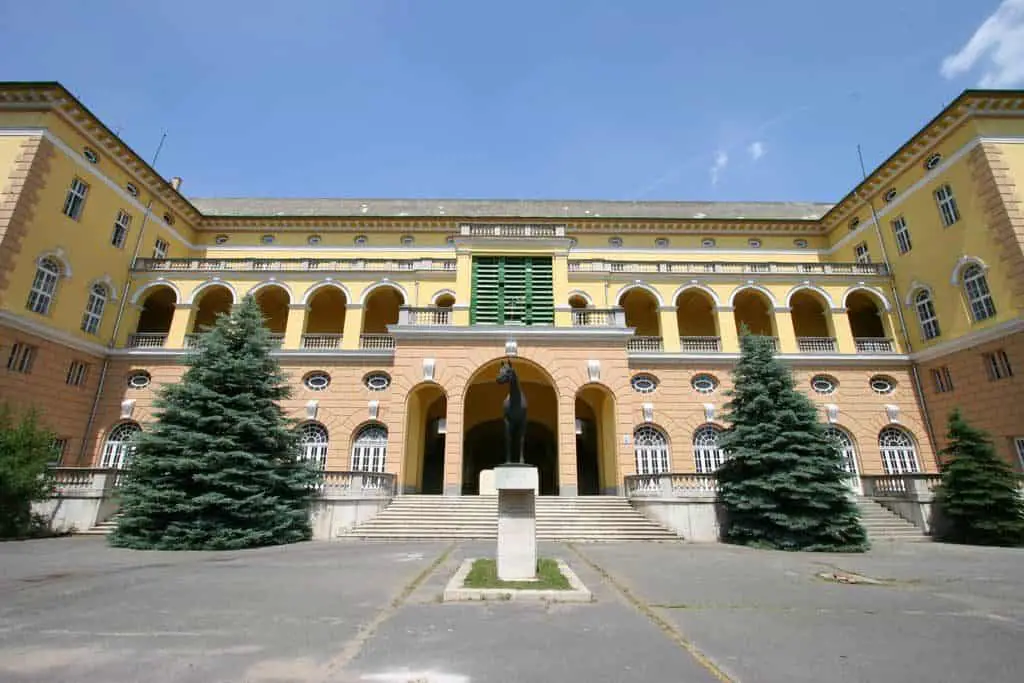 Delicious dishes and exciting horse races? Those are things you can only have in Budapest. Hungarian equestrian sports have been famous for a good reason, and they are still popular today.
The 84-hectare Kincsem Park – named after an unbeaten Hungarian horse – is the largest racecourse in Budapest. It is home to several Hungarian and international races.
If you're looking for something really special, visit the horse races combined with the Foodtruck Show in spring and autumn, experience the genuine atmosphere of horse races, and cheer for the sympathetic jockey and their horse from the 3500-seat stands. You can also try your luck for 1 EUR – place your bets on the horse you think might win. This way, cheering is guaranteed to go much better.
And if you get hungry, choose from the selection of food at the Hungarian food trucks. The Food Truck Show is a moving restaurant show in Hungary presenting quality food and drinks and moving vehicles at the same time and place.
The food truck movement started in the early 2010s and has been joined by most traditional restaurants by now. In 2019, the food truck convoy consisted of more than 150 culinary trucks. Hamburgers, hot dogs, pancakes, Hungarian specialties, Italian dishes, oriental specialties, and mouth-watering sweets are all available here. Taste them all!
12. Dance to Hungarian music
Don't just watch it, do it! 😀 If you feel like dancing after you have seen the Hungarian folk dance performance during the cruise, don't hesitate, just give it a try.
Hungarian folk dance is the star of Monday evenings in Szimpla Kert (Simple Garden), the pioneer of all ruin bars. Here you can learn from the best folk musicians in Budapest who teach you the basics of traditional folk dance taking you into the world of rural Hungarian merriments.
Let the invigorating Hungarian melodies enchant you and move your feet to the rhythm of the music. Don't be shy; come and join in with an unforgettable Hungarian party!
The best ruin bars in Budapest. What kind of music is played there and what are the prices? If you are interested in these questions, don't miss my comprehensive article about this topic.
13. A green adventure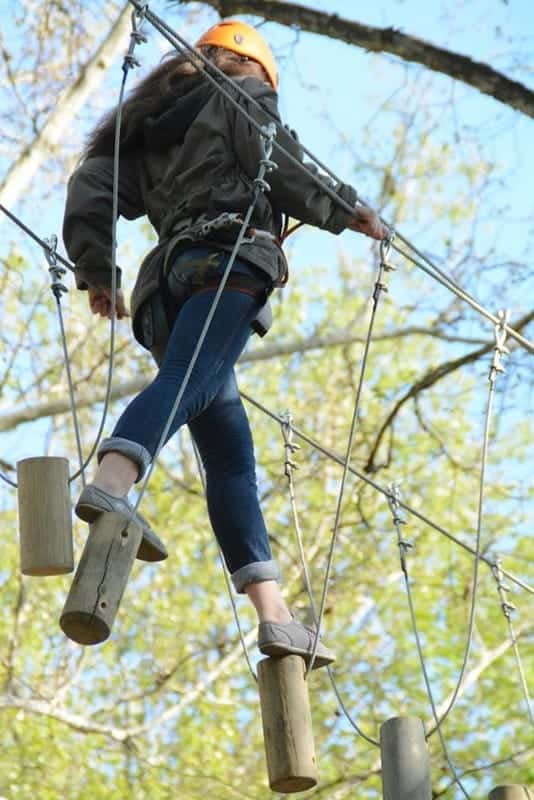 You love nature, but you are looking for something more extreme than hiking? Turn into Tarzan and Jane in Budapest.
Roman Adventure Park (here come the Romans again 😉 ) – the greenest and most exciting adventure park of the capital – is located in the heart of Rómaifürdő.
You will face a real challenge on the 60-station, complex aerial trail system among the huge trees of Óbuda. You have the option to explore several difficulty levels designed for adults: there are platforms, bridges, and ziplines at the height of 3–12 meters.
Plus, there is no fixed direction of travel, so it feels like fighting your way through the jungle. Tarzan, it's time to save Jane! Or would Jane save Tarzan instead?
https://english.romaikalandpark.hu/
14. Csodák Palotája (Palace of Wonders)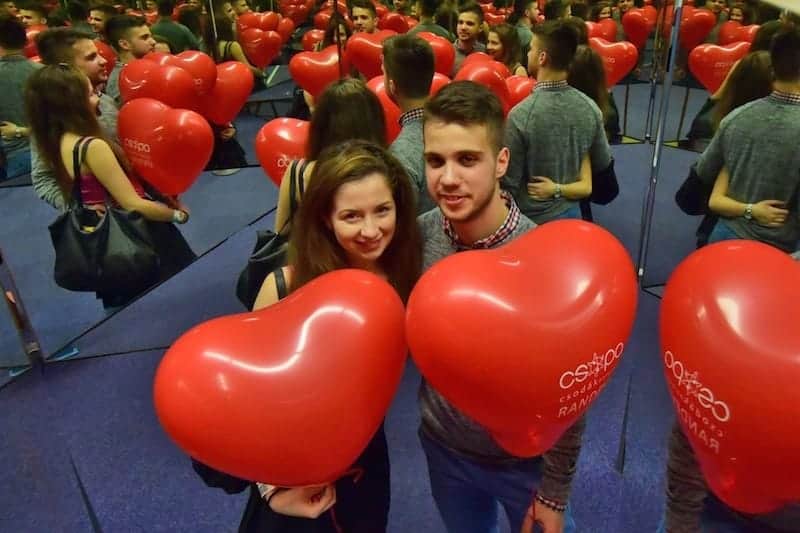 If your motto is "Life is a game!", then the Palace of Wonders is a must for you! The Palace of Wonders located in Óbuda is the first interactive scientific entertainment center in Hungary with 250 different games and devices presenting physical phenomena.
In the auditorium, there are four exciting presentations and demonstrations of experiments, spectacular 5D, 9D, and Circular Cinema Experience Screenings awaiting you.
The Palace has thought of couples as well. The organizers created a Date route on the 5000 m2 play area inviting you to the kind of games that might be interesting for you. Experience the thrills of the 9D roller coaster, build bridges together or compose your own love music on a giant pan pipe! You can really click playing interactive games. Laughter is guaranteed and 3-4 hours will fly away without you noticing.
And if you don't want the exciting day to end, visit Playbar, where you can drink cocktails from a laboratory flask!
15. Flippermúzeum és VR Park (Pinball Museum and VR Park) – the present and the past in a single city
Gamer culture has been flourishing in recent years in Hungary. Both the past and the present of the gaming industry comes to life in Budapest.
Pinball Museum
The Pinball Museum flies you back to the past of these strange gambling machines like a time machine. At the permanent exhibition, you can try 20th-century games on 130 pinball machines in a nearly 400 m2 space.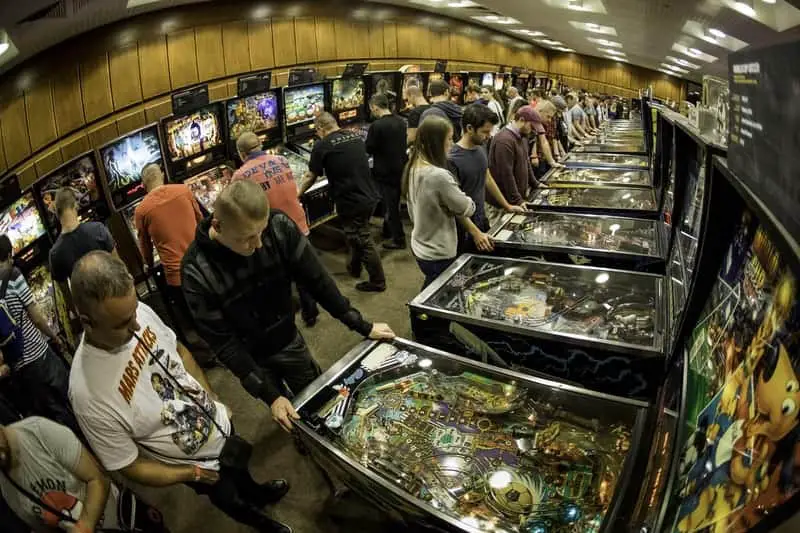 The familiar lights and sounds take you back to long-forgotten memories of your childhood. Once again, you can cheer for each other with innocent excitement, as you used to do during pinball tournaments in the corners of smoky pubs.
http://www.flippermuzeum.hu/en/
VR Park Budapest
If you are not the nostalgic type and you are looking for something more than just playing on a pinball machine, then it's time for you to throw yourselves into the entertainment industry of the future. VR Budapest offers a new reality for you: Adventures that jump off the computer screen and you find yourselves in the middle of it at once.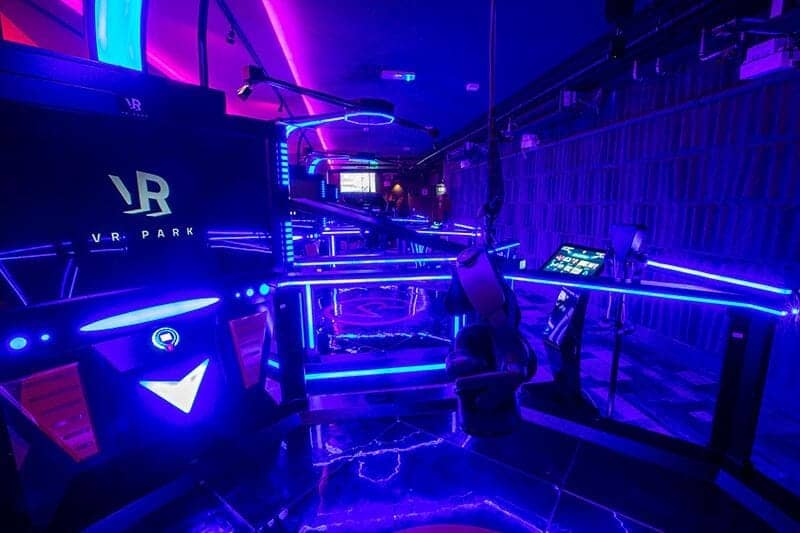 The VR Park, which is unique in Europe as well, awaits you on 2000 m2 on 3 floors where you can get to know virtual worlds with the help of special equipment. What kind of "film" would you like to be the protagonist of? Action hero, Jedi in Star Wars, or the adventurer of a bygone age? Decide which world you would like to save together.
Romantic things to do for the lovers of classical dating programs
16. A romantic dinner in a ruin bar restaurant
I recommend that you do not miss a romantic dinner date in Budapest either. But, if you are in the city of ruin bars, it's time to visit some ruin bar restaurants.
Mazel Tov
Mazel Tov invites you for a special, oriental culinary journey. The restaurant is characterized by the charmingly modern mixture of green ivy flowing down on the bare walls, industrial-style glass roof, white, wrought-iron chairs reminiscent of Paris, and a counter decorated with Middle Eastern patterns.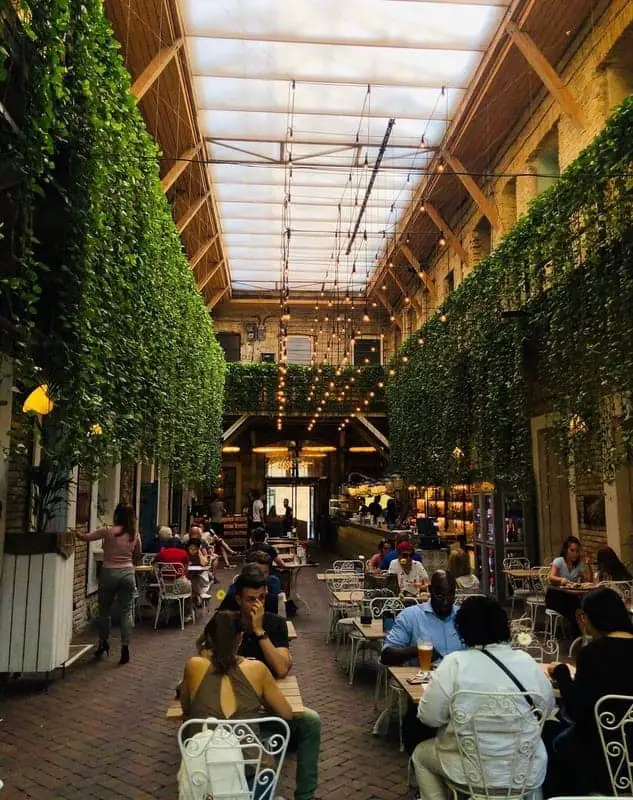 There is full house most evenings, yet you will love it because of its homely atmosphere and clean design, and the live jazz music just adds to the romance and idyll of the place. The very best of oriental gastronomy is included in the unique menu, and gluten- and lactose-intolerance is taken into consideration as well.
Púder Bárszínház
Púder Bárszínház (Powder Bar Theatre) may not be the complete opposite of Mazel Tov, yet its bohemian style is completely different from the harmonious appearance of Mazel Tov.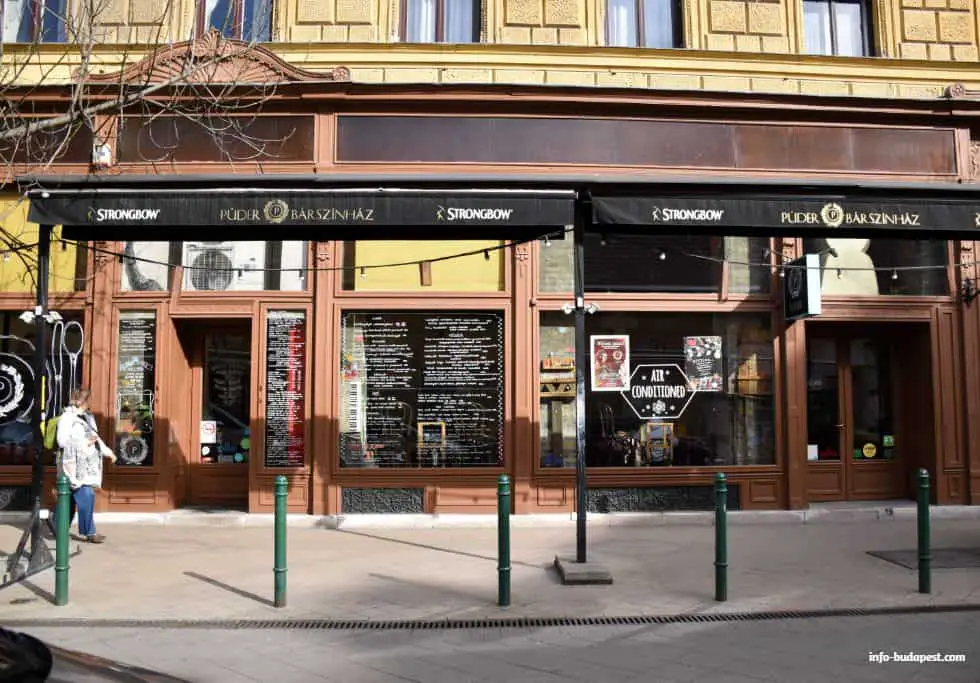 The artistic parade so characteristic of the restaurant might be astounding at first, but you will most probably see its beauty soon. It is a bit mismatched with the furniture so typical of ruin bars creating a kind of coziness, an intimate and warm environment.
Every corner of Powder Bar Theatre emanates nights of cuddling up on the sofa while refined food specialties pamper our taste buds.
Forget the tense atmosphere of fancy restaurants. In ruin bars, you can have a nice and calm chat.
17. Cat Café – The PURRfect place to be
Love cats? Then Cat Café Budapest is the place to see! There is a café in a tiny street opposite St. Stephen's Basilica in the heart of Budapest that cat-lovers call home.
The trend originating from Japan reached the Hungarian capital as well, and Cat Café Budapest was opened in 2013. The place awaits you with its 15 furry dwellers promising a very special café experience.
Have a coffee and caress, play with or admire the lovely kittens rescued from shelters as they relax sweetly. Dogs are strictly forbidden! 😀
http://catcafebudapest.hu/home/
18. Gastro-picnic in Etyek
There are 22  wine regions in Hungary and one of them is just a few kilometers away from Budapest. The Buda-Etyek wine region is home to light dry white wines, and thanks to its proximity to the capital, it has become one of the favorite regions of Budapest dwellers. It is the perfect location for drinking wine in a romantic environment.
Take a bus (leaves every hour) at Kelenföld Railway Station, and you will arrive in the tiny town of Etyek in 45 minutes. During the Etyek Picnic – organized four times a year, adjusting to the season – the wine cellars of the town turn into a cozy Gastro-promenade.
Wine cellars with whitewashed walls, red geraniums in the windows, black Pulies in front of the doors – a truly Hungarian street that can only be found here and in the open-air museum in Szentendre.
In addition to the tastiest wines of the most renowned wineries of the wine region, there is also home-made cheese, syrups and jams. Not really fond of wines? Enjoy the home-made lavender syrups – a sip of sweet love. Give each other unique presents – hand-made toys, dolls, and jewelry – to remember this beautiful day forever!
Looking for a unique souvenir? Let me show you the best souvenirs in Budapest which you can really surprise your loved ones with.
You can also taste authentic Hungarian foods like goulash soup and stew prepared on the open fire, while young Hungarian musicians entertain you with pleasant folk melodies.
Take a walk in the bright sunshine along the slopes of Etyek studded with vineyards. Lie down among the ancient grapevines with a glass of wine in your hands and some home-made chocolate in your pocket and enjoy the vibration of nature!
19. Day Spa – a romantic bath
You have most probably heard of Széchenyi Baths. Countless blogs, guidebooks, and flyers recommend the justly famous Hungarian bath. It is a special experience, the building is definitely an eye-catching sight, the water is pleasantly hot, and if you love parties, you will most probably love the night Sparties.
But I should warn you – you won't be alone here. This spa is on the bucket list of both Hungarian and foreign audiences, so you'd better forget about coziness here.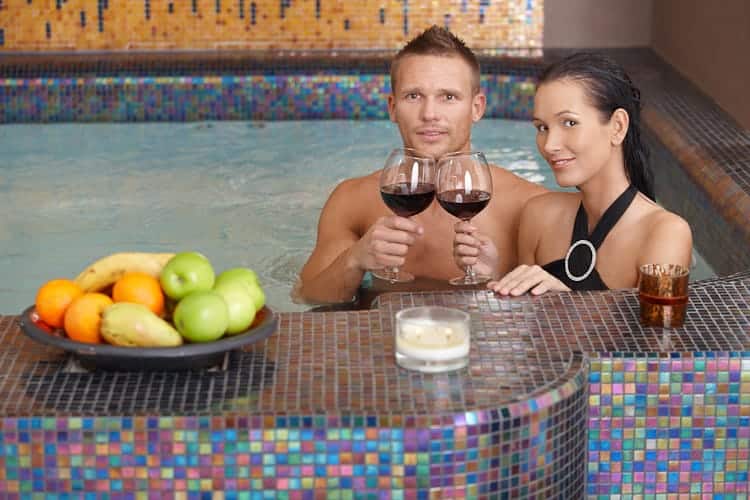 However, there are many opportunities to enjoy the beneficial effect of water and also have an intimate experience in the Land of Waters.
Magnolia Day Spa next to the Parliament and Mandala Day Spa near Margaret Bridge are the idyllic islands of lovers.
These spa houses take you to a mystical, spiritual, and secret world where you can forget about noisy everyday life and concentrate on each other instead. Couple massages are specifically designed for you!
Enjoy the private bath and celebrate your love with a glass of champagne after refreshing body treatments. Then, continue your physical and mental renewal in the sauna world and hammam, and refresh yourselves with special teas and fresh fruit.
And the perfect ending to a perfect day is a walk on the bank of the Danube in the beautiful sunset.
https://www.magnoliadayspa.hu/english/
http://www.en.mandaladayspa.hu/
20. Table for two under the stars
A cool cocktail, ruby-red wine, summer breeze, the stars above you, and the lights of the city below.
Sky bars seem to have been created for people in love. Although men can't give women the moon and the stars, they can at least try to bring their sweetheart closer to them. Luckily, Budapest is full of roof terraces.
You can choose from many different styles from elite bars on top of luxury hotels to underground terraces in the style of ruin bars. Let me introduce you to four sky bars in Budapest, where romance can rise to the top.
360 Bar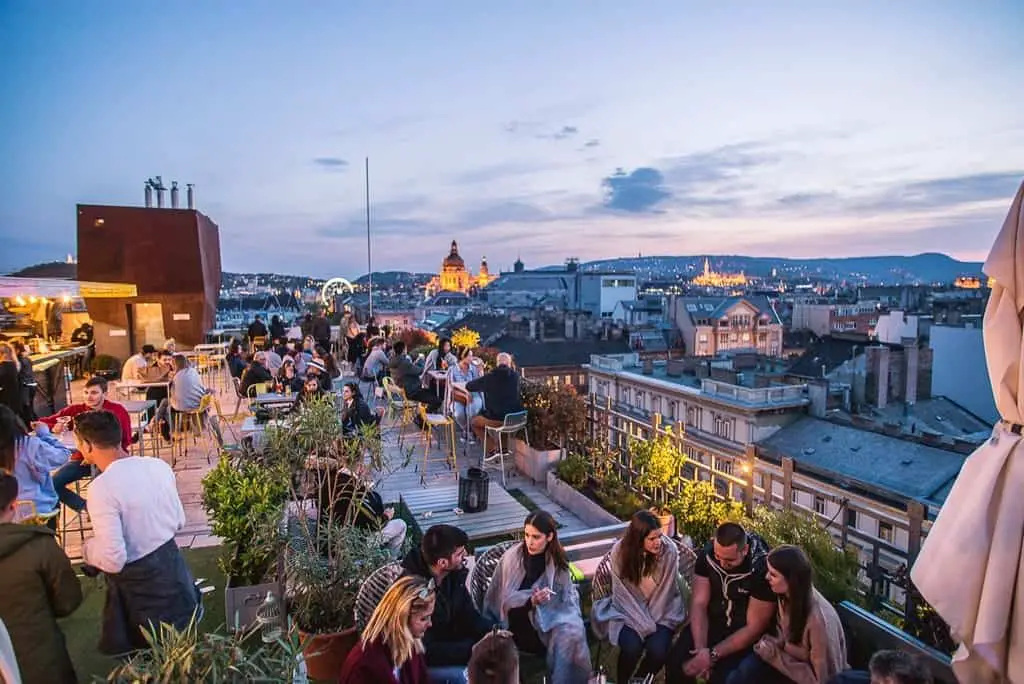 My personal favorite is the 360 Bar. This rooftop bar operating on the top floor of the Paris Department Store became my favorite because of its circular panorama.
There is a breathtaking view of the Buda Hills, the Budapest Eye, and the dome of St. Stephen's Basilica dominating the sky. In addition to cooling cocktails and lemonades, you can also have dinner at a fair price.
It is worth booking a table for the evening, as the sight of the setting sun behind the mountains is a worthy celebration of a day of love!
https://www.facebook.com/360barbudapest/
High Note SkyBar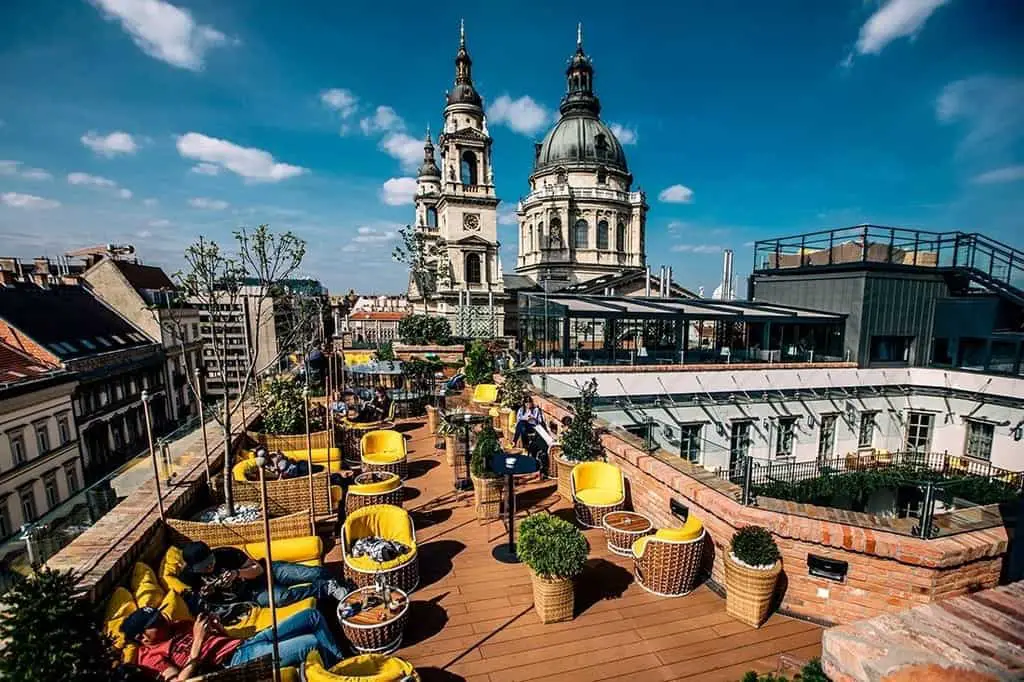 High Note SkyBar is located on top of the Aria Hotel voted the Best Hotel in the World in 2017.
The roof terrace has rightly become popular among guests – while you enjoy the quality culinary wonders, the dome of St. Stephen's Basilica is actually within arm's length.
In addition to unique cocktails and Hungarian wine, the cakes of the famous Gerbeaud confectionery are also included in the menu. It's probably not too difficult to figure out that it's worth booking a table in advance.
St. Andrea Wine & Skybar
St. Andrea Wine & Skybar high above Vörösmarty Square is the premium feeling of life in itself.
Thanks to its circular panorama, you can choose if you want to enjoy the view of the monumental dome of the Basilica, the Budapest Eye, the Gellért Hill, or the Citadel.
The premium fine-dining kitchen of Eiffel Palace has successfully been transferred to the terrace in the form of bar food. But it is still quality wine and the wide selection of top category cocktails that are in the limelight. If you are dreaming of a chic, suit-cocktail dress date in an exclusive ambience, St. Andrea Wine & Skybar is the perfect choice for you.
Intermezzo Restaurant & Roof Terrace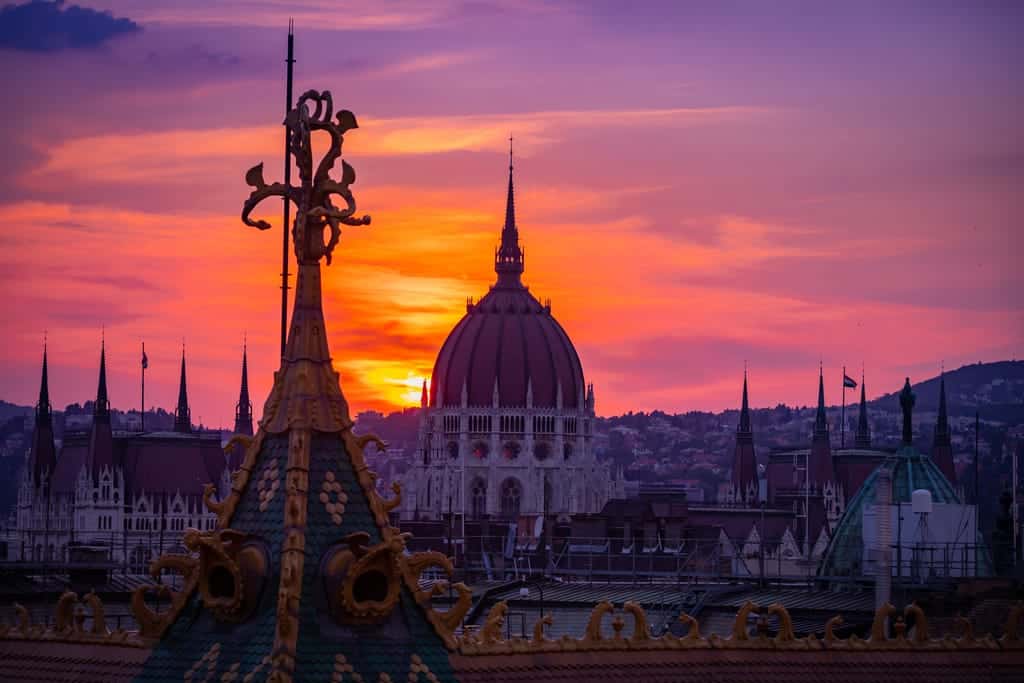 Intermezzo Restaurant & Roof Terrace is the jewel of the President Hotel located in Hold Street.
The rooftop terrace, reminiscent of Mediterranean luxury, awaits people looking for a romantic getaway with colorful lights, palm trees, and rattan furniture.
You just can't get enough of the view of the illuminated Parliament and the Hungarian State Treasury decorated with Zsolnay tiles. You can expect conversations to extend long into the night in the company of fine wines and cocktails.
https://www.facebook.com/intermezzoroofterrace/
Romantic things to do in Budapest – Summary
Every journey is an unforgettable present with the love of your life. No matter what kind of programs you choose – a quiet dinner in a ruin bar restaurant or an exciting escape in the escape room, one thing is for sure: if you love each other, Budapest will be your new city of love!
You want to have a romantic time with your partner in Budapest, but not sure where it's worth to go? I collected the most romantic places in Budapest for you.
I asked my friends, what is the most romantic place in Budapest, where they happily go back over and over again. So I got a few tips, but of course I have my own personal experiences and memories in this field.
So we decided to spend three days in the city with my partner. We sought out the most beautiful and hidden romantic places in Budapest one by one. This article is the result of those beautiful days.
How romantic is Budapest?
Well Budapest is a beautiful city and it is rich in attractions, it's no accident that millions of tourists visit it all year around. (I wrote a detailed article about when is it worth to visit Hungary and what kind of a weather can you expect.)
Moreover, in 2019, Budapest won first place in the prestigious European Best Destination contest as the best destination and city in all of Europe!
Budapest – like other large cities – is a great destination for short or long vacations, as it offers so many things that a day or two isn't enough to explore it all.
20 Romantic things to do in Budapest – The best programs for a romantic journey
It's no surprise that many choose Budapest as the location of their wedding, anniversary and other romantic events, as it offers dozens of castles and different styled romantic locations with standalone panorama to everybody.
As a large city, Budapest is a busy, non-traffic-free, pulsing city – with lively days and atmospheric, sometimes hot night life.
In general, it can be said that Buda is the quieter, somewhat more elite side with options to explore and relax at the Buda mountain forests. Pest, on the other hand, is more lively, busy and this is where you will find the most nightlife.
The Buda and Pest side, the differences and my recommendation depending on your interests.
If you've already seen both city sides' attractions and want to have some privacy away from the noise of the town, where you can be alone and have a chance to romance, here is a list of my favourite romantic places in Budapest.
Need a warm atmosphere?
This is where I would like to take a chance to tell you, that this list is subjective, which lists the romantic locations chosen by me and a large group of friends.
For me, one of the most important criteria was that you can get away from the crows and have a chance to really focus on each other. As a nature-fan, I will obviously place emphasis on places that can be found in nature.
I think a crowded thermal bath where you're sitting next to each other in the water like canned tuna, surrounded by loud chats, screams, splashes and in general crowd noise isn't romantic, and I think the same of similarly crowded restaurants that's set to be romantic.
Thermal baths recommended by me.
Of course, some people might still find it romantic even in the noise and the crowd – not me though.
What did I base on the order of the list?
I tried to make this list objectively, so that it would be really useful to you. I took 4 things into account while ranking them, which were given points from 0-10. Logically, the one with the highest score got first spot and so on…
Accessibility: I took Deák square as base, which is basically the centre of downtown Budapest. The score was decided based on how accessible the location is from here either by public transportation or feet.
(Score of 10: Easily accessible from Deák square.)
Atmosphere: This score represents how CROWDED is the location, how private can you be and get away from the noise of the city.
(Score of 10: Almost no one else here, well-hidden spot.)
Location: This represents how built out is the area of the location. Is there an option to sit in to a nearby café or restaurant?
(Score of 10: Completely established area, chance to park, with countless restaurants nearby.)
Romance: This score shows how romantic and captivating a location is.
(Score of 10: The most romantic you can imagine.)
But let's not waste any time, here is the list.
Romantic places in Budapest:
1., Margaret Island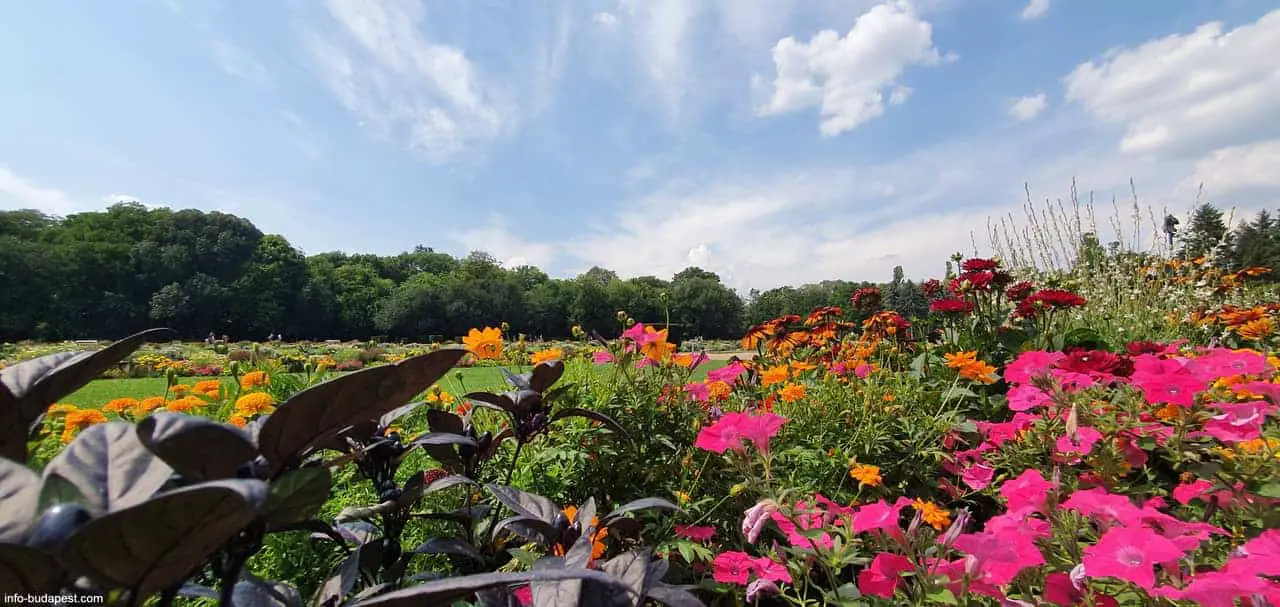 How to get there: Get on bus 9 at Deák square, going towards Óbuda-Bogdáni út. Get off at Jászai Mari square, then walk over the bridge to get to Margaret Island.
Who do I recommend it to: Even those who don't feel like romancing, should definitely check out Margaret Island. It would be a mistake to miss it!
Margaret Island – the green gem of Budapest – in my opinion is absolutely unmissable from the list. It is worthy of first place. You can really get away from the busy city – quite literally, as we are talking about an island.
One of my forever favourites, if we aren't in the mood to climb a mountain or leave the city – we always wander around for hours here with my partner and admire the meadows, trees – especially during autumn and spring – cuddling on the benches under the rose arbour, talking about the future, or enjoying the quiet and staring at the Danube.
During the weekends it's always busy of course, so we always go during the week and usually around the time when others are working. I recommend you do the same. On a summer weekend, the Margaret Island can be quite crowded.
We enjoy the typical sights of the island as well (fountain, wildlife park, church, swimming pool, hotels, beach, etc), but we usually walk to the middle of the island where a smaller forest can be found and we wonder along one of the paths surrounding the meadows, and of course we never skip our favourite bit, the Japanese Garden.
Margaret Island's Japanese Garden
We think the Japanese Garden provides the unique location, where you can really get away and feel the romance and attention of each other.
Many benches are hidden here and there in the garden, where you can admire the peacefully swimming goldfish and turtles of the lake, or the special shrubs, trees and flowers of the Japanese Garden.
It's the perfect location for a little relaxation and romance. By the way, it's worth to visit here not just as a couple, but by yourself as well – it provides a great location to look within, quiet your mind and find yourself.
There are three of these amazing Japanese Gardens in Budapest – you can absolutely romance at all three of these. One of the largest Japanese Garden can be found at the hart of the city – many people don't even know this – at the area between Lake Nagy by the Zoo and Gundel.
This is where the National Bonsai Collection is found, which is unique and very valuable in its own way. In addition this is where the Rock Garden and the Citrus Garden is. This Japanese Garden can be visited with a zoo ticket, but for those who don't want to pay for this, can visit the Japanese Garden at Margaret Island.
The third – and oldest – Japanese Garden is in Zugló, at the Varga Márton Kertészeti és Földmérési Szakképző Intézet (Varga Márton Horticulture and Surveying Institute).
2., City Park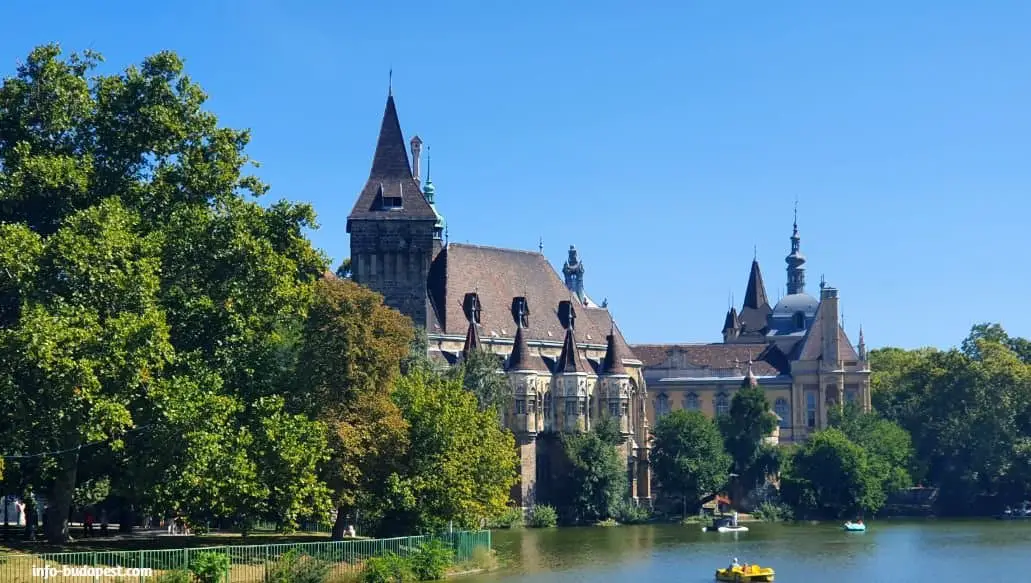 How to get there: Get on M1 metro at Deák square, going towards Mexikói út. Get off at Heroes square.
Who do I recommend it to: Absolutely not to be missed. I recommend it not just for some romance, but as a full day program as well.
A romantic list can't be completed without the City Park, as this is Budapest's largest connected green area!
The goal of its developers was truly noble, as they wanted people to have fun and have a park that they can be proud of. Well, the City park is the perfect location for almost anything – active relaxing, sleeping on a blanket under the shade of a tree, family or romantic picnic beside the lake, or at the shadowy meadows, doing sports and so on.
Széchenyi Thermal Bath
It's no accident that the Zoo and the late Amusement Park ended up here as well, as they all serve the same goal, for us to have fun. This is where Budapest's largest and most famous thermal bath can be found – the Széchenyi Thermal Bath.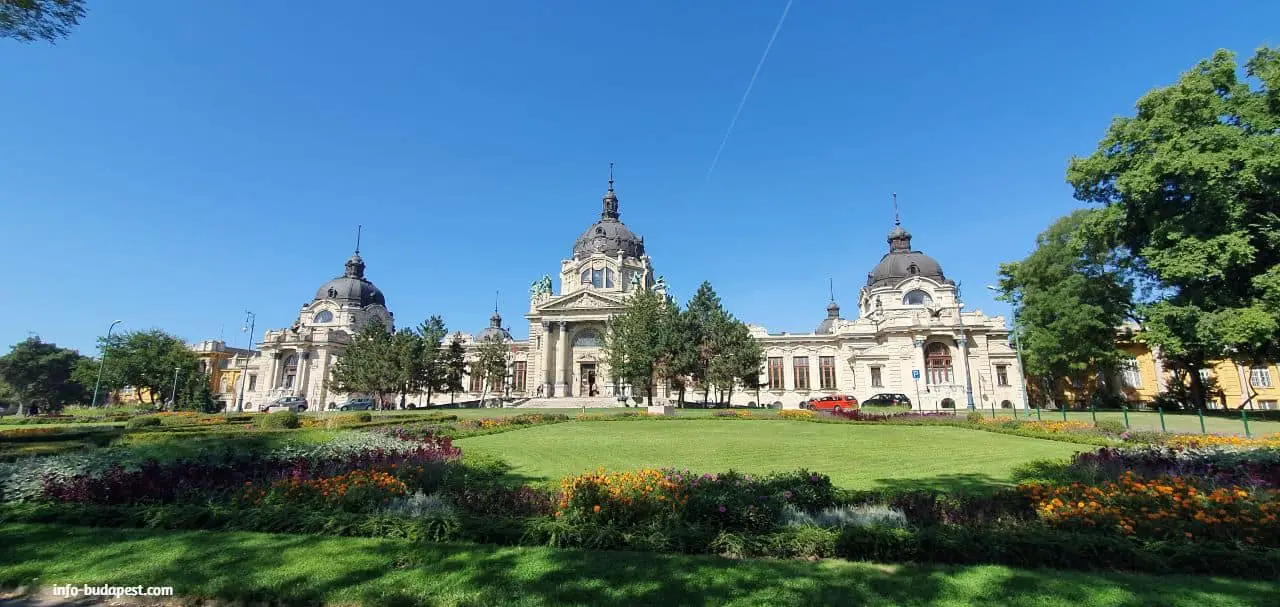 As famous, as busy as well sadly. During summer it's packed even on weekdays, as everybody who visits Budapest comes here at least once. And on the weekend it's impossible to enjoy yourself, at least when it comes to romance or relaxing.
I only visit it during the winter, but then I really love it. There is far fewer people then and you really get a chance to relax, heal, turn off and even some romance.
If you are looking for a unique experience, it's worth to pay for the couple's lavender massage, which guarantees to set the tone for some further romancing.
City park lake
On the other hand, the city park lake provides an opportunity for some romance during summer too, as you can rent a boat and relax while rocking away on the water.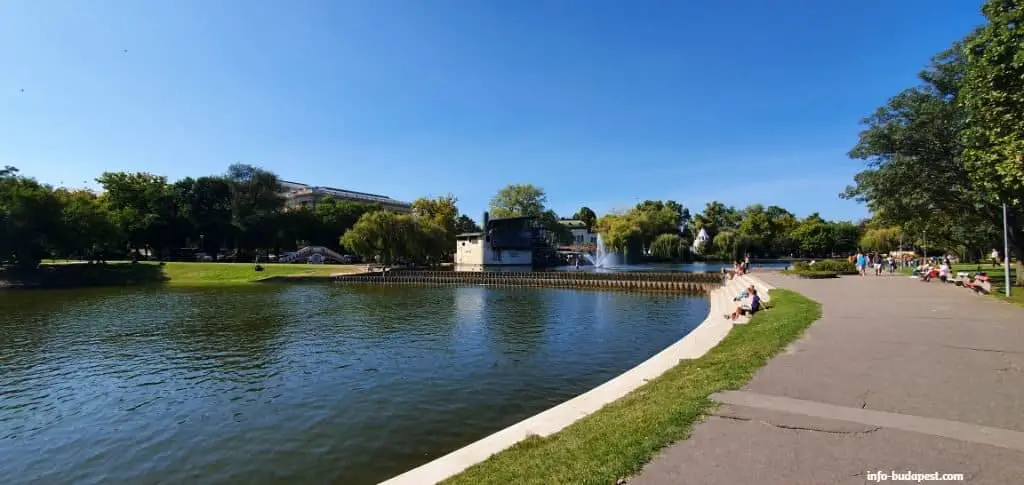 During winter the lake is transformed to a huge ice skating ring, so if you like to ice skate then you will really love this. If you just want to walk, you can do so during summer or winter, as the City park is huge and is filled with amazing walking paths and really romantic, hidden benches where you can cuddle up.
Vajdahunyad castle
Not even mentioning the fact, that the City park gives home to the famous and fairy tale like Vajdahunyad Castle, which is my personal favourite. Wandering around in the castle's garden and admiring the castle and its fairy tale like tower is really romantic in my opinion.
It's worth to go in as well, as there is a constant exhibition in the castle – precisely the exhibitions and collections organised by the Hungarian Agricultural Museum and Library.
Exciting thematic exhibitions, artworks, and museums. The best museums in Budapest.
You can feel in the castle, like you travelled back to medieval times where princes and princesses shared stolen kisses at the hidden corners and garden of the castle.
Of course everyone knows that this isn't the case, as Vajdahunyad Castle was built for the 1896 Millennium Exhibition based on the plans of Ignác Alpár, so it was never the home of actual kings – but it's still very romantic.
It got the Vajdahunyad name, as the castle's most characteristic part reminded visitors of the Transylvanian Vajdahunyad Castle, so it finally officially got this name.
The castle's construction combines many different styles, which can be found in Hungarian architectural history, such as goth, roman, baroque and renaissance.
During your romantic stroll I really recommend to take part in a tower tour, which provides a special entrance to the Gate tower and Apostles Tower sections, which will dazzle you with a fantastic panorama.
The City park is undoubtedly Budapest's most romantic park, offering so many programs and options to relax, it's hard to list all.
What else?
I just picked a few examples to list above, but for example many people have their wedding here at the City Park Chapel, which is very romantic with the Vajdahunyad Castle, the boating lake and the wonderful green park in the background.
You can easily spend a full day at the City park and if you get hungry during the day, you can pick from many restaurants, such as the Gundel, the City Park Café but there are many small buffets as well.
3., Castle Hill and its area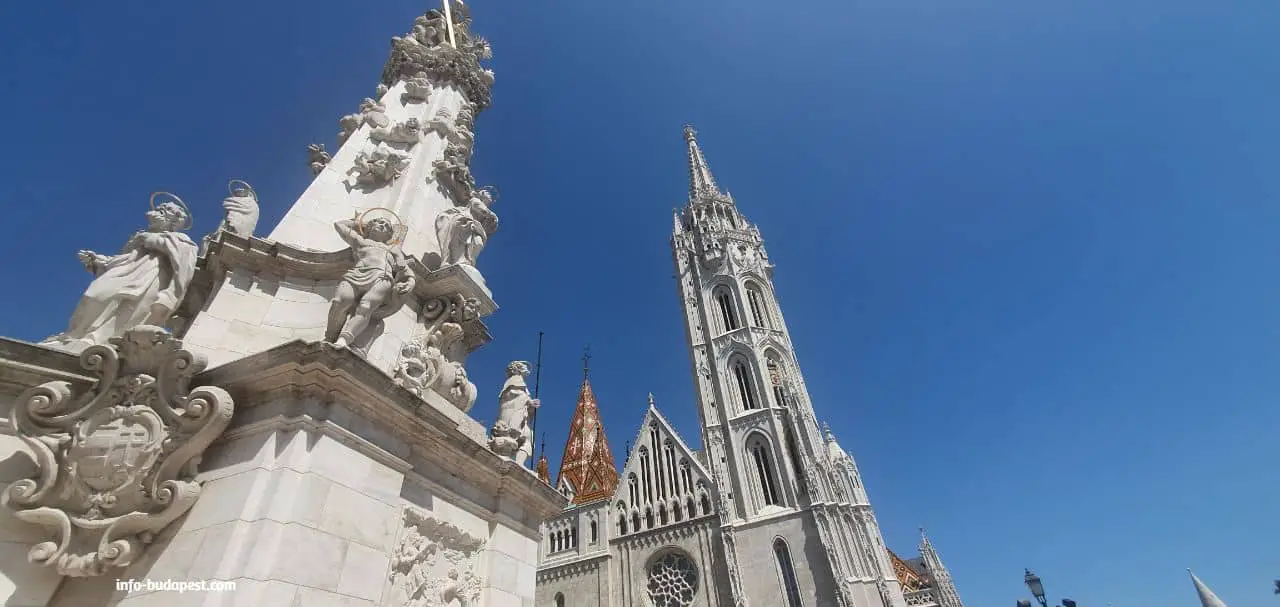 How to get there: Get on bus 16 on Deák square going towards Széll Kálmán square. Get off at Clark Árdám square. From here it's a good walk until you get to the castle. If you don't like stairs, you can go up with the funicular. (This is the fastest way from Deák square.)
Who do I recommend it to: Popular? Cliché? Everybody loves it though! The castle is spectacular even by itself, and numerous museums and exhibitions can be viewed. It's a must, even if it's a bit too busy.
When it comes to romance, the heart and gem of Budapest, the Castle Hill can't be left out of this list.
It's a fact that most people visiting Budapest comes here and usually the number of people walking and constantly clicking cameras is pretty large, but even here you can find the not so busy squares and romantic scenes.
If this is your first time in Budapest, you must walk from Bécsi kapu (gate Vienna) to Sándor palota (Sándor palace), or at least until Mátyás templom (Matthias Church).
Of course, you can walk from the other direction as well, it's up to you. It's worth to go up to Bécsi kapu with the a Várbusz (Castle bus) and walk from there through the zig-zag roads.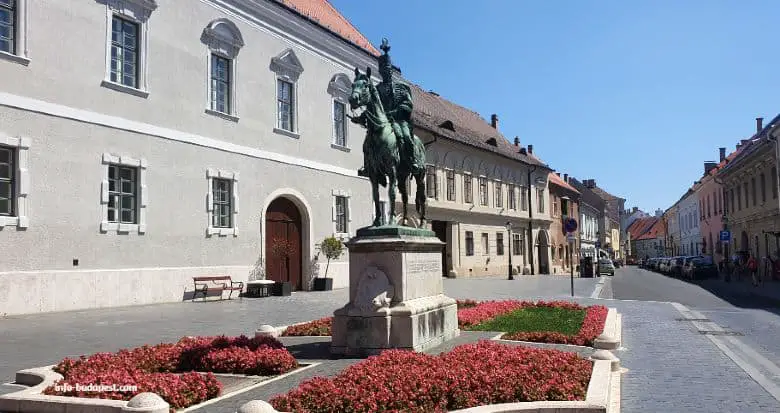 Castle hill is beautiful and despite its popularity (its crowdedness) it is the apple of my eye. The absolute best of.
Labyrinth of Buda Castle
Unfortunately I can't add the Labyrinth of Buda Castle among the programs right now, as it's either open or not – at the moment it's not and we don't know for sure when it will open again.
I'm really sorry about this, as the Labyrinth had a super romantic program, the Labyrinth of Lovers, its point was that You and Your partner enter at two different entrances and you have to find each other at the Labyrinth's central, large hall.
This program from back then was specifically dedicated for couples and only one couple at a time were allowed inside. It's worth to try then the Labyrinth of Buda Castle opens again.
Fisherman's Bastion
Nevertheless, Castle Hill and its area offers many romantic programs and locations. It's worth to walk through Fisherman's Bastion, as it will open a fantastic panorama before you, you can see all of Budapest (it's especially romantic at night when all the lights go on.)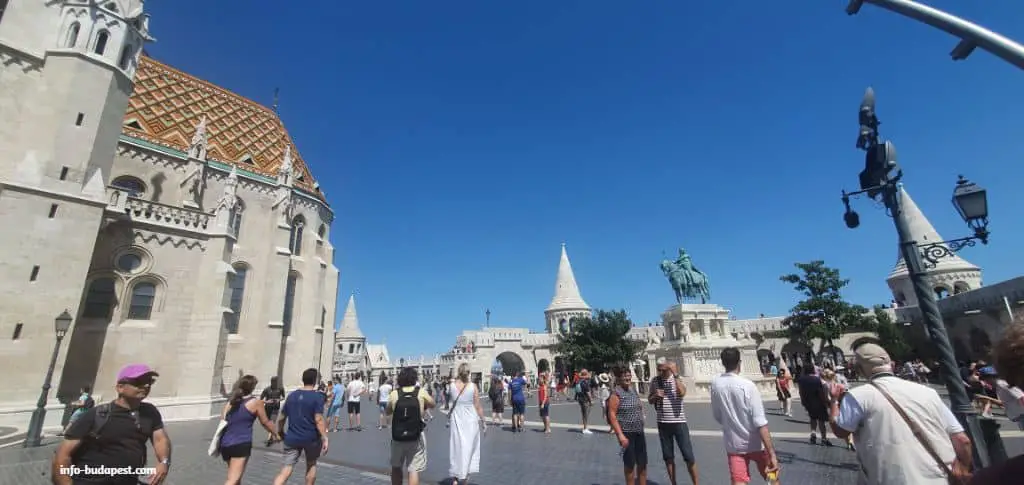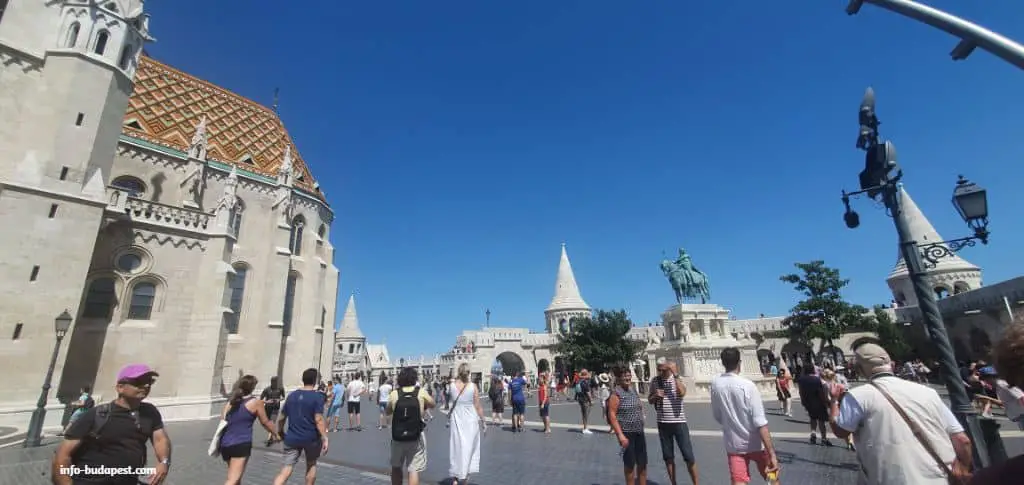 If your considering a proposal, then – although this article isn't about this – I definitely recommend the Fisherman's Bastion Restaurant during a romantic dinner. It will be an unforgettable memory, that's for sure! The same goes for anniversaries (it worked for us!)
Ruszwurm Confectionery
The Matthias Church is absolutely beautiful, you can go in if you'd like to, but it's crowded. But there is a spot here, that can't be missed no matter what – you won't regret it!
An absolute favourite mine, and I wouldn't eat anywhere else, but here – the Ruszwurm cake, which you can try here, at the Ruszwurm Confectionery.
You need to know, that this confectionery has been here for the past 130 years serving the crowds – and herself, Queen Elizabeth on more than one occasion.
I can safely say, once you try the Ruszwurm cake (a Hungarian cake called "creamy"), you will never, under any circumstances, will eat another type of "creamy" cake and you will always crave it!
This is really true – for at least all my friends, acquaintances and strangers who listened to my advice and made it to this wonderful little confectionery and tried the cake, effectively becoming a Ruszwurm cake addict. 🙂
The interior of the confectionery is completely romantic as well, I love it. After finishing the cake it's worth to wander around at Castle Hill. For example, I enjoy to walk through the stairs going in and out of Castle Hill.
Romantic stairs at the Buda Castle
Castle garden bazaar staircase
One of my favourite staircases, the two newly renovated, magical staircases of Castle garden bazaar. You can absolutely feel like you're back in medieval times, where carriages and horsemen passed by and princes and kings came to visit.
All of Castle garden bazaar was beautifully renovated and I'm really happy for this, as finally Castle hill can shine with its full glory.
Another staircase, providing an equally beautiful view is the 'Palota Út' staircase, which can be found at a more spacious part of Castle hill and there aren't many people, so it's perfect for a romantic walk.
Near the middle of the stairs is a small hide-away where you can take a breath and enjoy the view, of the Buda mountains in this case, while cuddling with each other.
I love the Kagyló street stairs next to the Mária square for the same reason, it's not so frequently visited, so no one will interrupt your romantic stroll.
In addition, I love – in a romantic aspect – the Jezsuita stairs, which will directly take you to the Hilton or Fisherman's Bastion – or lead you away from those.
Due to its length it's not as busy, but of course it's a more frequently visited staircase than the others.
Mace tower and its area
If you'd like a bit of peace and quiet at Castle hill, I recommend you walk to the Turkish cemetery – no need to get scared, I'm not leading you towards the graves.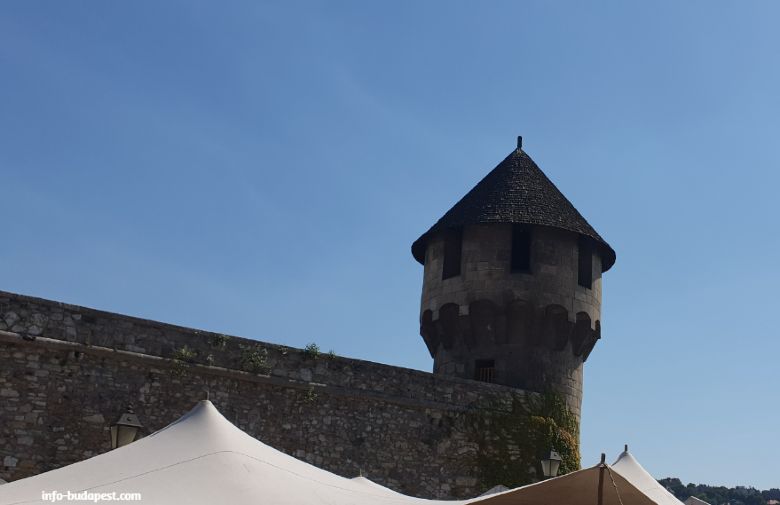 This is found at a quieter area of Castle hill, effectively above the Döbrentei square, under the Mace tower (Buzogány torony) and in a small, fenced area are a few worn-out turbános kopjafa (turbaned monuments), but unfortunately, this monument is constantly wearing away.
Despite this, you can take a pleasant, romantic walk on the Kemál Atatürk walkway next to the turbaned monuments, where are a few benches as well, so you can get cosy. If you walk up through the Mace tower to the Castle's garden, you can get to a truly magical secret inner garden, with a few benches where you can get some rest.
4., Gellért hill – Citadella and its area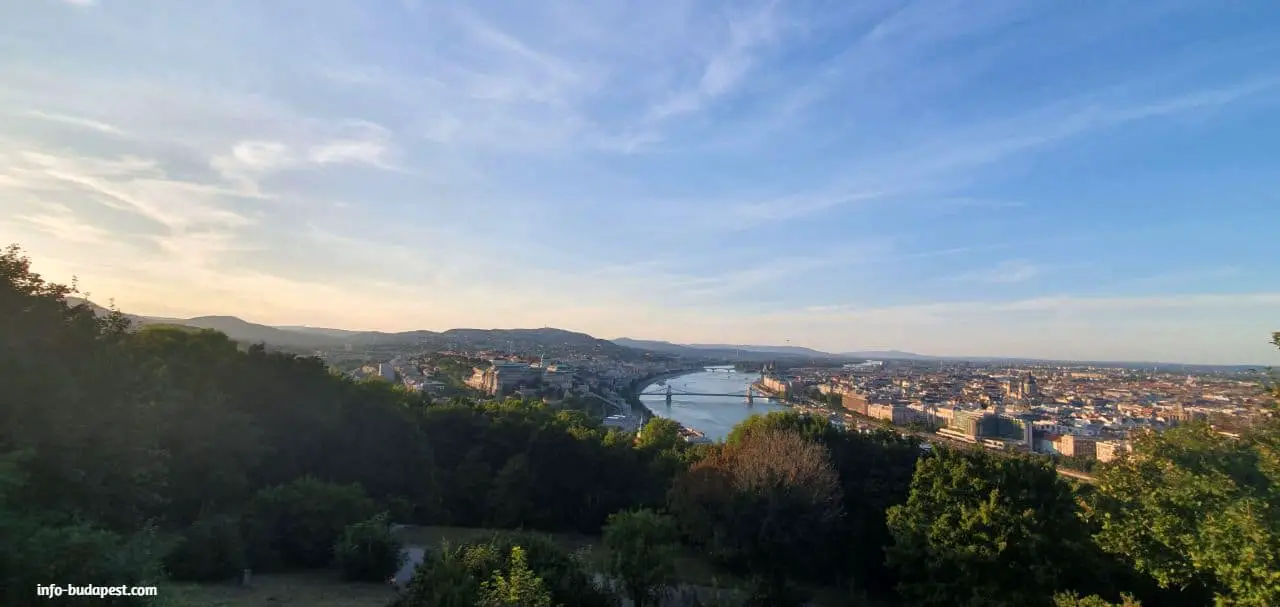 How to get there: Get on tram 47 or 49 at Deák square. Get off at Gellért square. From here you can walk up to Gellért hill.
Who do I recommend it to: This is also a must-see. It's best to go on a weekday evening to the Citadella, as this is when there is the least amount of people here, and with the night time panorama, it's truly romantic.
Of course, the Citadella can't be left off the list, as this is Budapest's other emblematic location, which can't be missed.
It's a fact that many people come here, so it's not always ideal for some romance, but even here you can find the parts and walkways that aren't so busy. You probably know that at the Citadella is Hungary's Liberty Statue, which for us, Hungarians is a very important memory.
It's definitely worth to check out the statue and it's area, as both the statue and the view is breath-taking. After viewing the statue, you can walk to the southern side of Gellért hill, were many hidden corners, bench filled walkways can be found – perfect spot for some romance.
Cave Church (Sziklatemplom)
It's worth to walk to Cave Church, which gives home to the Order of Saint Paul the First Hermit, located at the southern part of Gellért hill.
The interesting thing about it is that the church is around 20 Celsius degrees winter and summer – thanks to the hot water springs hidden in the rocks.
The church can be freely visited, the entrance is under the big cross at the mountain. By the way, you can see similar bastions here to the Fishermen's Bastion and the walkways to the church can all be considered romantic.
5., Normafa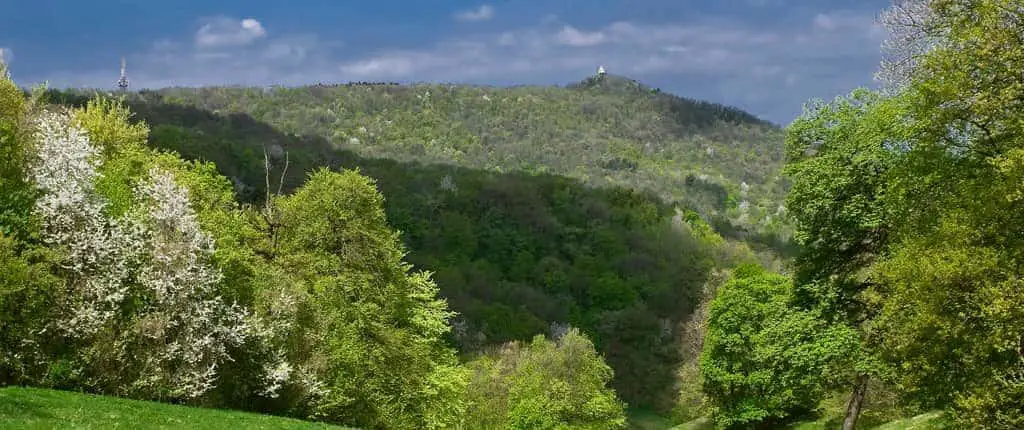 How to get there: Get on metro M2 at Deák square going towards Déli railway terminal. Get off at Déli railway terminal. You have to get on bus 21A. Get off at Normafa.
Who do I recommend it to: Couples and groups of friends, if you are looking for a special location to get together. It could be the magical spot of the wedding dinner too!
In the János-mountain area, near the previously listed locations is Normafa, which in my opinion cannot be left out of this romantic list.
Normafa is one of Budapest's most liked hiking destination, but due to its size it's never too busy – especially, if you don't go on weekends.
There is plenty of room for everybody, you can absolutely romance, as there are uncountable number of small paths and benches here.
Normafa is a specially located part of Budapest, as with only a 15-20 minute car ride you can get to a wonderful park that's ideal for sports and active relaxations, or a romantic stroll, which by the way has been a favoured holiday spot for locals and people living near for over a 100 years.
There is no special attractions here, but I think strolling in the shade under the wide trees and look down over the city – is absolutely romantic.
6., Tomb of Gül baba and Rosegarden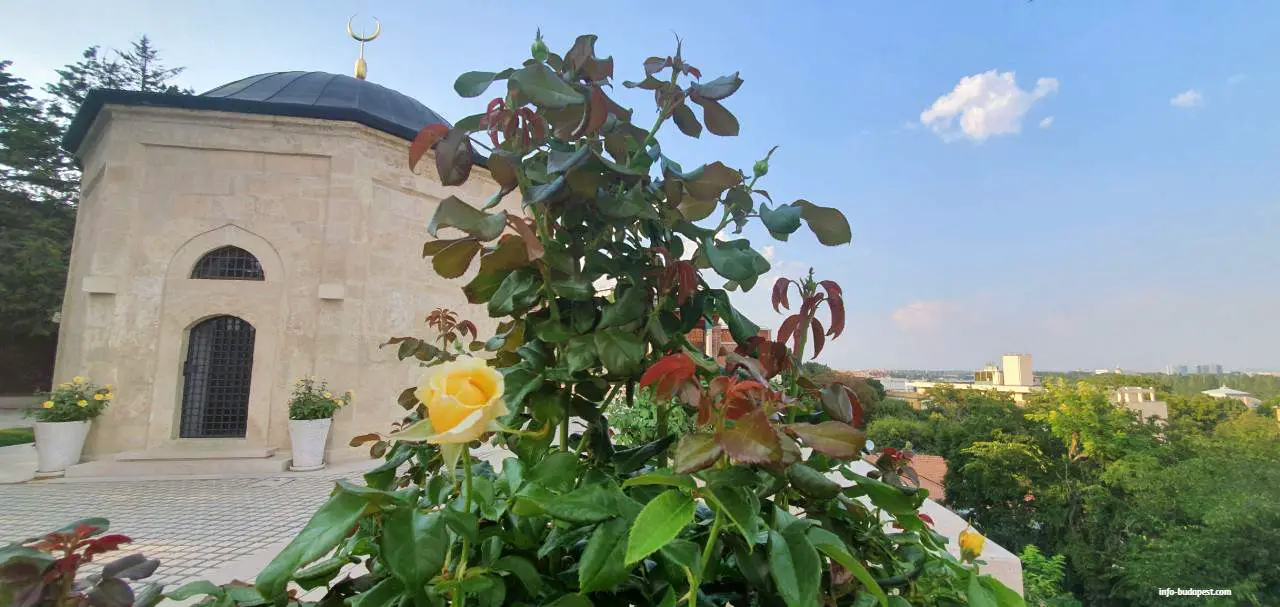 How to get there: Get on bus 9 at Deák square. Get off at budai hídfő stop on Margaret bridge. From here it's an 8-minute harder walk, as it leads upwards.
Who do I recommend it to: It's been a while since we've been here, but we were pretty surprised when we saw it again. It's been renovated well; I simply love it. Cosy garden, good view, and not too many people. I recommend it to everyone.
I know, I know… Still in Buda. This fantastic and unique park found in the second district has been renovated in 2016, and thanks to this the Tomb of Gül baba and Rosegarden has potentially become the most romantic park.
I definitely recommend it to you, you should visit it at least once!
This park was in the top 10 rank among the most romantic places in Budapest even before it was renovated, and after renovation even more so – there are usually people there, but you can sometimes catch the right time where you two are basically alone.
From the terrace of the tomb you get a great view of the Parliament, the Danube and even the Gellért Hill.
In the covered column hall is a great tea house with delicious Turkish and international teas. What I'm really happy about, is that they didn't only renovate the tomb, but the terraced garden part of the former Wagner villa, which in my opinion turned out beautifully.
I can spend hours here – my personal favourite is the lavender garden. Here you can also see a few turbaned monuments, which you might have seen at the castle, in the Turkish cemetery – if you walked there.
There aren't authentic tombstones, just copies, the designers wanted to pay a tribute with these to the real Turkish cemetery.
Even just the stepped rosegarden is worth to visit the Tomb of Gül baba, because walking past a view like that, among so many fragranced flowers is perfectly romantic.
7., János-mountain – Elizabeth Lookout, Chairlifts and its area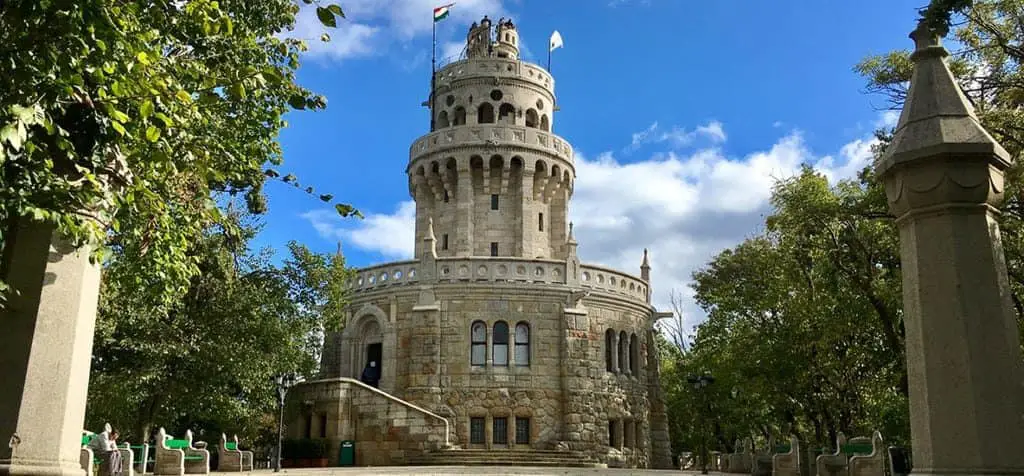 How to get there: Get on metro M2 at Deák square going towards Déli railway terminal. Get off at Déli railway terminal. From here get on bus 21A. Get off at Normafa. From here, the lookout is a 20-25 minute walk.
Who do I recommend it to: For those who like hiking besides romance. For those who would like to admire the panorama from Budapest's highest point.
Elizabeth Lookout
As I wrote above, the Buda mountains are filled with romantic locations and I will list lots of these. From these, one of my favourite is János-mountain and its area, especially the Elizabeth Lookout as the highlight.
Who wouldn't want some romance at Budapest's highest point? Both sunrise and sunset is beautiful from here! In nice weather you can see as far as the High Tatras.
For the braver people I recommend waking up at dawn on a beautiful summer day and walking up to the lookout (even the hike itself is a great program and it's guaranteed that no one will be near) and watch the sun rise with a good, warm coffee or tea, which is worth to take with you in a thermos together with some food.
Chairlifts
You can spend the rest of the day by pleasant walks, a picnic or you can even get on the Chairlifts or the little forest train.
There will be considerably less people if you go on a weekday, and you will have more opportunity for romance.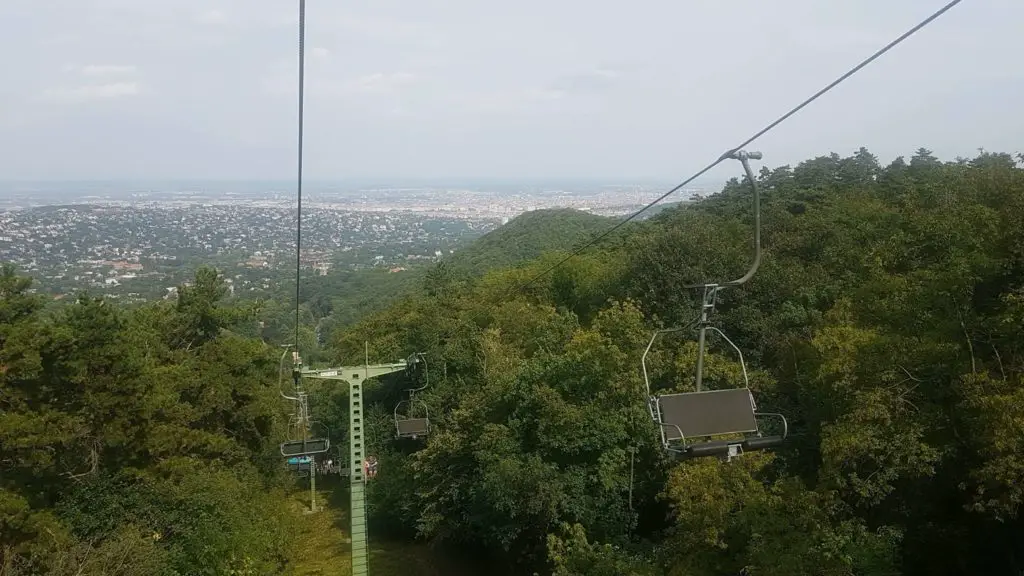 I won't list the chairlift itself as a romantic location as it is normally really busy, but it's a fact that during a weekday you might catch the right time when there aren't so many people, and then you might get the chance to have no one sitting before or after you – this way it's pretty romantic.
Most people just get on the chairlifts and then walk to the forest train, or quickly visit the lookout and leave right after, so you will have plenty of time to spend alone at the Elizabeth lookout or the dozens of paths near it.
Béka Tó (Frog Lake)
Here it's worth to visit the Béka Tó as well, which you can find next to the walkway from the higher stop of the Chairlifts to the stop at the János mountain Children's train.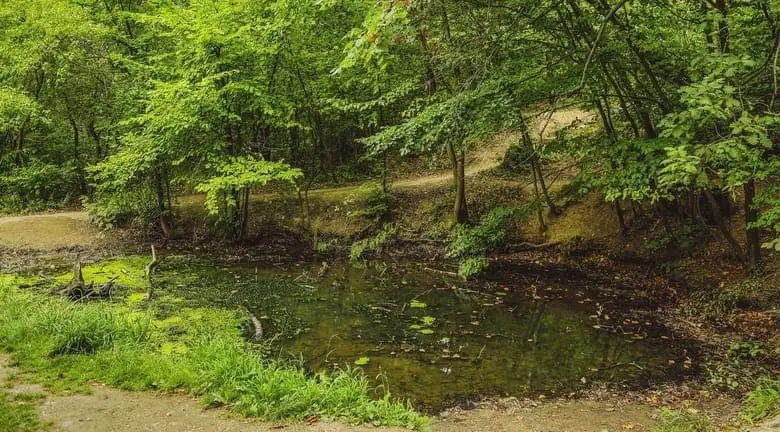 There are many benches and fire pits near the lake, so it's the perfect location for a romantic picnic.
Átjaró-barlang (Passageway Cave)
I would list in this area the equally romance providing Átjáró-barlang, which is also a short walk away from the higher stop of the Chairlifts, or the Elizabeth lookout.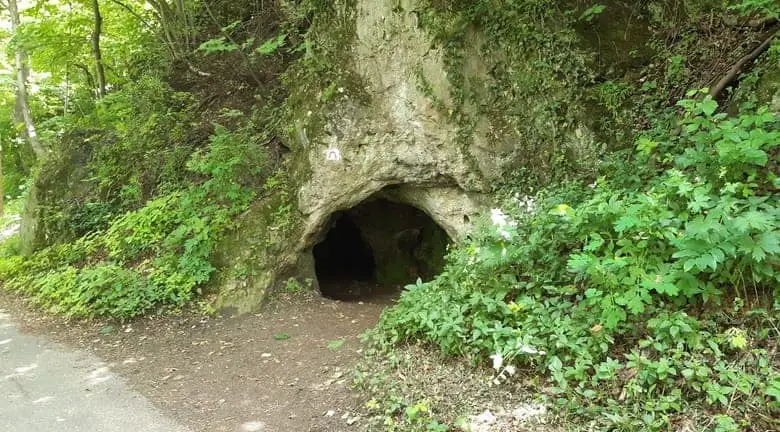 If you're going from the Chairlifts, you will only have to make 500m, following the green triangle at first, then the green cave.
From the Elizabeth lookout you will have to follow the specifically designated serpentine path – it's pretty steep, but great fun.
The Átjáró-barlang is 18m long and you can walk through it comfortably. It's uniqueness – hinted by its name – is its two entrances, basically passageway. I think a kiss or two in the middle of the cave is pretty romantic.
8., János-mountain – Tündérszikla (Fairy stone)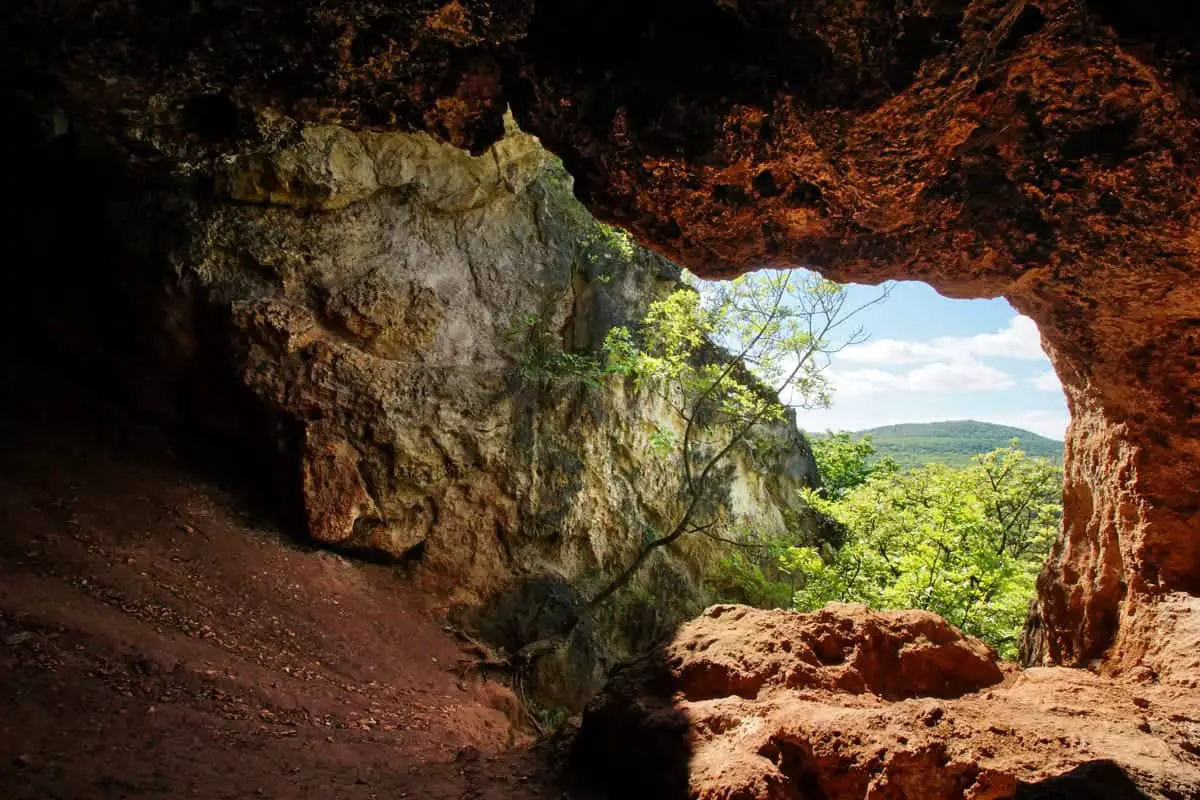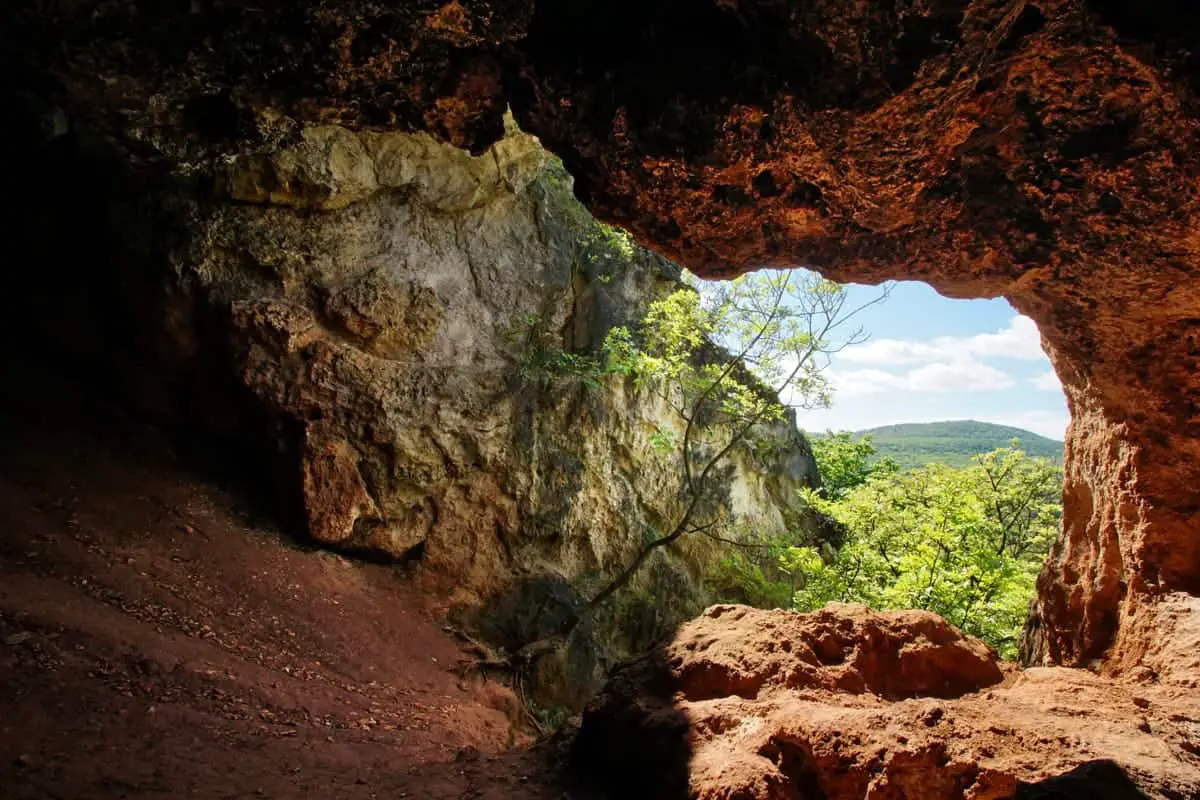 How to get there: Get on metro M2 at Deák square, going towards Déli railway terminal. Get off at Széll Kálmán square. Get on bus 222 here. Get off at Dénes street. Tündérszikla is a 12 minute walk from here.
Who do I recommend it to: For those who like to admire a panorama with no people around.
If we are talking about János-mountain, then we must not forget about Tündérszikla, that is barely even known by the locals.
From here you also get a great panorama to all of Budapest, but it's guaranteed that there won't be as many – so it's even more romantic – as at the Elizabeth lookout.
There are many benches in the area, where you can cuddle up and enjoy the bird tweets and each other's company.
It can be easily accessed through a light and pleasant walk from the zugligeti stop of the Chairlift by following the green triangles (660m, app. 10 minutes walk).
If you would like to walk here from Normafa (or vica versa), then follow the green line (2km, app. 30 minutes walk).
9., Tabán and its area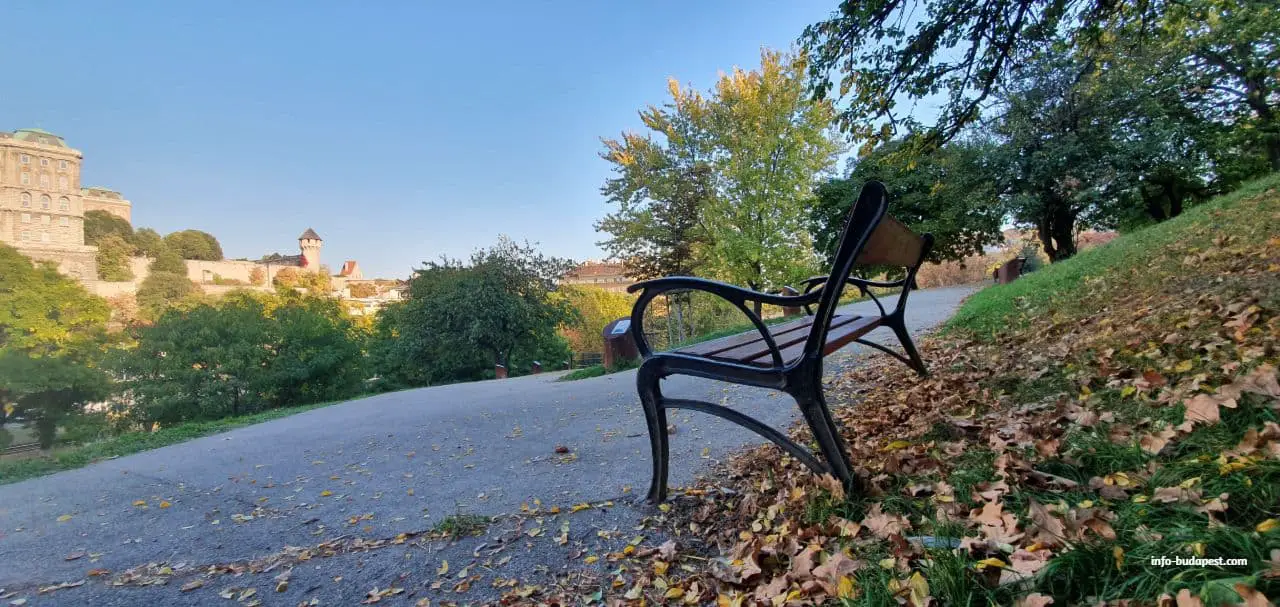 How to get there: Get on metro M3 at Deák square, going towards Köbánya Kispest. Get off at Ferenciek square (1 stop). Get on bus 5 here (a little walk to the bus stop), and get off at Szarvas square. From here Tabán is a 2 minute walk.
Who do I recommend it to: For those who are looking for a bit of peace and quiet near Buda Castle.
Let's stay in the area of Castle garden bazaar for now, as in addition to Castle hill there are plenty of things to see and perfect locations for a romantic stroll await you to explore.
Here is for example the nearby Tabán, which is the hilly area found between Gellért hill and Castle hill. I think all of Tabán is charming and romantic.
There are two famous baths in Tabán. You can try one of these is you're in the mood for a bath and the crowd doesn't bother you.
The two baths are the Rudas and Rác Thermal Baths, however Rác Bath has been closed since 2011 due to renovations and other legal disputes, so you can't try this one.
I wrote about the Rudas bath in an older article.
At Tabán you can relax and maybe have a picnic under many shading trees, while admiring the Buda Castle, the Elizabeth Bridge or the Castle garden bazaar.
Plenty of paths here with comfortable benches, some with tables. If you're in the mood to climb stairs you can find that here too – romantically wavy, zig-zagged stairs lead to the castle, or towards the Citadella.
By the way this is where they organise the yearly Tabán Festival as well, which is a free music festival.
10., Károlyi garden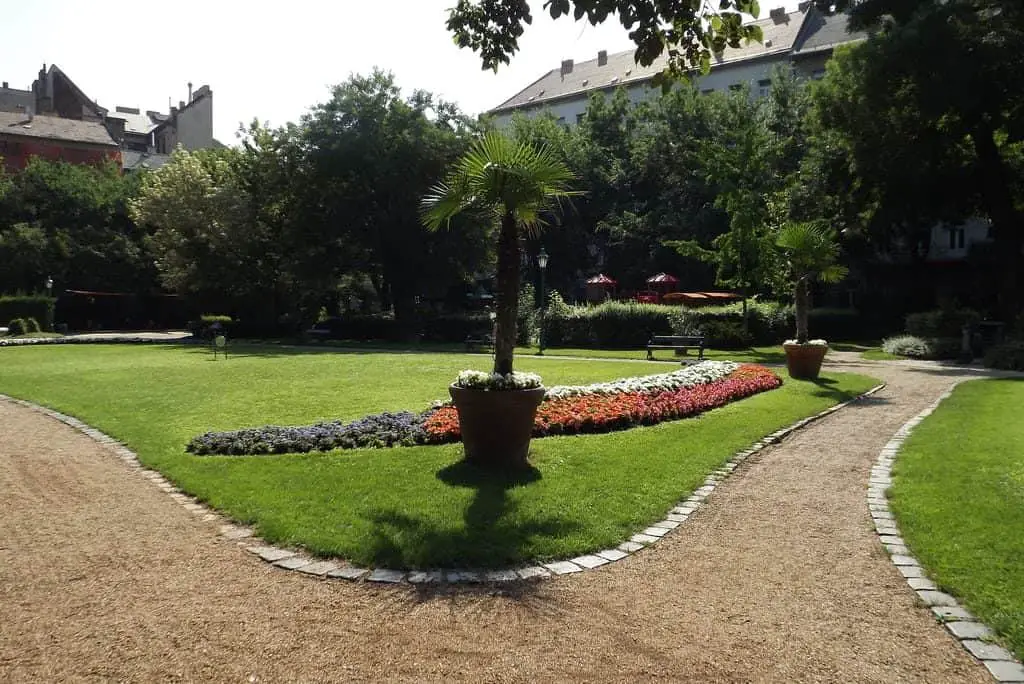 How to get there: Get on tram 49 at Deák square, then get off at Kálvin square. From here it's a 5 minute walk.
Who do I recommend it to: Small, but all the more romantic garden downtown. A real haven which makes us forget about a tiring day.
Károlyi garden, which is Budapest's oldest garden can be found downtown Pest, in district V.
It formerly belonged to the Károlyi family, today it's a fenced off, French style – a stand-alone garden in Budapest.
Even itself it wins the "romantic" description for me, and this only grows while you're walking on the beautiful paths among wonderful and well cared for flowers.
In the park there was room for a great, fenced off playground and plenty of romantic benches, as well as a beautiful fountain. Great news for me, and for everyone who doesn't smoke, that it's strictly forbidden to smoke in the park.
So, if you get sick of Váci street's and Pest downtown's noisy crowds, step into this little garden and enjoy the peace, quiet and each other. It is a few minutes walk from the Ferenciek square.
11., Museum Garden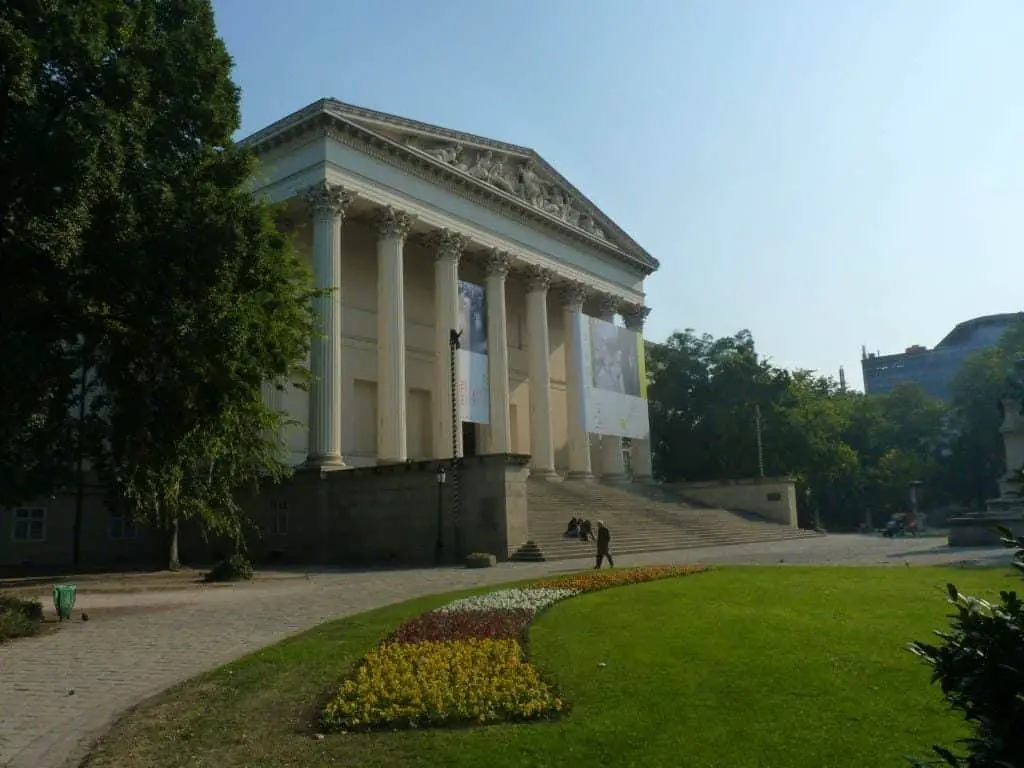 How to get there: Get on tram 49 at Deák square, then get off at Kálvin square. From here, it's a 4 minute walk.
Who do I recommend it to: It's a historical location. This is where Petőfi read the National Song in 1848. I recommend it to those, who in addition to the sights in the Hungarian National Museum, would like to relax and romance in a cosy garden.
I decided to add Museum Garden, the beautiful garden of the Hungarian National Museum, after its renovation in 2018.
I'm happy it got renovated, as this garden is found at Budapest's, precisely in Pest's busiest area, next to Kiskörút. Where, let's face it, you absolutely need a chance to get away from the noisy traffic and have the opportunity to pay attention to each other a bit, settle down and romance.
I'm especially happy that during the renovation, they increased the green areas ratio by 15%, so it provides even more oxygen and shade in the already large – almost 2 hectare – park.
I really love that everywhere in the garden mulch is the top layer, so it smells like in a pine forest – especially after a short period of rain. What's especially romantic is that the renovation company brought back and shaped the original layout of the park.
They replaced the coverings, placed new street furniture, the lightning is new and the planted beautiful, large trees too. I definitely recommend to visit here and relive the 1800s romantic atmosphere.
12., Hunyadi-square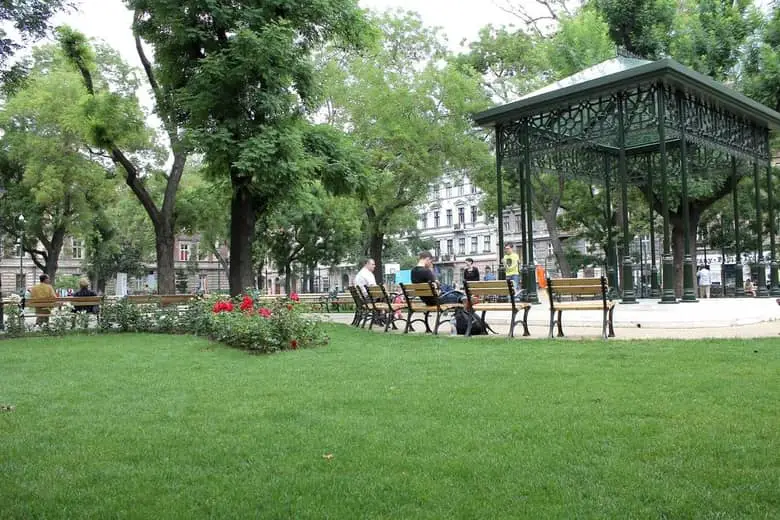 How to get there: Get on metro M1 at Deák square going towards Mexikói road. Get off at Vörösmarty street.
Who do I recommend it to: It's a cosy little square, but due to the nearness of City park and Heroes square it's undervalued, which is understandable. It's easy to approach from Andrássy road.
Let's go District VI. where this not too big but all the more romantic little park at Hunyadi square awaits you.
Considering that this square is found in the busy downtown, it is a real, little, green island, where many goes for even just an hour to get away from the crowds, the noise of the city – to sit on the bench and read a book, or just to catch their breath.
The fame of Hunyadi square comes from the market beside it which could effectively be an architectural monument, as it was built a long time ago, in 1897.
I definitely welcome the recent emerge of the smaller market section for tradition small scale producer in addition to the large market.
This park also went through a reconstruction in 2012, when many parks were renovated in Pest. Now it awaits you with great benches, beautiful flowers, music pavilion and a water pool with a light play.
It will send you back to XIX. century romance, as the furniture of the park are inspired by the classicist era.
13., Hajógyári Island (Óbudai Island)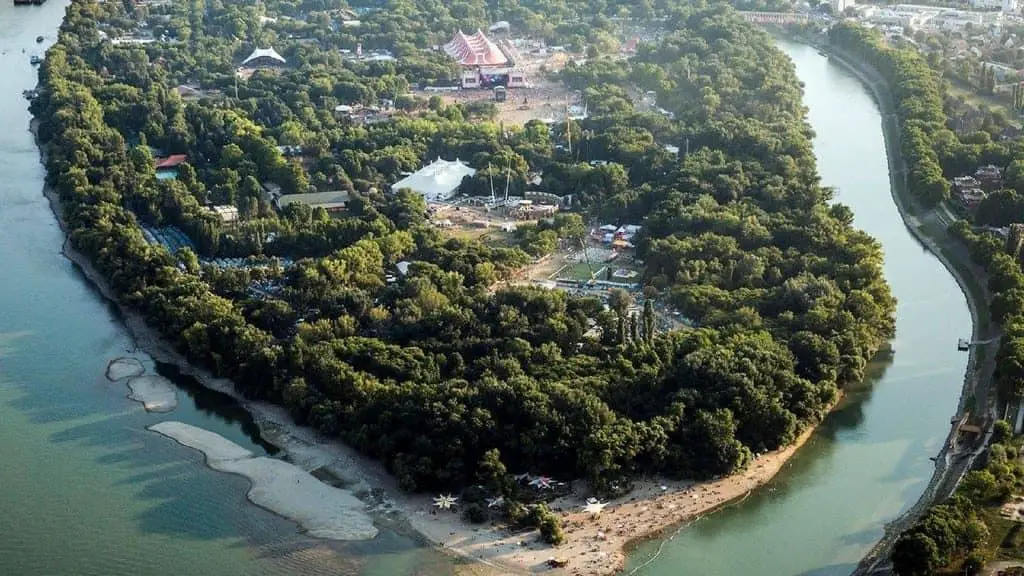 How to get there: Get on metro M2 at Deák square going towards Déli railway terminal. Get off at Batthyány square. Get on the HÉV (train) here, get off at the Filatoriga stop. The island is a 5-10 minute walk from here.
Who do I recommend it to: Due to its large area and huge amount of hidden locations I recommend it to those who would like to stay away from everyone and romance without interruptions.
Also a beloved location from my childhood and young adulthood, where as I child I could play and run around freely and as an adult besides running it was the perfect location for some romance.
I came a lot here with my friends or my girlfriend. This is also where the dog owners Paradise is – the dog beach.
Don't be surprised if you run into doggy lessons, as many people held dog lessons here. I have no problem with this, but there are people who are scared of dogs – that's why I'm mentioning it.
Those who like or want to meet Hungarian dog breeds can do so here. For those who like dogs, I recommend the article I wrote about Hungarian dog breeds.
The island is filled with zig-zagged paths, beach walkways, gravel walkways. There are many cyclists and runners, but the size of the island provides uninterrupted romance.
However, I do recommend that you don't go there after the Sziget Festival – it's better before hand or much later after it, as there is a huge mess left behind each year after the Sziget Festival. Approximately 550,000 people go to the Sziget Festival yearly so you can image what's left behind.
By the way, it's noticeable how the island struggles to regenerate each year after the growing number of people coming for the festival.
Despite this, I still love Óbudai island a lot, as it is very close to the heart of downtown and it will be the perfect choice for those who find the Margaret Island too crowded. On thing is for sure, there will always be a bench here where you can cuddle, or a path where you can stroll.
14., Roman Beach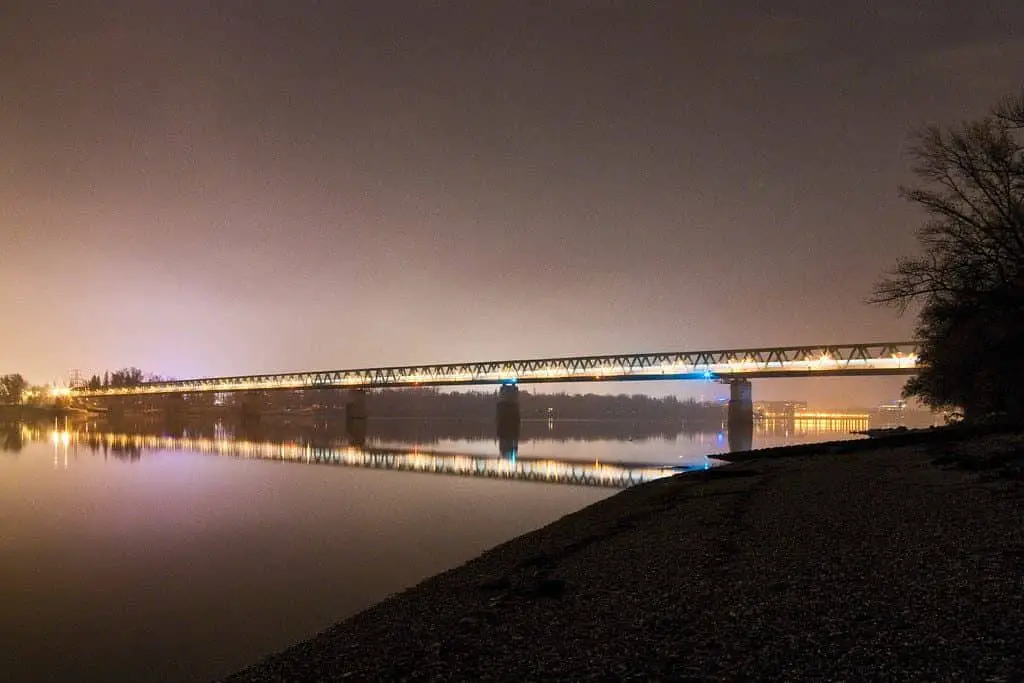 How to get there: Get on metro M2 at Deák square going towards Déli railway terminal. Get off at Batthyány square. Get on HÉV (train) here, and get off at the Aquincum stop. Walk towards the Danube.
Who do I recommend it to: Roman beach is a popular cyclist and runner route, but many stick-throwing dog owners appear here too. It's a great choice for those who would like to seat out to the Danube beach and admire the water draft, or the slowly moving ships.
The Roman Beach is considered the Buda side of Budapest. Within it, it's the northern part of Óbuda, right next to the Danube. It's the perfect choice if you want to spend a few hours by water.
The Roman beach was the location of my childhood's active relaxation and my first kiss as well. I love it – just as it is.
It's a great program for all day either by foot or by bicycle. I cycled from here to Szentendre millions of times – all the way to Visegrád beside the Danube.
The two faces of the Roman Beach
Even if you aren't planning a long program, you must definitely visit here, as you can get some rest under the shade of a tree anywhere at the Danube beach, while cuddling and admiring with the Danube, the ducks and of course, each other.
The Roman beach has two faces – one before high-season (from March until the beginning of June), quiet and romantic, and a crowded, summer with hot days and nights face (from July to August).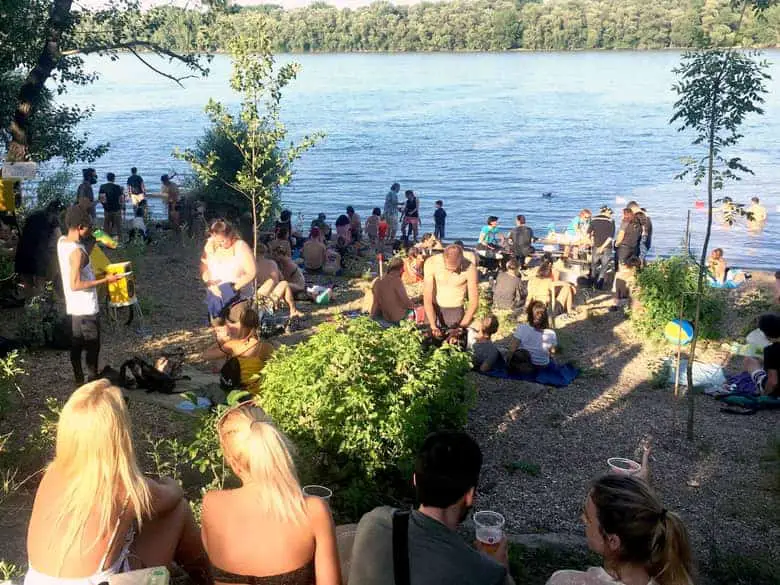 I like both of these faces their own way, but honestly, I prefer when it's quiet – mainly because of the behaviour of the people.
You won't go hungry
If you like a good hake, or would like to try the Hungarian lángos and other street foods, then it's worth to visit and spend a day here in the middle of the summer.
I'll let you know, this is also where the Cziniel Confectionery is found, where you can get the above mentioned Ruszwurm cake – under the name "házi krémes". (One of the confectioners of Ruszwurm Confectionery work here so they do it here now too, which I'm really happy about, as I don't have to go up to the castle to get my favourite dessert.)
Against the flow
For those craving some romance, I recommend walking towards Békásmegyer (north, against the flow of the Danube) on the walkway, as the business of the Roman Beach doesn't reach that far.
You can stroll all the way to Szentendre on the walkway by the way – well, if you like to walk for kilometres. If you don't want to wander that much, then go to Békásmegyer, leave the car at the Barát-stream and walk to the Danube beach, and from there towards Budakalász on the beach.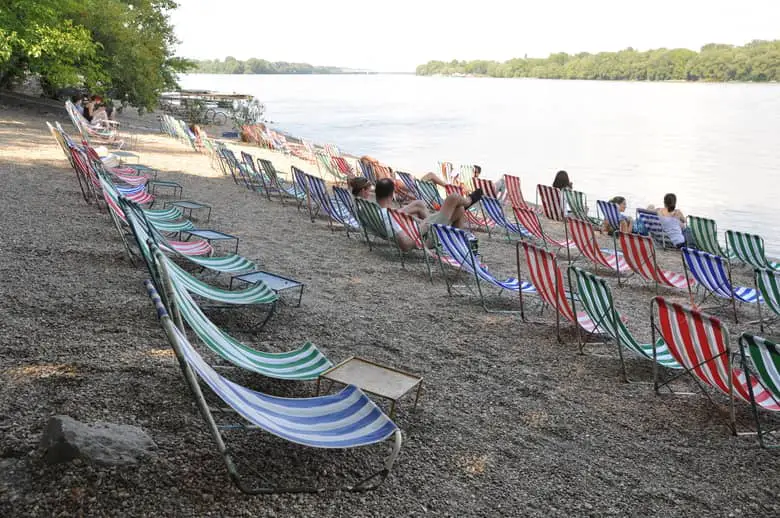 This is a super romantic forest path (and cycle lane), where you can really sync up. The path is perfectly established and you can go down to the water anywhere. Bring a blanket, or a fold up chair, some food and drink and you can have your romantic time on the beach.
If you're with bicycle – so worth it! – then definitely cycle to Szentendre and wander around the crooked, cobblestoned, thus completely romantic streets!
15., Kiscelli kastély és parkerdő (Kiscell Castle and Park)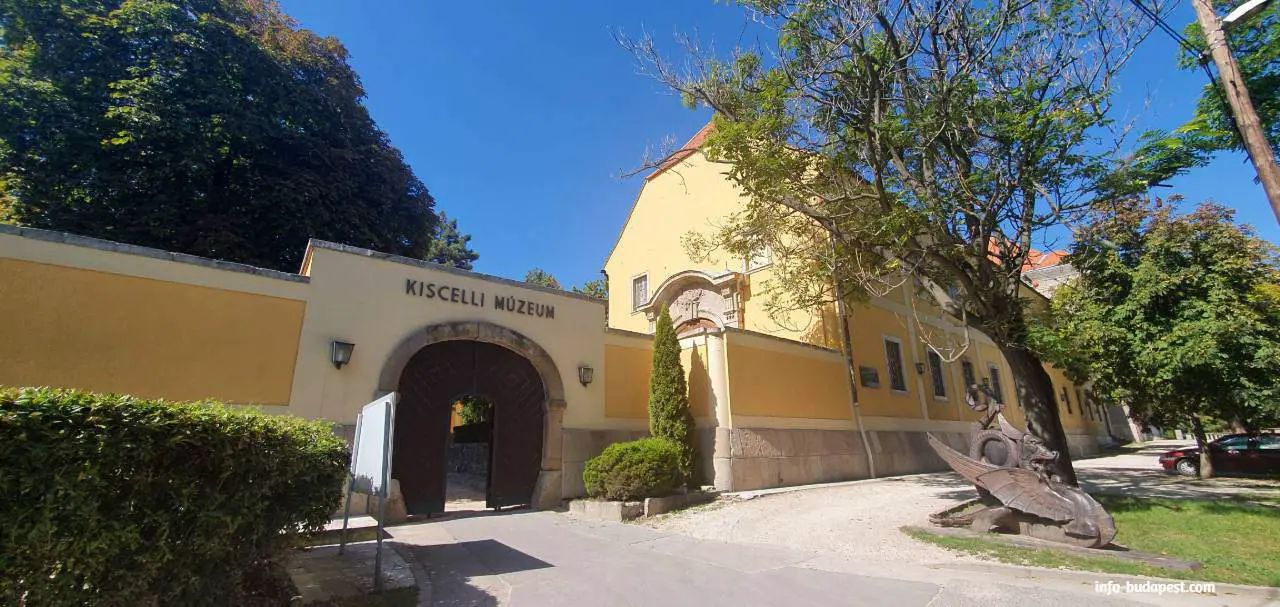 How to get there: Get on metro M2 at Deák square, going towards Déli Railway terminal. Get off at Batthyány square. From here take tram 19 until St. Margaret Hospital. The castle is an 8 minute walk from here.
Who do I recommend it to: It's a beautiful and cosy park. No crowds and you can even learn stuff. It's a perfect choice, I can only recommend it to everybody.
A hidden favourite of mine is the Kiscell Castle and the attached park in the III. district of Budapest.
The park is located between Óbuda and Remetehegy, above the Margaret hospital, it is easily accessible both by car or public transportation.
The Eurocenter Shopping Centre isn't far either, so if you're looking for ways to relax after a long session of shopping, I definitely recommend it.
Best shopping centers in Budapest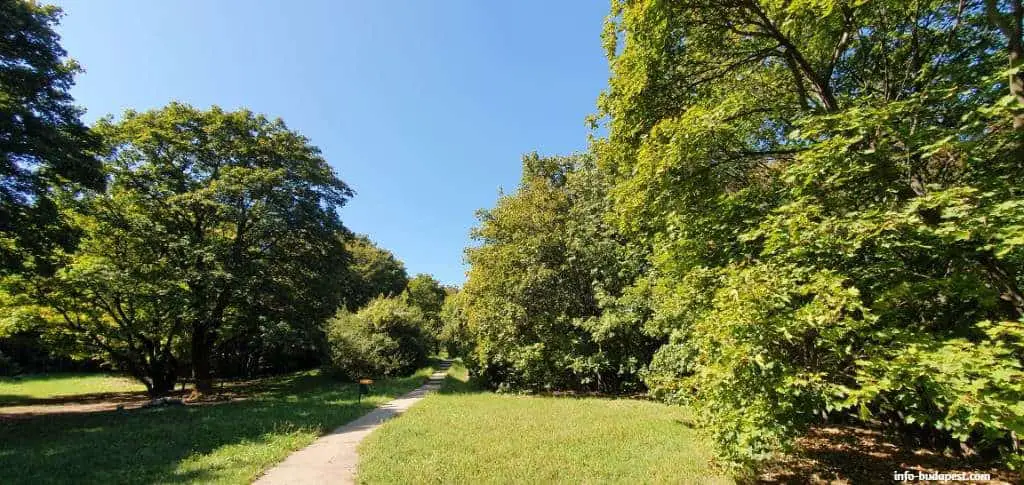 Kiscell castle was built in a baroque style in the 18th century, today it's the home to the Budapest History Museum. A great tourist trails leads to ancient park connected to the castle, providing a great location for romantic walks.
The Kiscell Calvary, the Golgota statue group and the Szent Vér Chapel are all found in the park. The park is a beloved location by people of Óbuda.
16., Kopaszi gát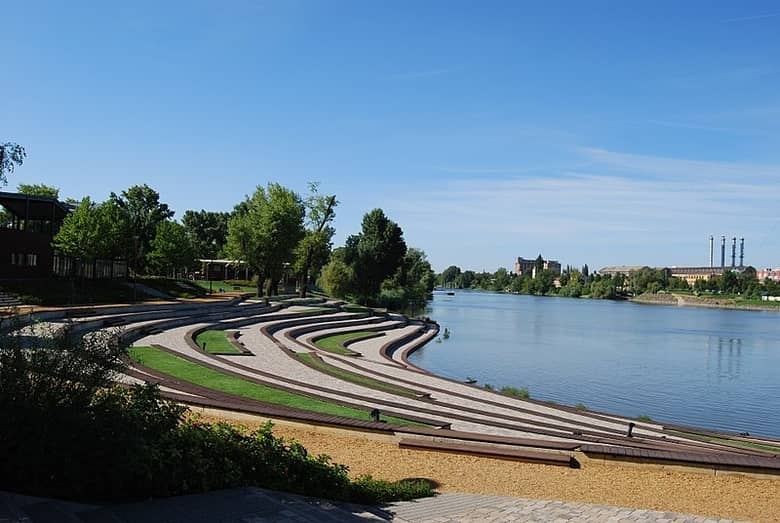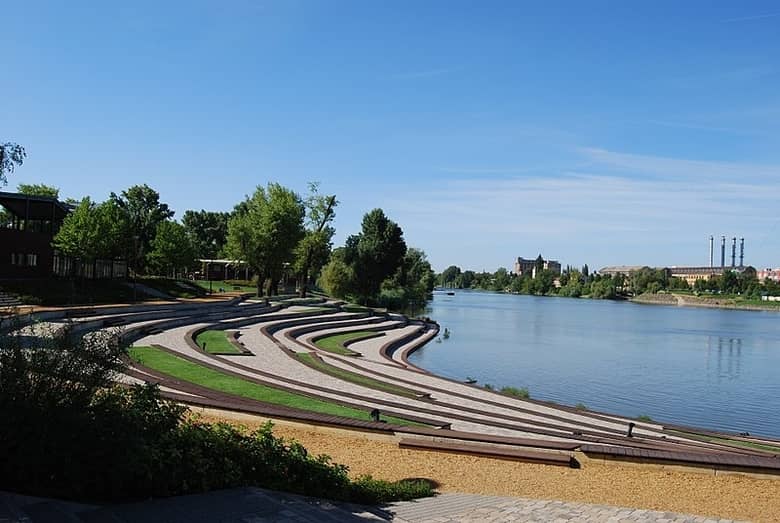 How to get there: Get on tram 47 at Deák square. Get off at Újbuda központ. Here get on bus 153. Get off at Infopark (at Pázsmány Péter walkway) Kopaszi dam is 500m from here.
Who do I recommend it to: For those who enjoy to check out places that isn't known by tourists. For those who would like to sit out and enjoy a nice lunch or meal at one of the nearby cosy restaurants. I only recommend it from May to September!
Staying on the Buda side, going further south from the Gellért Hill, at the Bay of Lágymányos, there is a great little spot, the Kopaszi dam. This place isn't visited by many tourists, as it's not well known.
This part of Budapest has been neglected for a very long time, but today it's an almost 10-hectare park which is visited by many locals and a growing number of tourists looking for a bit of peace and quiet.
Most romantic option is to arrive here with a BKK boat, rather than with car or other public transportation.
The park is mainly the meet-up spot for families and groups of friends, but you can absolutely find the section, where it can be just the two of you for some romance.
If you get hungry, you can pick from many different buffets and restaurants and a growing number of music concerts, performances and festivals is hosted here.
It's worth to enjoy a pleasant walk here, sit down in a shaded bench and look at the Danube, or the business of the Pest side.
17., Lake Feneketlen (Bottomless)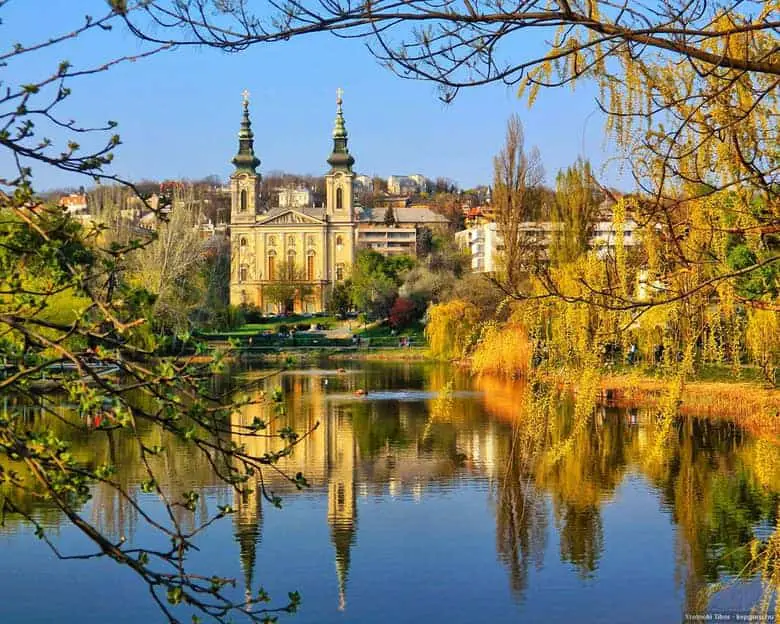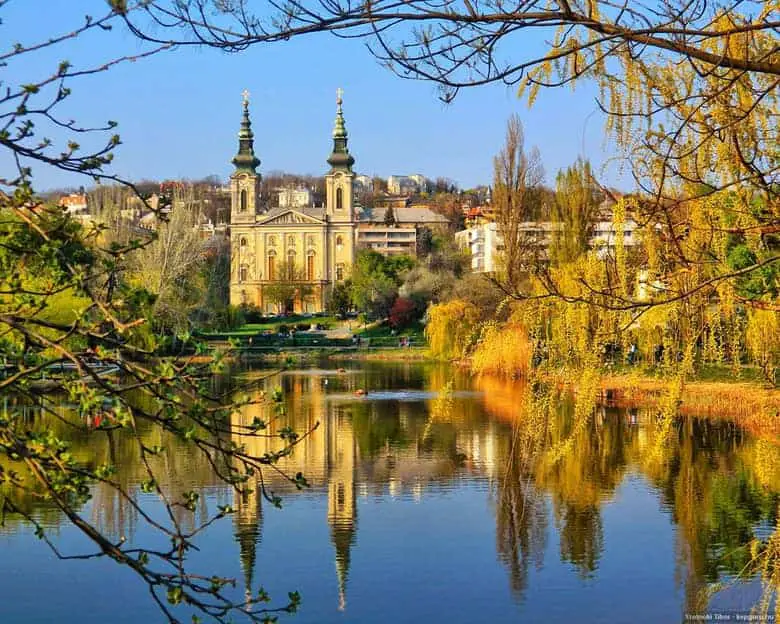 How to get there: Get on tram 47 at Deák square. Get off at Móricz Zsigmond square. Walk towards Kosztolányi Dezső square app. 500m.
Who do I recommend it to: For those who booked an accommodation near South-Buda or it's on the way. It's cosy but small.
We're still on the Buda side – I did write at the beginning that most romantic locations will be at Buda.
If you don't have time to visit Margaret Island or drive up to Normafa, then Lake Feneketlen might be a perfect choice, it can be found at district XI. of Budapest.
It's uniqueness is that even though it's surrounded on three sides by busy roads, you can still find peace and quite in the park and of course, you can take a romantic walk.
Lake Feneketlen isn't bottomless of course, but it's not shallow either – on average it's 4-5m deep. This lake is the heart and soul of this park, and the paths were designed so that you can enjoy the lake and wild ducks from the benches.
If you get hungry, I can only recommend Hemingway restaurant looking over Lake Feneketlen. It's a romantic spot with great food, what else do you need?
18., Mechwart-liget (Mechwart-grove)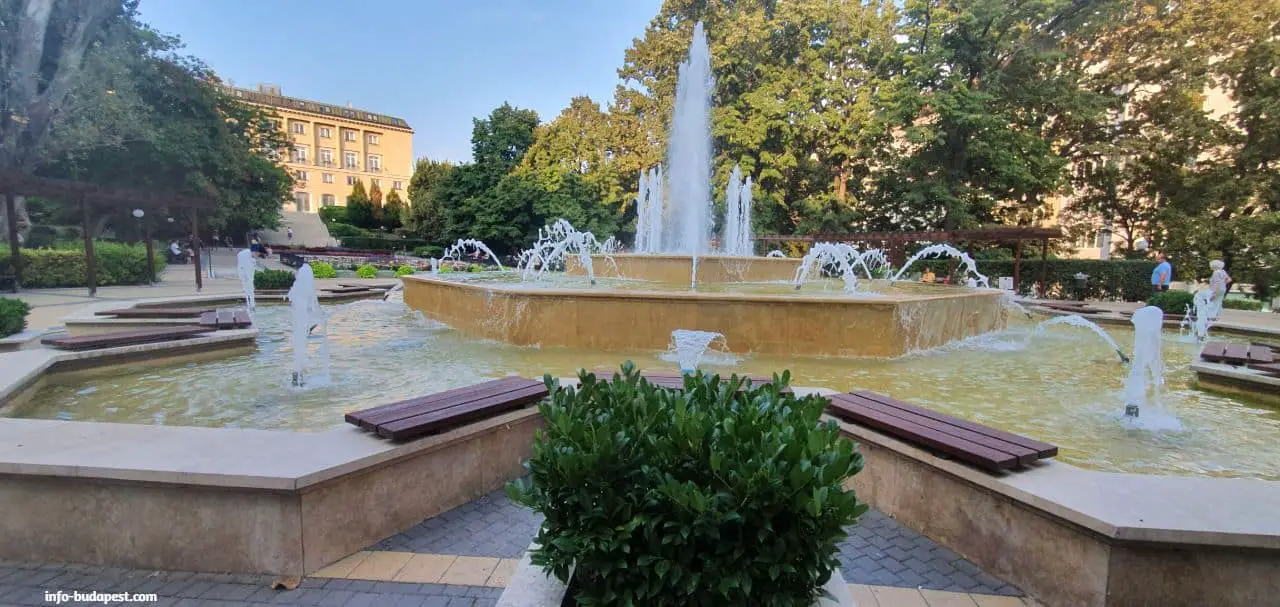 How to get there: Get on metro M1 at Deák square, going towards Mexikói road. Get off at Oktogon. Get on tram 4 here and travel until Mechwart grove.
Who do I recommend it to: It's a great park at the heart of Buda. Worth to check it out.
When it comes to downtown romance, the magical and huge – 18.000 sq. meter – Mechwart-grove can't be left off my list!
Of course, this beauty is on Buda too, in the second district, on tram line 4 and 6.
It's surprising, but from the tram you can't see what a great park is here in the noisy city. Mechwart-grove is often mentioned as Budapest's prettiest area, and in 2013 it won the title "Budapest's prettiest square".
At the two edges of the park are two different playgrounds – one for smaller kids, one for larger – at the middle of the park is a gigantic, multi-storey fountain (21m in diameter), which is really liked by the people visiting here, as you can comfortably sit at the edge of it.
Many benches are placed around the fountain, and there are pergolas above the fountains, providing a pleasant shade. Between the fountain and one of the entrances a huge flowerbed welcomes you, if you visit here.
On the afternoons, the park is a bit crowded – considering it has two playgrounds and an adult fitness park – so for some romance I recommend the morning or evening.
By the way, the park was renovated in 2010 and now it has a perfect infrastructure – meaning there is a proper and clean bathroom in addition to the beautifully cared for flowerbeds and furniture.
19., Városmajor
How to get there: Get on metro M2 at Deák square going towards Déli railway terminal. Get off at Széll Kálmán square. Városmajor is a 12 minute walk from here.
Who do I recommend it to: For those who don't want crowds, and are looking for a relatively easily accessible romantic place in Buda.
If by chance, there are too many people at Mechwart-grove I recommend Városmajor, which is also in Buda, and might be a bit more romantic than Mechwart-grove.
You can jump in the Cogwheel here and throw yourself in the Buda mountains for some romance, or you can check out Sacred Heart Church at the park.
It's not only worth to visit Városmajor for a romantic stroll, as it offers great outdoor sport equipment – parkour, fields, soccer field, basketball field, table tennis tables, outdoor fitness equipment, an almost 600m long running track, as well as an outdoor stage.
You can find this park in District XII. in Krisztinaváros, between Rózsadomb and Kis-Sváb-mountain, and it's close to 10,000 sq. meters, so you will have no problem with crowds here.
Just follow the route from Mechwart-grove with tram 4 or 6 until Széll Kálmán square, from there go towards Szilágyi Erzsébet fasor. Due to a largescale renovation, Városmajor is one of the prettiest parks in Budapest.
20., People's park (Népliget)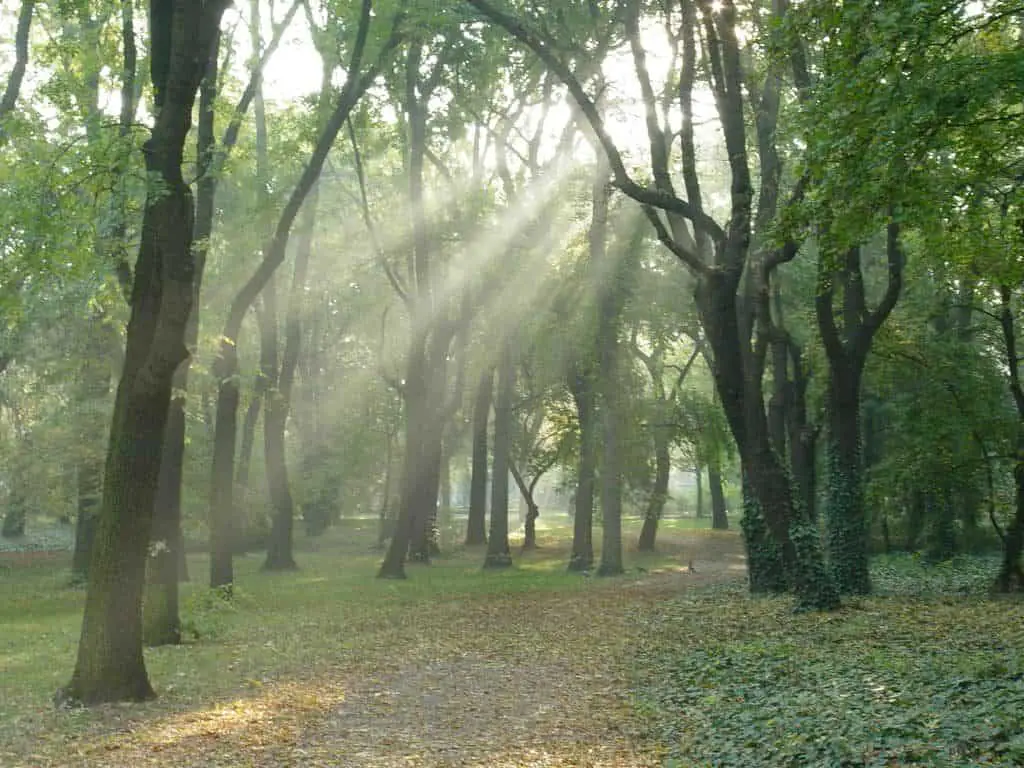 How to get there: Get on bus 9 at Deák square and go until the Egészségház (Medical Clinic Health House). People's park is an 8 minute walk from here.
Who do I recommend it to: Due to it's large size and many hidden spots, it's a great choice for those who want to have an uninterrupted romantic time.
As Budapest's largest public park and green area, People's park can't be left off the list either. There is plenty of places here to get away, have a short walk, or sit on one of the benches.
Of course, many basic things can be found here, such as sport fields, paths or playgrounds, and other places providing room for social activities, but there are a few drinking fountains here too.
People's park is like a forest in the city, where you can have a pleasant time under the shade of the trees, while hugging each other and thinking about the past or the future together.
21., Sashegy (Eagle Mountain)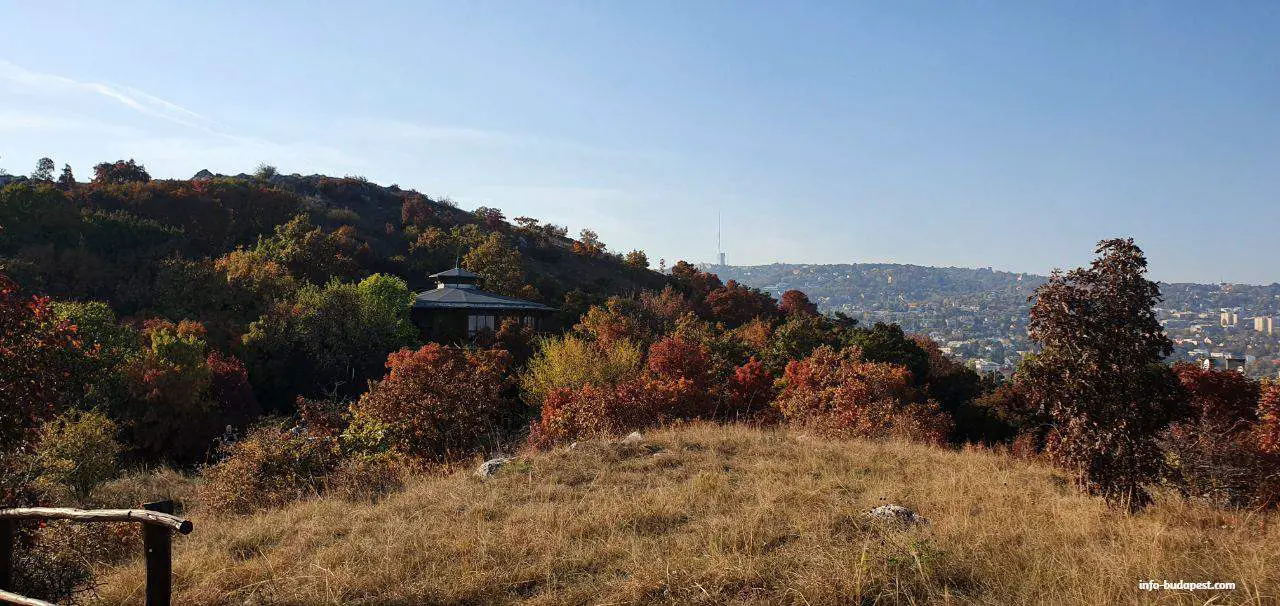 How to get there: Get on metro M2 at Deák square, and go one stop until Astoria. Get on bus 8E here, and get off at Korompai street. The lookout is 9 minutes from here.
Who do I recommend it to: Those who love to see great panoramas and a variety of rare birds.
One of my favourite places on "The most romantic places in Budapest" list is Sashegy. Yes, it's in Buda. 🙂
I'm talking about Buda's Sashegy Nature Reserve which is really close to my heart, as for one it's in Buda, and two, it's part of the Danube-Ipoly National Park, and of course as the name suggests, it's a nature reserve.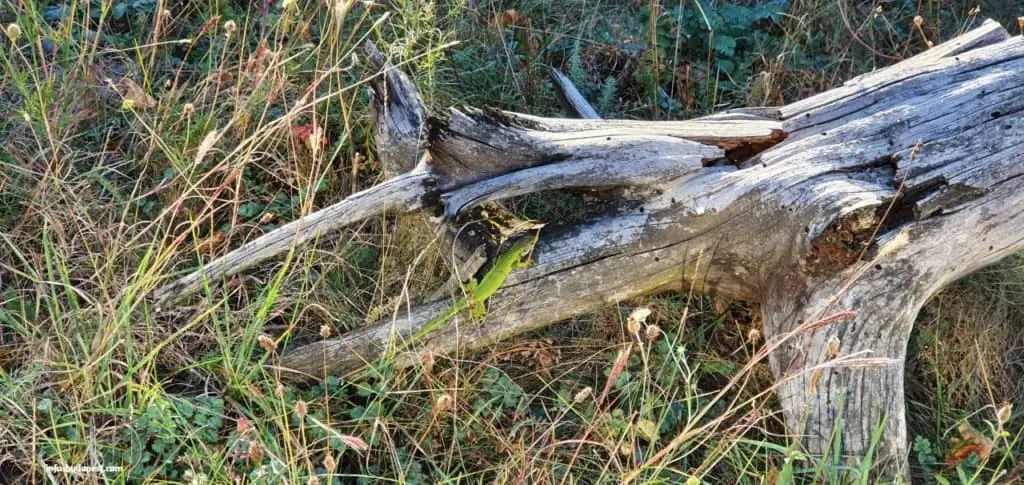 Definitely go up to the renovated Visitors centre, where the view will take your breath away and in addition there are some great exhibitions in the centre.
The study trail can only be done through a guided tour – given that it is a specially protected area – which is included in the ticket.
Among the rest of the available programs are different – mainly for kids and group of kids – guided tours. But there is opportunity here for example of a pre-arranged exclusive wedding photography – let's face it, that's pretty romantic, considering the wonderful and unique atmosphere location.
For example, I like the "Tájtörténeti séta a Sas-hegyen/Landscape History Walk on Sashegy" program as well. The visitor centre of Sashegy can be reached within 20 minutes from the city through bus 8.
It's a really special experience to wander around on Sashegy and admire the truly one of a kind view, and in the meantime be shocked, that this beautiful spot is really at the heart of Buda – so close to the city's traffic, but so far from its noise.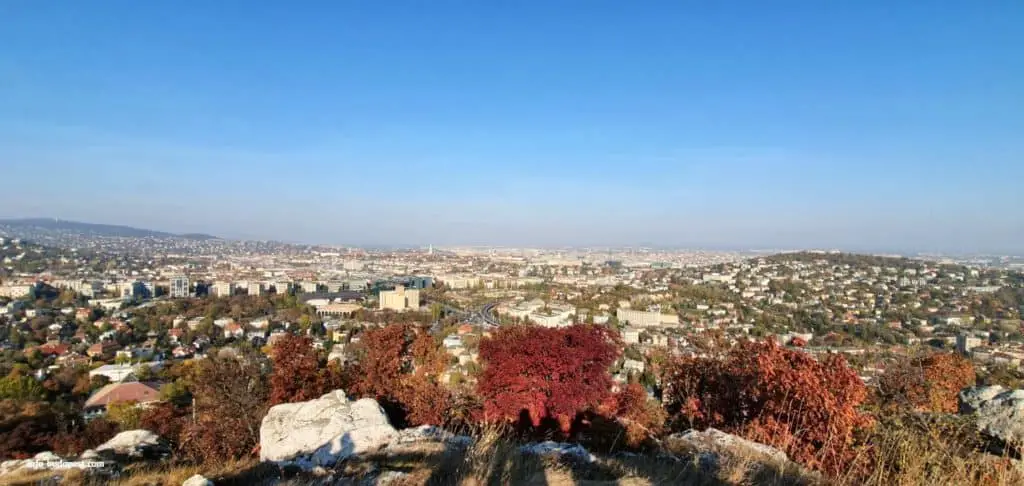 Here you can really relax, go quiet and pay attention to each other – and of course the panorama.
It's important to note that this park isn't open all year around, only between March and November and usually just on public holidays, weekends and holidays. But you can still walk around here, besides the visitor centre, all year around.
22., Orczy garden and ELTE Botanical Garden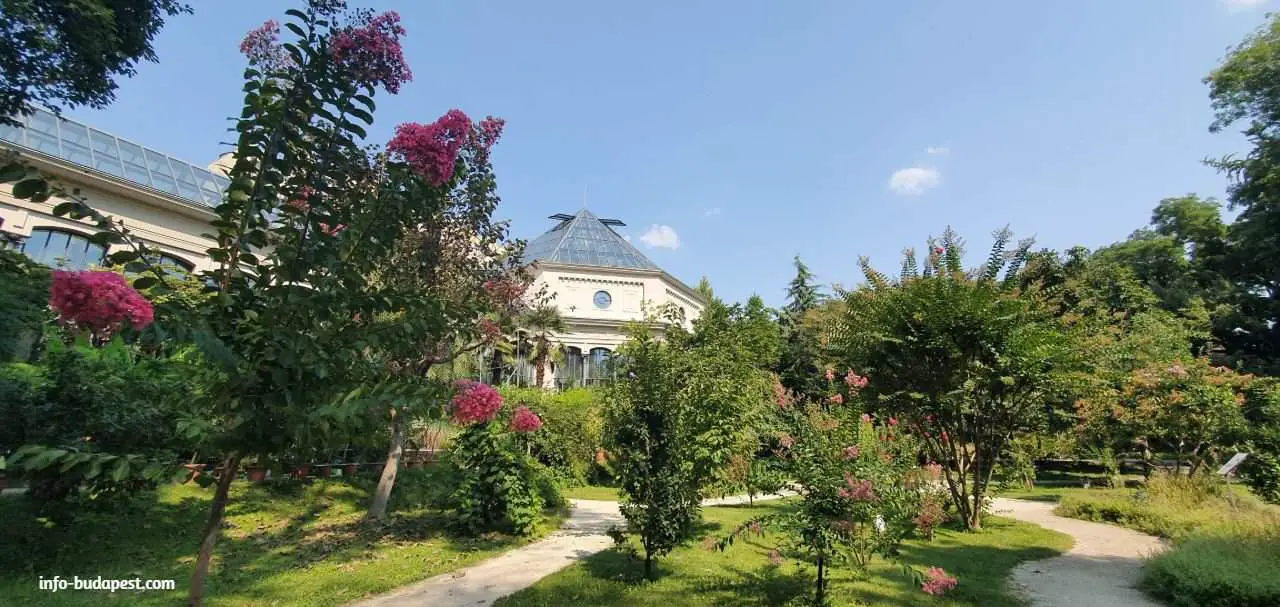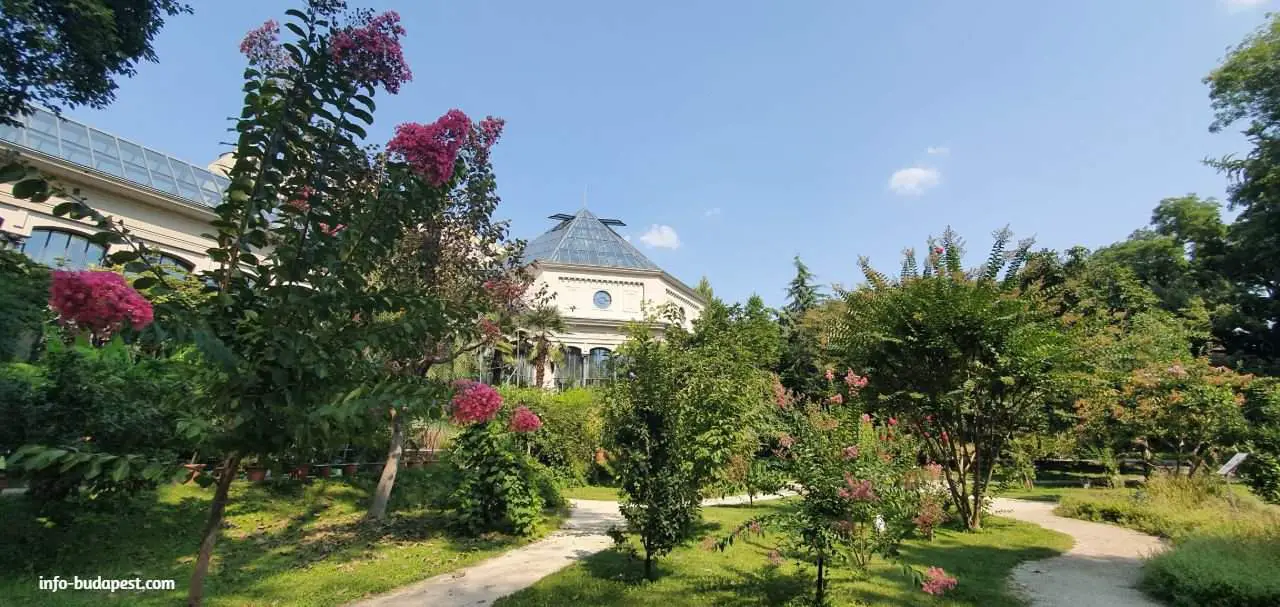 How to get there: Get on metro M3 at Deák square going towards Kőbánya Kispest and get off at Nagyvárad square. (At the Klinikák stop if you want to go to the Botanical Garden.)
Who do I recommend it to: The renovated Orczy garden is a spot in the infamous District VIII. where you can catch your breath. Out of the two of them, I would recommend the ELTE Botanic garden. For those who are interested in special plants.
Stay on the Pest side and visit the beautifully renovated and restored Orczy garden (Orczy park).
You need to know, that in the past, this was considered Budapest's number 1 dating spot, but then its light dimmed due to negligence and the area's bad reputation.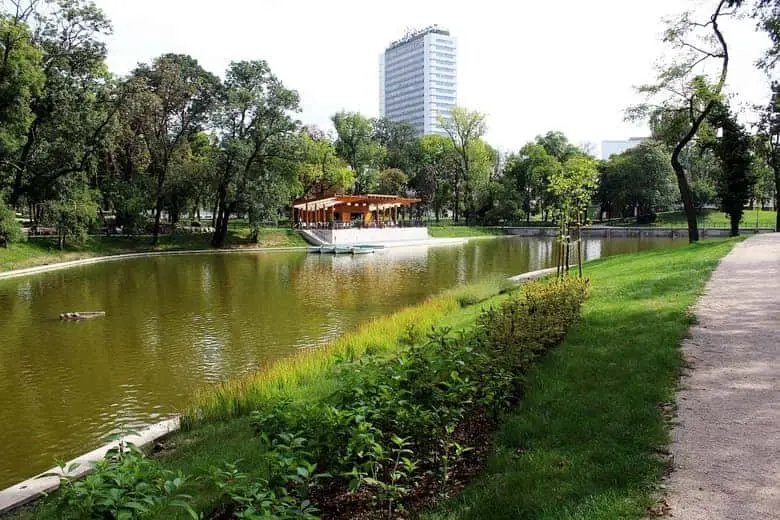 Today all of this changed which I'm really happy about as this is a great park. They say that the park was part of King Matthias' hunting areas, which provides that romantic atmosphere straight away, and the Illés-well and the little lake found in the park only strengthens it.
ELTE Botanical Garden (Fűvészkert)
If you're in the nearby Orczy garden it's worth to walk over here too, or the other way around, as these two great parks are next to each other.
This park was also renovated in 2010 when they cleaned the bed of the lake, they laid down a new water system, replaced the benches and gave new lights to the park.
Some people believe that due to the renovations the old, jungle-like, wild-romance that was provided by the untidiness of the park is gone now – but I believe the renovation really benefitted the park.
23., Olimpia Park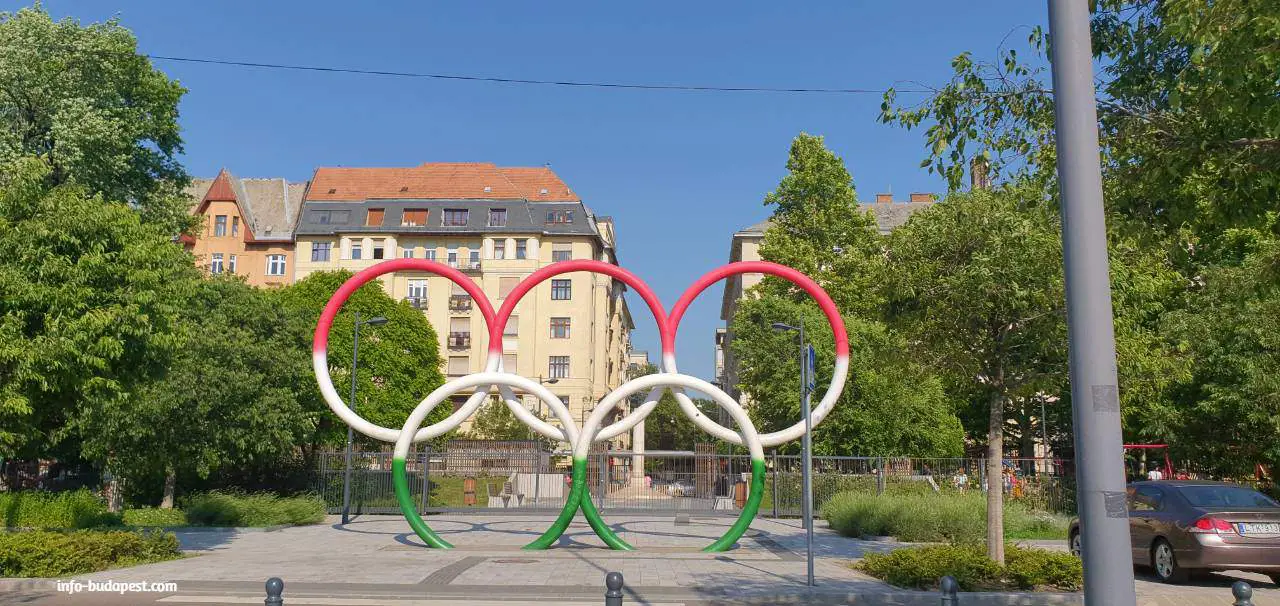 How to get there: Get on metro M2 at Deák square and go until Kossuth square. Walking towards the Margaret bridge, you will find the park 8 minutes away.
Who do I recommend it to: It's crowded. It's worth to go towards the evening when the park empties, and the lights of the Buda Castle appear.
This park renovated in 2014, can be found on the Pest side, precisely between the Jászai Mari square and the Kossuth square.
It's completely fenced off and has many entrances. I recommend entering from the Jászai Mari square, as the shading trees and quiet green areas are on that side.
It's perfect for a picnic and if there are many people, then the good old Margaret island is only half a bridge away.
On the afternoon and weekends it's definitely packed, as the main and central theme of the park is the great playgrounds, social fields, sport fields, but towards the evening there is chance to wander around alone.
From the park you can see the Margaret island, the Buda Castle and of course the Danube. If you come with a dog, there is a separated dog park.
I wouldn't call this park very romantic, but I really like the fact that it's at a great and central location – you can always get away from the city for a bit and as I said, the romantic Margaret Island is only half a bridge away.
24., Vérmező (Blood meadow)
How to get there: Get on metro M2 at Deák square and go until the Déli railway station. Vérmező is a 3 minute walk from here.
Who do I recommend it to: It's the perfect choice if you're looking for a less-visited cosy park in Buda.
We go back to Buda for a bit. Vérmező park was renovated in 2011 and I have to tell you, it turned out really pretty.
It's worth to walk here is you are in the Várhegy or Tabán area, as Vérmező is in the first district, at the western foot of Várhegy, basically surrounded by Attila road and Krisztina square.
I like the parks of Buda because you can see beautiful, old trees in all of them. A big portion of the trees of Vérmező were planted during the 1820s and just imagine, how many couples have these trees seen since then – so romantic.
There are many walkways and now even a cycle lane in the park. The uniqueness of the park is that there are many trees here, that aren't found elsewhere – such as the tulip tree, the ponderosa pine, the callery pear, tetradium, or the maidenhair tree.
It's definitely worth to enjoy a pleasant walk here while watching the interesting trees – and if you're wandering around quietly, you can even hear the rare woodpecker.
Plenty of room for romance at the park, as it's close to 14,000 sq. meter and there is playgrounds, drinking fountains, dozens of benches, fenced off dog runner and even a pretty fountain.
25., Millenáris park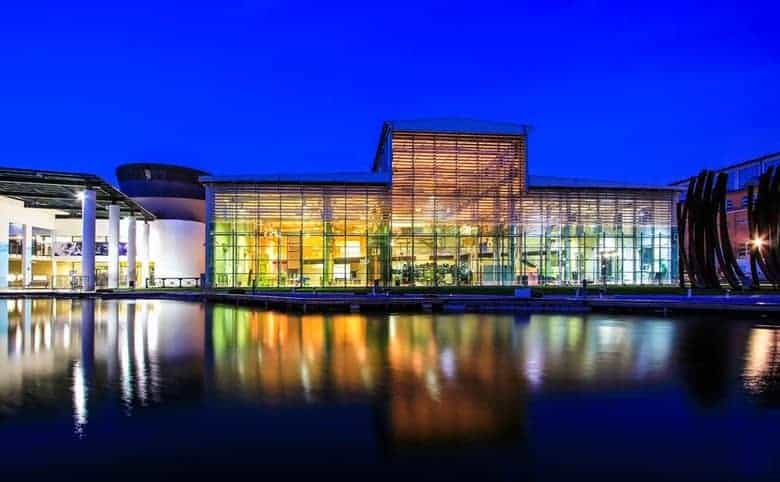 How to get there: Get on metro M2 at Deák square going towards Déli railway terminal. Get off at Széll Kálmán square. Millenáris park is a 3 minute walk from here.
Who do I recommend it to: At the Millenáris park they held different exhibitions and events regularly. I recommend it to those, who besides a bit of romance would be interested in viewing these high-profile exhibitions.
The Millenáris park isn't exactly a green park, but one of the Europe's most important cultural and lifestyle value showcasing – suitable for events – public parks and cultural centres.
This is where you can find the Invisible exhibition for example, which portrays the world from the aspect of blind people – it's worth to visit at least once.
The park surrounding the centre is perfect to enjoy a pleasant walk, or to get away from the noise of the city for an hour or so.
Millenáris park is at District II., next to Mamut Shopping Centre, so it's easily accessible through public transportation too.
At the middle of the park is a small lake and many paths with comfortable benches along them. There is a small pier by the lake, which is actually a stage, but when there are no events you can comfortably rest on it.
26., Adyliget park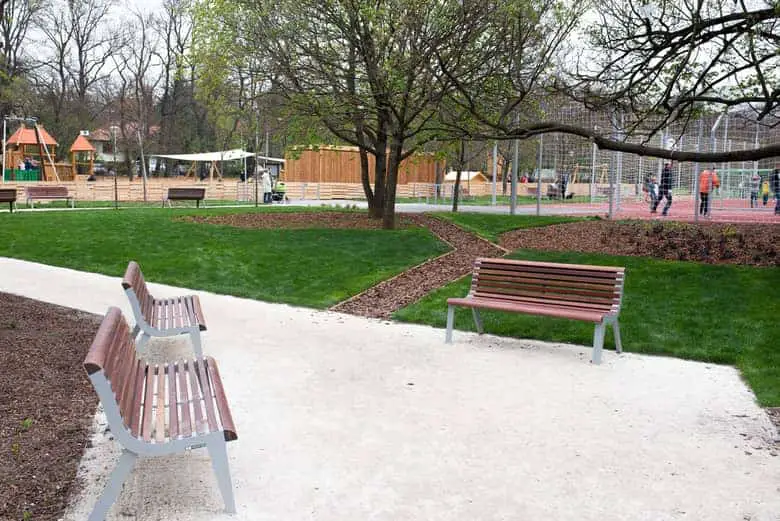 How to get there: Get on metro M2 at Deák square, going towards Déli railway terminal. Get off at Széll Kálmán square. Take tram 61 until the Hűvösvölgy stop. Look for bus 61 and go until the Adyliget stop.
Who do I recommend it to: It's not far from Buda's protected area where there are no crowds. I recommend to those who would like to connect this program with the nearby Budakeszi Wildlife Park.
I'll jump back for a quick second to Buda, second district, as I must add Adyliget park to my list which opened in spring 2019.
There is a playground at the park of course, but there is also many sport fields and a beautiful study trail – with a birdwatching tower. They established many picnic and firepit areas at the park.
Soccer field, basketball field, outdoor fitness park and a very cultured toilet is all there in addition to the different sport fields.
There are many great paths at the park, with comfortable benches, where you can rest and cuddle while looking at the birds – but you can also hide away at the birdwatching tower for a stolen kiss.
I definitely recommend a walk on the study trail, which goes along the park and introduces many birds. You can take dogs to the park as well.
27., Salkaházi Sára park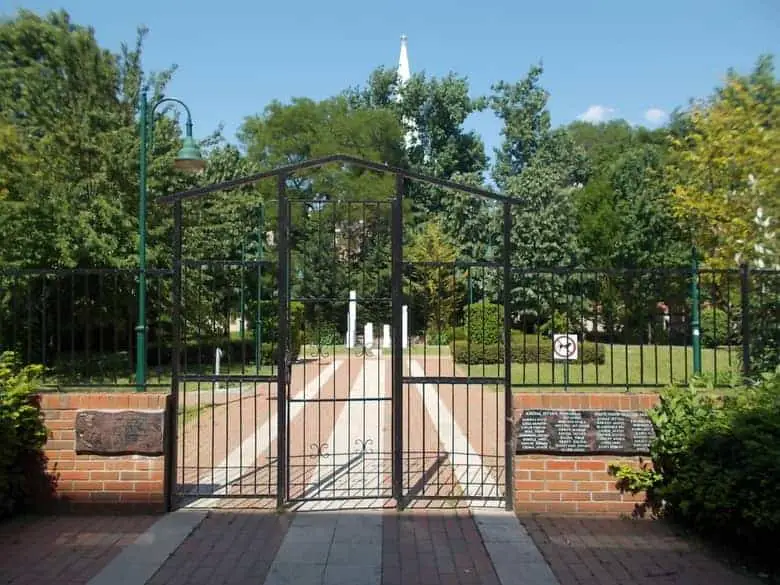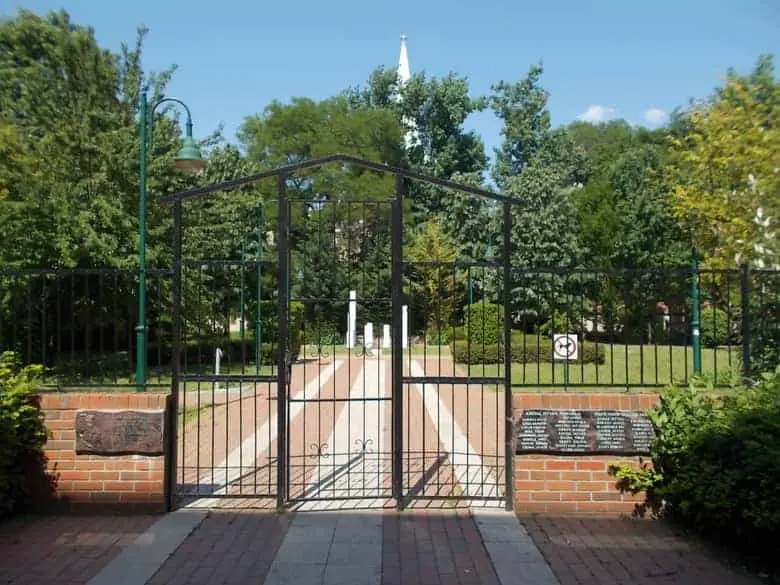 How to get there: Get on metro M3 at Deák square, going towards-Kispest. Get off at Kilinkák. The park is a 5 minute walk from here.
Who do I recommend it to: Those who are in the area and would like to catch their breath.
Let's go to Pest for a bit, as despite its traffic and lack of green areas you can still find little hidden, quiet parks where you can spend a romantic hour and steal a few kisses of each other of course.
You wouldn't even imagine, that next to one of the busiest roads is this oasis, where peace and quiet rule. This park is right beside Üllői road, which is known to be very busy and loud.
You will find the park behind the Örökimádás church, as the park was established in the church garden.
A large part of the park became a green area, where trees, shrubs and beautiful flowers were planted, and they placed many benches along the pebble and brick pavements that cross the park.
It's absolutely perfect, if while walking in the city, you would like to get out of all the noise for a bit.
28., Margit square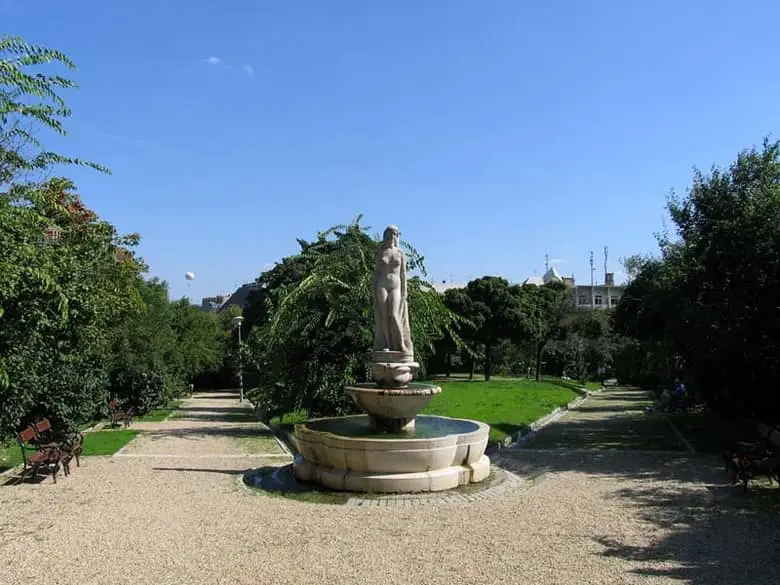 How to get there: Get on bus 9 at Deák square. Get off at Margaret bridge by budai hídfő. From here it's an easy, 8 minute walk.
Who do I recommend it to: It's an atmospheric little park, not well known even by the locals. It's worth to look around while walking in the area, as I think near the Margit square there are plenty of good places.
Not many people know, that above the busy Margaret round about is a great little park, giving an opportunity for some cuddles and romance.
The square is at the junction of Margit street and Rómer Flóris street, it's easy to find.
At the entrance of the park is a fountain which sadly doesn't work, as the park is a bit neglected, but it is still a great romantic place.
I wouldn't call the park big, more like a small green area, but despite this it is filled with comfortable benches where you can sit down.
29., Bikás park ("The park with bulls")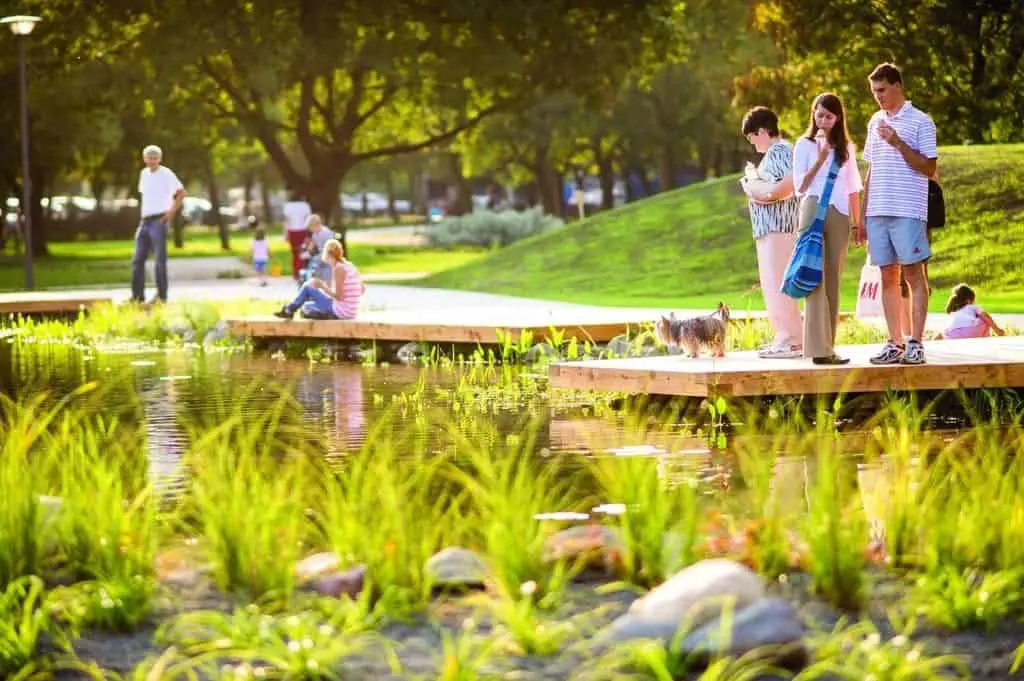 How to get there: Get on metro M2 at Deák square going towards Kőbánya Kispest, go until Kálvin square. Get on metro M4 here. Get off at Bikás Park.
Who do I recommend it to: Those who would like to move and do some sport in addition to the romance.
The Bikás park and playground is at Kelenföld, and a few years ago it has been fully renovated. The park is a great location both for families and couples as everybody can have fun here.
There is a huge dog park too – almost 1 hectare large and there are a number of great playgrounds, tennis court, and of course many benches and paths for those looking for a bit of romance.
It's easiest to take metro 4 to get here, you just have to get off at the stop called Bikás-park.
Outdoor fitness also got a spot in the park, which I personally really love as workout with your bodyweight is the best.
At the playground – when no one can see you – you can go and have your child-like fun, this way you will at least get to know each other's inner child, which for many women is romantic.
30., Wekerle estate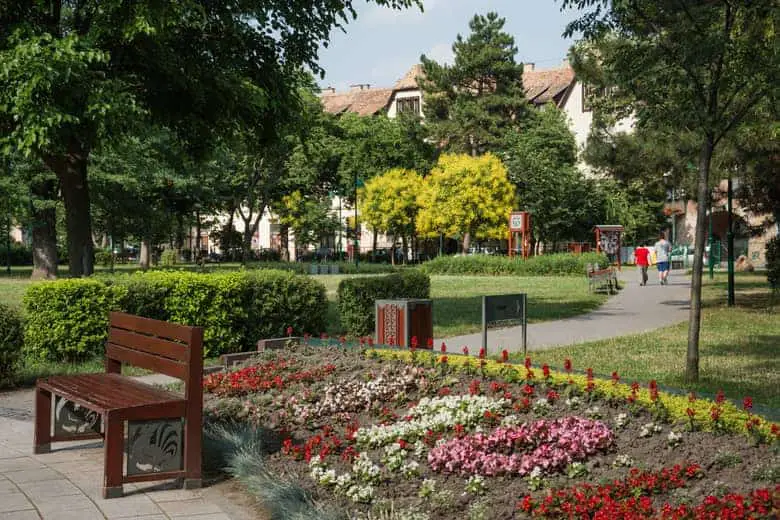 How to get there: Get on metro M2 at Deák square, going towards Örs vezér square. Get off at Blaha Lujza square. Here take bus 99 Pannónia road. From here it's a 5 minute walk.
Who do I recommend it to: District XIX. is the suburb of Budapest. Getting here from Deák square takes an hour. I only recommend it to those who are staying nearby.
Wekerle estate is in District XIX. next to Határ road, and it's definitely worth to take a walk here as you can see unique buildings from 1926.
All of Wekerle is really pleasant, an estate surrounded by shade-giving trees, with many walkways and a little park.
The good thing is that Wekerle is just a second away from the really busy Határ road, Soroksári road and the M5 exit/entry.
You wouldn't think that you could find an oasis here, where it's peace and quiet – and where you effectively end up in a different dimension.
31., Csepeli Rákóczi kert (Rákóczi garden in Csepel)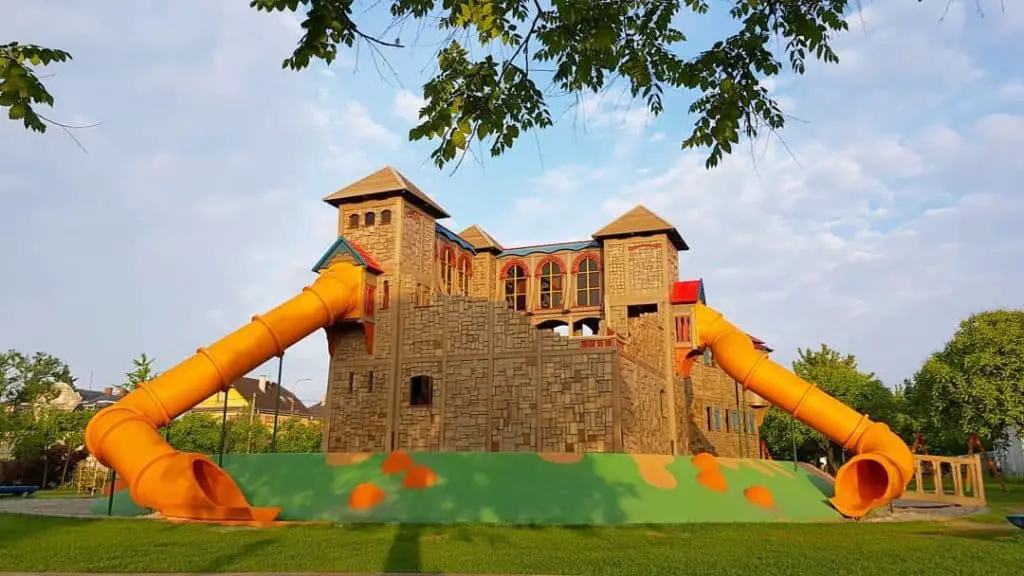 How to get there: Walk from Deák square to Vigadó square. Get on tram 2 here. Get off at Boráros square, next get on the HÉV (train) here which will take you to Karácsony Sándor street. Take bus 151 to Rákoczi square.
Who do I recommend it to: It's great and all, but it's pretty far. I recommend it to those who don't mind that.
I'll wander off a bit to Csepel, which is neither Pest or Buda, as Csepel is an island.
During the spring of 2019 a great public park opened in Csepel called the Families' park, which is definitely right – so why is it on my romantic list?
Well, I do believe that everyone has an eternal child within them, who has to be released sometimes and I think a liberated game together has it's own romantic aspects.
The park size itself is amazing, it's close to 25,000 sq. meter, and then you add the fact that there are plenty of great active relaxation options available.
The main theme of the park is the playground, and they were so serious about this, that you must try. Don't worry, anytime we were there we seen plenty of adults playing away – so go for it!
I'll let you know now that this new playground with its central element, the wooden medieval castle, will be your favourite.
However, this isn't just a small castle, this is a two-storey castle filled with many slides, a prison chamber and a throne hall.
In addition, there are several types of great swings which you must try – others do the same.
If you'd like to sport a bit before the romance, then this is the best place for it, because there is a great running track and many different outdoor exercise machines and dozens of other sport fields – and of course a table tennis table.
After a bit of exercise you can enjoy a picnic, or cooking in traditional cauldrons, as there are plenty of great spots specifically made for these and you don't have to worry about the mines (dog poop) either, as you can't bring dogs into the park.
There are a number of drinking fountains and the construction of an outdoor stage is in the plans as well. By the way, there is a sheltered café at the park too, where you can pleasantly spend time – there is all kinds of coffee, beer specialties and bites.
The whole park is amazing, perfect – it fulfils all needs and has a constantly expanding infrastructure – I strongly recommend it even as an all-day program.
Budapest is filled with smaller/larger parks and hidden romantic places that can't even be listed.
I hope I managed to help you a bit with the above list, so you can explore the city and grow closer to each other or get away from the crowds of Budapest for a few minutes-hours and just concentrate on each other. Have a pleasant time romancing!